Gobik Cycling Wear starts producing masks and medical gowns
In Spain, the COVID-19 epidemic is becoming more intense due to the lack of hospital equipment. In an immense act of generosity and social empathy, the cycling clothing brand Gobik Cycling Wear has just taken a step forward in the fight against the Coronavirus and announced that it has changed the structure of its headquarters to manufacture medical gowns and protective masks.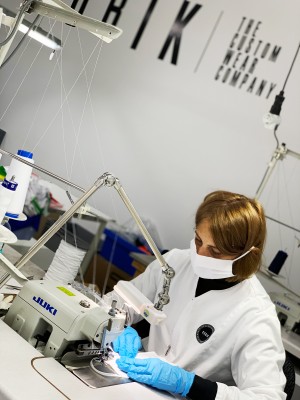 Gobik Cycling Wear joins the fight against Coronavirus on a voluntary basis 
Without any authority having requested it, the staff of Gobik Cycling Wear has voluntarily joined the effort of the brand to temporarily adapt its factory in Yecla, Murcia, and start manufacturing about 2,000 medical gowns and protective masks daily. The first delivery will be made on Saturday, March 21st.
In a press release the brand will make clear its objective with this action:
"Our only goal, to protect those who protect us every day. Because their work is the most important. Today more than ever.
Thank you for being there and taking care of us!"
In our opinion, it is this type of action that makes great brands like Gobik Cycling Wear a legend, and we are sure that the cycling community will remember this gesture with pride forever.