This Genesis has been painted with 24 carat gold.
The former professional cyclist Adam Blythe surprised us on his social networks with a spectacular bike decorated with gold and some peculiar lines in which the modification made on the front is striking and has not left any of his followers indifferent.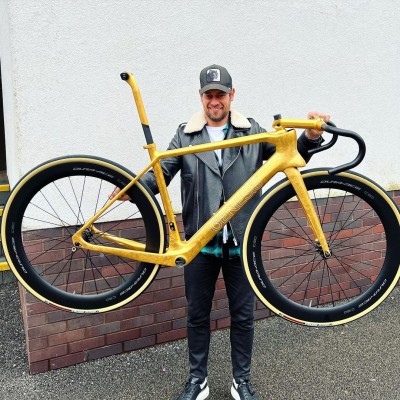 Adam Blythe's golden bike. Former pros also show off their bikes
It is curious how when a professional, one of those who are really passionate about cycling, retires, they start using bikes that really appeal to them, looking for something different from the bikes that we usually see on the market and that usually showcase artisan brands.
 

 

 

Ver esta publicación en Instagram
A clear example is the British cyclist Adam Blythe who, to the rhythm of Spandau Ballet's Gold, unpacked on his Instagram account his new Genesis frame decorated with a spectacular 24 carat gold leaf.
Blythe's new machine is a creation of the British firm Genesis, of which he is an ambassador. Specifically, a Genesis Zero Disc, a model already discontinued by the brand as it has decided to focus on the manufacture of steel, aluminium and titanium frames.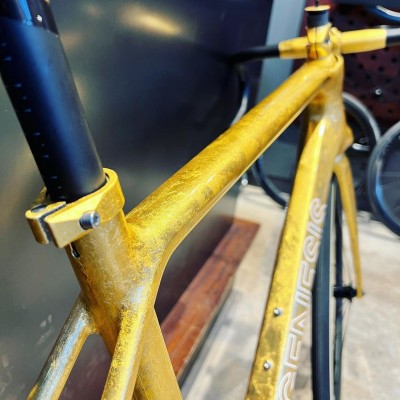 Apart from the gold decoration, the front end is particularly striking, with a carbon fibre addition by fellow track cyclist and carbon specialist Rob Hayles, who has added an extension to Adam's Genesis frame to hide the cables while maintaining a narrow head tube.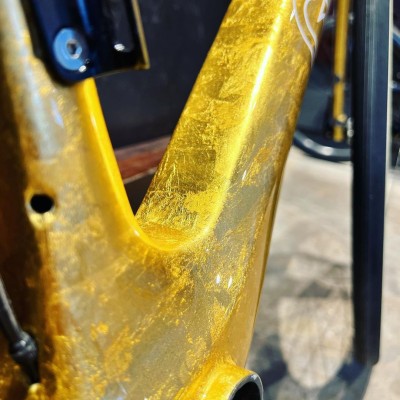 It is also noticeable in the lines of the bike that Adam Blythe still retains the habits and skills of a professional cyclist and maintains a tremendously radical position on this new Genesis, with the steering cut flush and resorting to a monstrous stem of at least 140 mm in length and, at first glance -17º of inclination. Not suitable for sensitive backs.