The fear of crashing overcame Van der Poel in Val di Sole
The fear of a possible injury was responsible for Van der Poel's discreet performance at the CX World Cup in Val di Sole. This is how the Dutch rider's father explains it, who believes that his son was "scared". In addition, it is suspected that his team had ordered him not to take risks on the Italian ice and snow.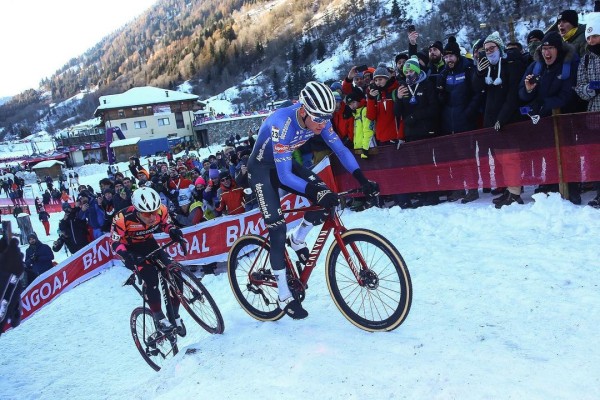 Van der Poel: prevention is better than cure
Van der Poel has a new year full of races ahead of him. While he is now focusing on cyclo-cross until the World Championships in Hoogerheide, he will start the road season without much of a break and also plans to compete in some MTB races.
No one knows better than he does the risks involved in having such a tight calendar and combining different disciplines so closely together. The back injury he sustained earlier this year, which prevented him from taking part in as many races as he would have liked, is still very fresh in his mind.
And that is the reason why Van der Poel showed a much less competitive version than he is used to last weekend in Val di Sole. With a pace that was far from the leaders, he never gave the feeling that he could come back and fight for the victory. In the end, he crossed the finish line in eighth place at 3'14".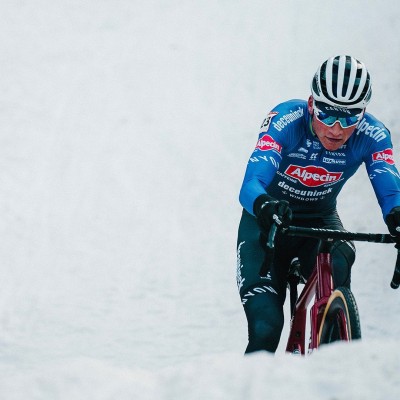 Mathieu, in top form and warned by the team
Adrie, father of the Orange Beast and former CX World Champion, was in charge of explaining it to the press, after a disappointed Van der Poel did not want to give explanations.
The fear of injury due to the slippery surface of Val di Sole was behind Van der Poel's poor performance. He sacrificed the fight for the top positions in exchange for finishing the race without incident, as Iserbyt and Van Empel did.
"It was simple, he didn't have the confidence on the snow and ice. You saw that at every corner," Adrie said.
Any doubts about Van der Poel's physical condition have been dispelled. "His form is certainly not the issue," his father explained.
On the other hand, according to Het Nieuwsblad, the management of the Alpecin-Deceuninck team had asked their star rider not to take risks on the snow for fear that an injury would not allow him to face the season as planned.
According to the media, they quote that "We had said in advance not to take too many risks." For them, "The rest of the cyclocross season and especially the spring are too important to risk anything," so they preferred to adopt a gentler riding style to avoid a crash that could keep him off the circuits.