Evenepoel asks a fan not to follow his wheel
During these months when the roads of Alicante are full of professional cyclists, there are many fans of this sport who emulate their idols by reserving part of their vacations to spend a few days in the surroundings of Calpe or Benidorm. A few days of cycling enjoyment with the usual good weather of the area and that, in many occasions, gives them the opportunity to share some pedaling with their idols.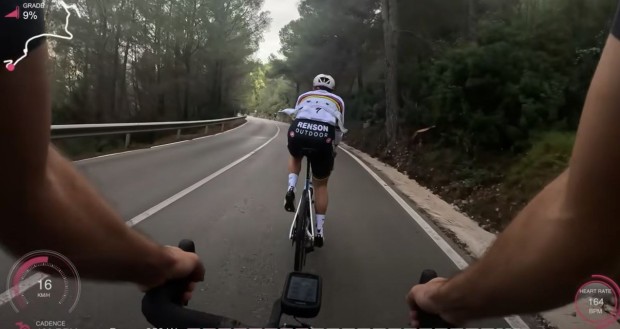 An amateur manages to follow and record Remco Evenepoel in full effort
Artem Shcherbyna defines himself in his Instagram profile as a profesional amateur cyclist, almost climber, half a sprinter, nearly time-trialist. During the last few days he has shared a lot of videos and pictures of professional cyclists training on the roads of the Marina Alta in Alicante.
However, one of his latest videos has gone viral, firstly because of its protagonist, none other than the World Champion Remco Evenepoel, and secondly, because of the situation, in the middle of an interval on the well-known Tárbena climb, one of the favorite training routes for both professionals and amateurs due to its constant gradient of around 6% over its 6 kilometers, which allows a great variety of work on a road that adds to its beautiful surroundings the virtual absence of motorized traffic.
Evidently, the level of Artem Shcherbyna is noteworthy to sustain for just over 3 minutes a figure around 400 W, as seen in the video which includes the telemetry of their data and in which he has had the detail to feature the repetitive tune of Zwift as background music.
The video has generated some controversy in social networks because at one point Remco Evenepoel turns and indicates with his hand to separate. Many have pointed out that it is disrespectful to follow the wheel of a professional when he is working, while on the other side are those who allude to the bad character of Remco and indicate that the cyclist is on the road and follows his wheel as would follow any other.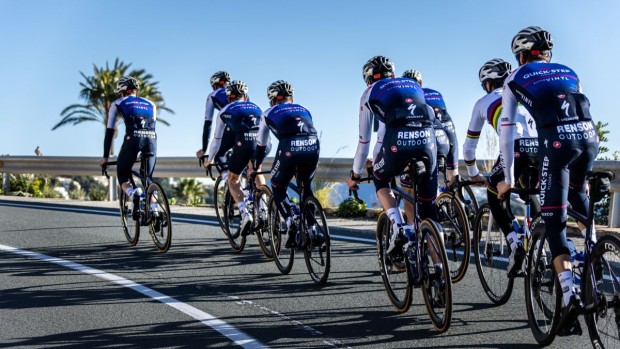 They are both partly right, and at no time is Remco's gesture a disrespect or annoyance but, understandably, anyone who has done structured training knows that when you do intervals you are fully focused on the work you have to do and the paces you have to keep. Having a cyclist on the wheel is no help at all in maintaining that necessary concentration when it comes to facing demanding efforts.
In any case, after the gesture, Artem Shcherbyna politely leaves a certain distance, despite continuing to climb at an intense 300 W.
If you are also planning to spend a few days in these lands, where the famous Coll de Rates is located, it is very possible that you will meet some professionals, either training alone or riding as a team with their support vehicles.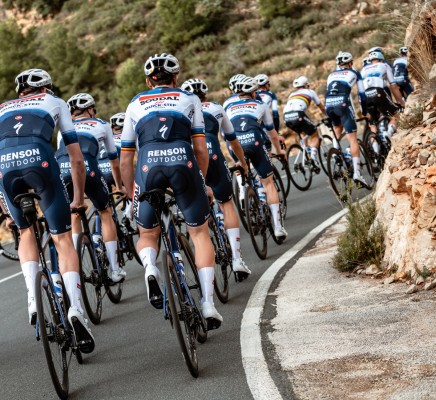 In general, the professionals do not usually like that the amateurs get involved in the groups. It is mainly a matter of precaution, as they are often wary of the control of the bike that they may have and that could cause a crash, especially if it is the case of those who try to follow the pace of the group without having the necessary physical level.
In solo training or small groups, it depends a lot on the professional cyclist himself. Some of them do not reject the company and even appreciate it in their long-distance rides while others make a bad face if someone sticks to their wheel, so it is not superfluous, if we see ourselves in the situation of being able to share some pedaling with one of our idols, to ask if they mind if we ride with them.
Of course, when it comes to interval training, things get serious and everyone wants to spend that time of full effort fully focused on their watts, cadence, heart rate and effort. On those occasions it is preferable not to interfere if, as is the case that can be seen in the video, we have the sufficient level to face that pace.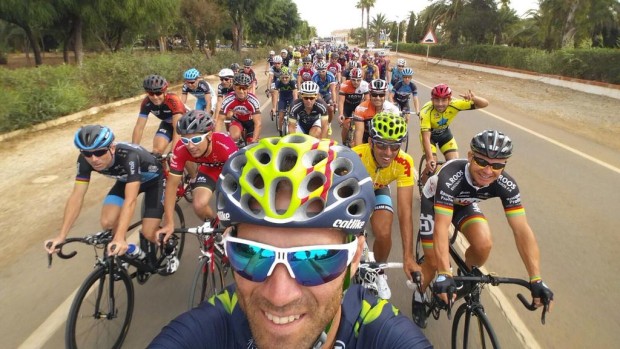 A case that is always mentioned of cyclists who share their training with amateur cyclists is that of the famous Murcian group of Alejandro Valverde, with dozens of cyclists meeting at the usual starting point of the routes that ride together at the beginning of training until the pace imposed by the Murcian crack puts everyone in their place.