Disadvantages of using virtual cycling for basic training
Virtual cycling apps like Zwift have made winter training much easier, but they force us to consider whether they are the right choice, especially in months when the focus should be on training sessions at a steady pace to build our aerobic capacity and then take full advantage of quality work as we approach our goals.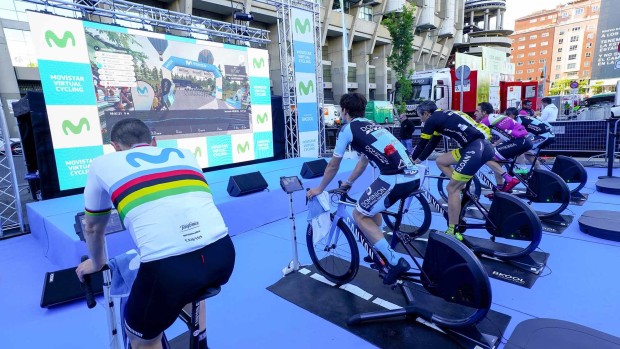 How to integrate virtual training into the basic training period
There is no doubt that virtual cycling has been one of the great inventions of recent years when it comes to providing a training option for those who, due to lack of time, find it difficult to maintain a consistent preparation during the winter months. Indoor training had its explosion with the pandemic and the confinements that kept us indoors for weeks at a time.
These simulations offer us virtual worlds, whether they are reproductions of real environments or imagined worlds such as the well-known Watopia island of the Zwift platform, on which the programmers and designers have arranged a network of roads with their plains, passes, hilly areas...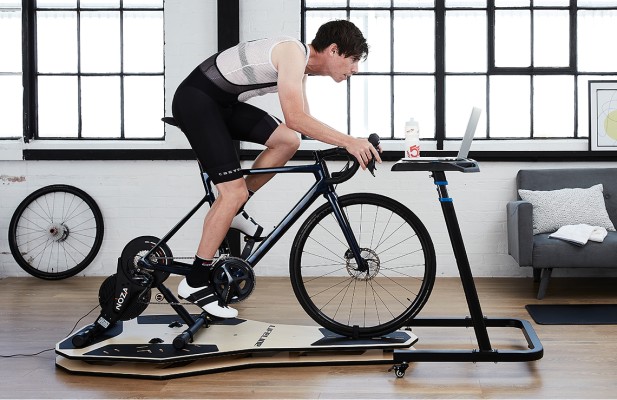 A perfect setting on which to cycle without having to leave the house in these months of cold, rain and few hours of daylight.
However, anyone who has used any of these virtual platforms will have discovered that the sauce of these platforms is to be able to interact with other cyclists who connect from anywhere in the world and, of course, this leads us to participate in different events and races that are constantly proposed. Sessions in which the intensity is at its highest, especially in the races, which are fiercely disputed.
The question is, for those who do structured training, whether the type of sessions carried out in virtual cycling is the most appropriate at this time of year, when it is important to carry out basic work in which aerobic capacities are strengthened, with the emphasis on long rides at sustained rhythms.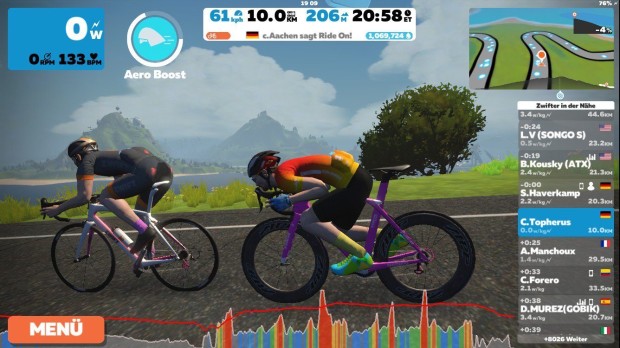 It is clear that few people connect to Zwift to simply ride for two hours or more, no matter how hard they work and how many roads there are in their virtual worlds. The sauce, as we said before, is in the races, despite the fact that there are also many social events in which it should be possible to ride constantly at a comfortable pace, but which, however, anyone who has participated in one knows that they end up turning into races.
Like all the tools at our disposal, virtual platforms can be very useful when it comes to training and their competitions can provide us with extra motivation during the months when it is difficult to maintain a routine. However, to make the most of it, we must be clear about our objectives and plan our participation in the different events.
It's not all about long rides at this time of year, but there is also room for quality, a clear example being those who take part in cyclo-cross competitions as part of their preparation. We must be clear about when we can race on virtual platforms and not abuse it, running the risk of overtraining when we are just starting the season.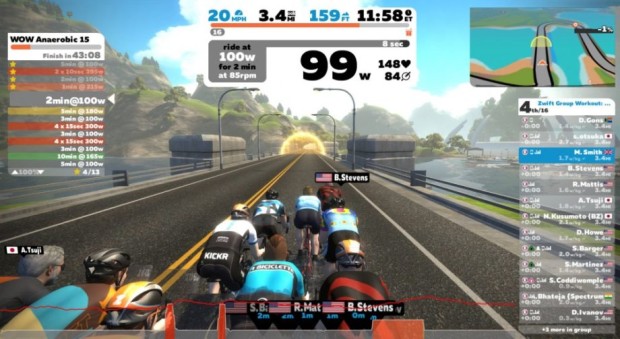 We can't expect to race everything on Zwift, but it makes sense to choose a specific competition or series of competitions and integrate them into our training schedule as a quality training session.
If it is time to ride and we use social events, we must keep a cool head and keep to the right pace. It is not necessary to always follow the group ahead. The good thing about these platforms is that we will always find people to ride with.
If we are clear about our objectives and the correct planning of training, assuming that a base period is essential in order not to limit our fitness ceiling too early, virtual platforms offer us a great alternative to save the sessions that we have to do during the week, when we have less time available.