Van Aert confirms his cyclocross calendar: 10 races without World Championships and Benidorm still up in the air
Jumbo-Visma has finally confirmed Wout van Aert's 2023-24 cyclo-cross calendar. In total we will see him compete in 10 races but 2 of them, the Zohoven and Benidorm World Cups, are subject to change.
Wout van Aert's calendar for the 2023-24 Cyclocross season
To the calendar published by Van der Poel a few days ago, Wout van Aert's calendar for the 2023-24 CX season has now been added. A shorter than usual calendar that has been conditioned by his training for the 2024 road season. We remind that for 2024 Van Aert is expected to compete in at least the Spring Classics season, the Giro d'Italia, the Paris Olympics and the World Championships in Zurich.
09/12 -  Essen Exact Cross
22/12 - Mol Exact Cross
23/12 - Antwerpen World Cup
26/12 - Gavere World Cup
27/12 - Heusden-Zolder Superprestige
30/12 - Hulst World Cup
01/01 - Baal X2O
04/01 - Koksijde X2O
07/01 - Zonhoven World Cup (Subject to change)
21/01 - Benidorm World Cup (Subject to change)
Along with the presentation of the calendar, Van Aert and his team have explained that his participation in the Zonhoven and Benidorm World Cups almost coincides with the team's January training camp. Something that causes problems, such as the fatigue accumulated during the training camp and doubts about the 29-year-old Belgian's condition for the start of the Spring Classics.
This is how Van Aert himself explained his cyclo-cross calendar for this season:
"It's a conscious decision to do a shorter programme". "Last year, I found it mentally difficult to focus on the cyclocross season and then move on to the spring. I didn't want to leave anything to chance with the spring classics. That is why, with a heavy heart, I am riding a more limited programme."
"It will definitely be difficult to reach a high level". "I have a few races to get in shape, and then it will stop already. I hope to prove myself during these races. For the first time, it will be different from what I am used to, but with a higher goal in mind."
"I am looking forward to starting the cyclocross again soon. It's great to see the fans again. These races are always special for me."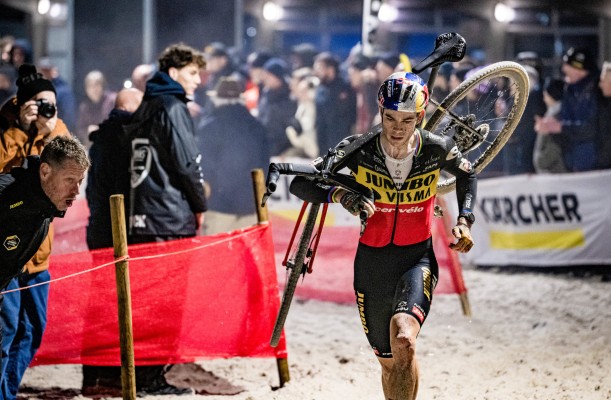 But back to CX, Van Aert could be at the Exact Cross in Mol on December 22, the Antwerp World Cup on December 23, the Superprestige in Diegem on December 28, the Exact Cross in Loenhout on December 29 and finish at the X2O Trophy in Baal on January 1.
This calendar, with 10 races in which there are only 4 World Cup races and 2 of them are in the air, adds fuel to the fire of the controversy that the UCI has opened in relation to the lack of interest in the World Cup in recent years.