Tips for choosing cycling shoes and Mountain Bike shoes: size, model, sole...
It is now possible to ride a bike or mountain bike, so take your cycling shoes and... Wait, if you don´t have cycling shoes or mountain bike shoes or you are considering changing them, read carefully these essential tips to choose the best. Let´s go.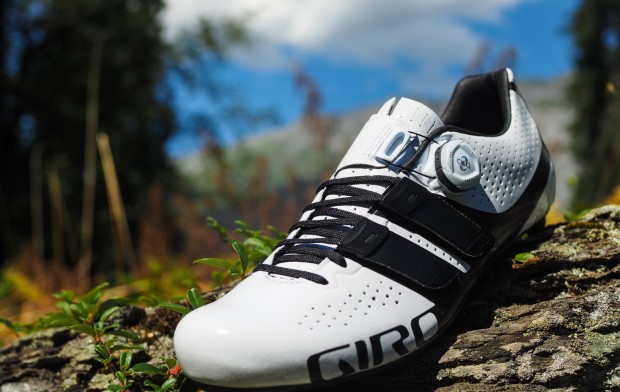 5 tips for choosing cycling and mountain bike shoes
Don´t think that is enough going to your cycling store or your favorite website, to choose the model you like and to start pedaling. At least, if what you want is a good pair of cycling shoes that fit well on your foot and allow you to enjoy, and not suffer a bike ride. For this, it´s very important to consider various tips that have a fundamental role when opting for good mountain bike shoes. And it´s not only important which size to choose, which it is, and we will discuss it below, but some other issues that are more unknown. And here you are 5 points to consider.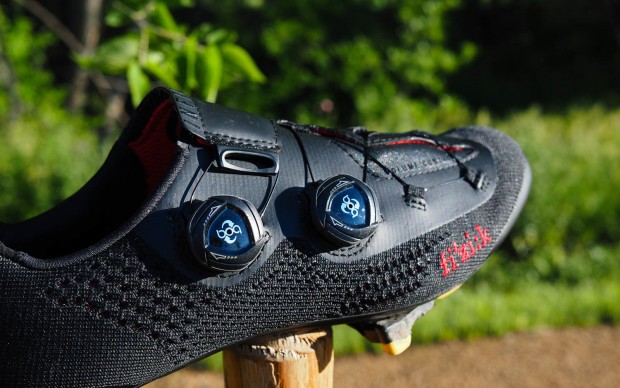 First of all, not all mountain bike or cycling shoes are valid for any discipline. Yes, it seems obvious, but it´s important to warn it. You must know what discipline you practice (we assume you know what bike you have), in order to know what mountain bike shoes especially suit you. And we say mountain biking, because it´s undoubtedly that in mountain biking there is more variety. At least, you should differentiate between disciplines that need more anchorage and others that require a free foot. In summary, we could group them into two general groups.


There are mountain bike shoes that require a constant anchorage, to practice for example XC. In them, not only is the anchor fixed, but therefore they are not designed to step on the ground (even if they have a studded sole), they usually have quite rigid soles and much tighter lasts. They are the most similar to the rest of road or ciclocross cycling shoes.




At the other hand, there would be the mountain bike shoes disciplines in which the feet have to be free. In them, the anchorage disappears in disciplines such as Enduro, or at least it is about grips rather than anchorages, with good grip on the pedal but that are also capable of walking on terrain. Between both, a whole intermediate range allows to be more or less extreme and rigorous when choosing mountain bike shoes according to your discipline.




The adjustment system is the second aspect that you have to analyze about your next cycling shoes. Undoubtedly, micrometer wheels have revolutionized the entire process of adjusting to the foot. Some brands, such as SIDI, produce their own wheel, but there is certainly one that has taken over the market: BOA. The adjustment system with BOA is so simple and intuitive, working in both directions and releasing the shoe with just a pull of the wheel, that it has undoubtedly prevailed, at least in all models of cycling shoes of mid and high range. It's not essential, but if you can afford it, don't hesitate: it's worth adjusting so quickly and precisely. Of course, it´s not the only system: there are velcro straps and there are laces. The least advisable is the lacing, although its fit is good, untying and tying, especially if you wear gloves, is a titans task. The velcros have a good fit and are very easy, but they tend to lose properties over time. If you can not economically reach a model of cycling shoe or mountain bike shoe with BOA, try a model that combines wheel and velcro.



The sole and the shoe last. Cyclists care a lot about this part of any cycling shoe. In fact, it´s important, although the question is sometimes incorrect: the question isn´t whether the sole is made of carbon fiber or other materials such as nylon, but that what is truly significant in a cycling shoe is the hardness or rigidity of this sole. And there are non-fiber soles whose rigidity is very close to it, so the outlay is not equal to compensate you. We also consider that greater rigidity means a better result, but remember what we have said about your demands and especially about your discipline. So consider analyzing the sole: is it well finished? Does the shoe cleats allow you good supports without damaging? Does it flex a lot if you force it or is it quite stiff? And, what is essential, does the sole adhere to a narrow or wide last? Because there are brands that manufacture with so narrow lasts that many cyclists hurt their cycling shoes in the front part of the foot. The sole does not completely determine the last, but it influences a lot. Thinks that to build the mountain bike or cycling shoe, a last that fits and seals perfectly will be placed on a sole. So look at the sole and ask them those questions, or check the proffesional cycling shoes to take an idea.



The reinforcements. There is nothing more painful than paying a good amount of money for a mountain bike or cycling shoe and that, after a few bike outings you notice that small friction, blows or scratches have caused considerable damage to it. This depends largely on the materials of its manufacture, but also on this aspect, on the reinforcements and finishes. Because look and you will see that in your cycling shoes the damage abounds in the same parts: forefoot above all, heel, and insteps outside and inside. So analyze, especially for mountain bike disciplines, if these parts are well finished and if they include reinforcements, added, that have considered their exposure to overprotect them. It´s also good that you know when the time has come to change your shoes.




Materials are essential. Until quite a few years ago, leather was considered the summum of a cycling shoe. Make no mistake, today there are materials whose properties considerably exceed natural leather: they transpire very well, fit excellently and are hundreds of times less delicate and more resistant than natural leather. Synthetic leathers include brilliantly crafted cycling shoes, with anti-abrasion materials that are almost unbreakable. Also look inside the mountain bike or cycling shoe: see if it´s breathable, if it includes sock support parts to prevent them from slipping off (such as the clarino inner heel) and if the ventilation of the shoe would be good.


What size of cycling shoes to choose?
And here is the point, the big question of most cyclists: what size of cycling shoes do I choose? A first tip, which will be very useful not only in mountain bike shoes and cycling shoes, but with footwear in general: know the size of your foot in centimeters, don´t be guided by the number. Because each company has their lasts and their sizes, (even Nike is on the market right now) so the variations exist, and surely you already know it. But with your size in centimeters there is no place for error. To do this, rest your heel on a wall, mark the tip of your longest toe (remember, it's not always your big toe), and measure the result in centimeters.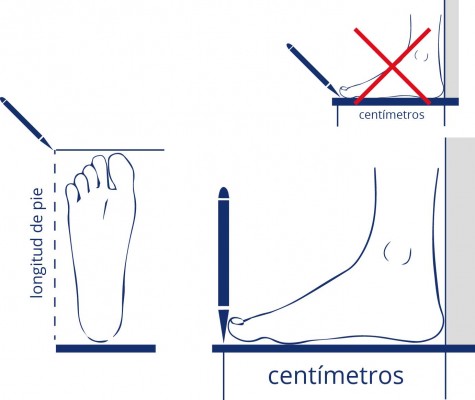 Once you have the size in centimeters, everything is easier: there are comparative tables by brands, but having your real size, look for the size that is a few millimeters larger than your foot size, as well as 4 or 5 millimeters more. Never choose a smaller size, if you have a doubt between 2 sizes, it´s sure that the largest will not hurt you. Because your toe shouldn´t touch the front of the cycling shoe. Of course, try it on with the socks you use to go cycling and with your insoles, if you use a special insole.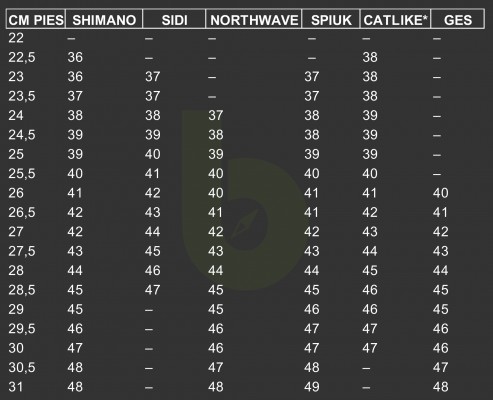 And nothing more. Now yes, put on your cycling shoes and go out!