From a pickle factory to the cutting edge of cycling: the Cannondale story
Sometimes companies are similar to human beings. For example, some don't know what they want to be 'when they grow up' until one day, almost by chance, they discover their 'vocation'. This is the case of a legendary brand that, for half a century, has revolutionised the world of cycling repeatedly. But, at the beginning, it was clear to them that they just wanted to innovate, and so they started with construction materials, engines (ammonia!), air conditioning, bags... Until they finally came up with bicycles. This is the 50 years of design and avant-garde that mark the history of Cannondale. A real carousel that is well worth getting to know.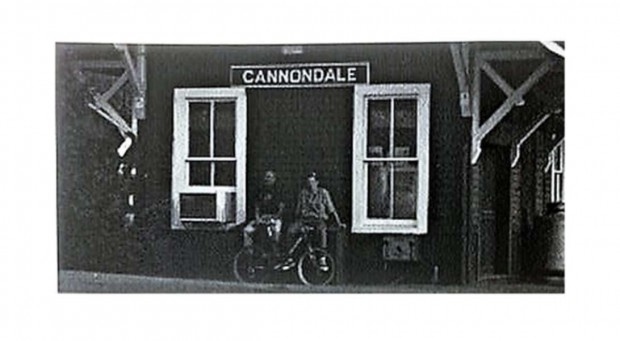 Cannondale, born above the pickle factory
It was 1971 when Joe Montgomery, Murdoch MacGregor and engineer Ron Davis founded their company in the small town of Wilton in rural Connecticut. Although there are various founding legends about the name, it is most likely that they decided to name it after the train station they saw from the windows of their first offices, the Cannondale station, which still exists (and whose silhouette was in their logo for a long time).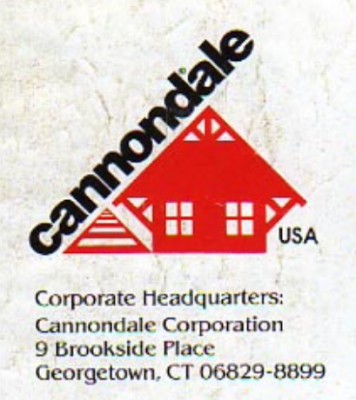 We say offices, but it started in more modest surroundings, as every good American entrepreneurial story should. No, it was not in a Silicon Valley-style garage, but in a loft above the Mrs. Forrester pickle factory.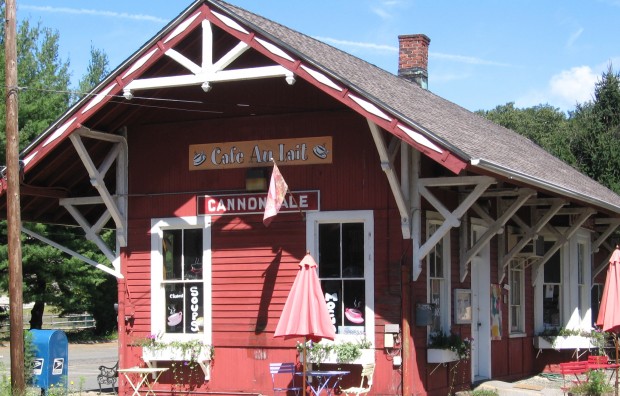 At the beginning, they made prefabricated concrete for the construction industry. Then they started looking for areas where they could develop their love of innovation: camping gear, air conditioners and they even had a project that involved an engine that ran on ammonia. But soon they launched the product that would change their lives forever: the 'Bugger' bike trailer.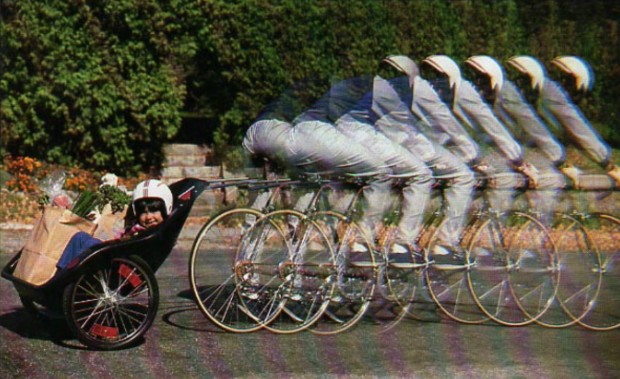 It was a real hit with the public... but even more so were the bags and panniers they designed to go with it. And, having finally found their way, that's what Cannondale did throughout the 1970s. Until Montgomery decided that staying in that small niche was too little: he wanted to make bikes, and he wanted them to be completely different from anything else on the market at the time.
"Those were years of creativity and imagination all over the world, but cycling was still very traditional, very conventional, following a kind of manual. Our founders believed there was a better way of doing things, so we threw the manual away and broke new ground. We took nothing for granted, and from day one we worked on being pioneers in materials, ergonomics and technology," the company recalls today. And they are not exaggerating.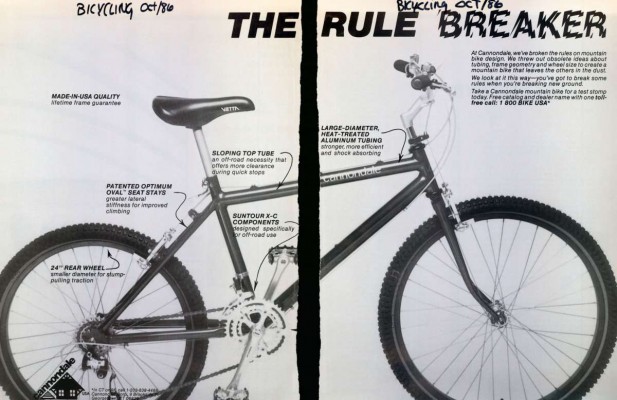 Aluminium, Cannondale's big bet
Joe Montgomery assigned engineer Todd Patterson the challenge of creating a completely new bike, and in 1983 it was finally released. It was the ST-500, a touring model (to show off his bags), followed shortly after by a road model. Both frames were made of aluminium, a risky and groundbreaking decision for the time, but one that was several years ahead of the revolution that was to come.
Just 12 months later, in 1984, his first mountain bike, the SM-500, arrived. It was also their metal fetish, of course. The adverts from that time (like the one you see above) show how the company showed off this and what it implied. Compared to the increasingly thinner tubes of steel bikes, aluminium (stiffer and lighter) allowed them to be oversized, which in turn made the frame more attractive and modern.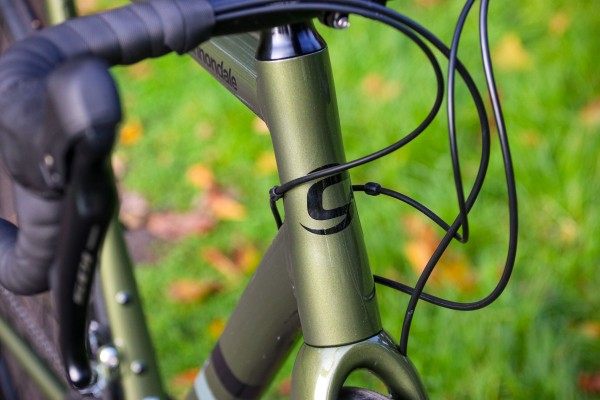 This is how, in the early 90s, a now legendary range was born: the CAAD, whose name was inspired by the use of computer design (although officially it stands for Cannondale Advanced Aluminum Design), and which is still going strong in its thirteenth generation.
One of the cyclists who most contributed to making them famous was Mario Cipollini, who in his time at Saeco turned his customisable Cannondale bikes (depending on the jersey he wore, a real novelty at the time) into a legend among fans. By that time, however, the brand had already gone a step further, and was one of the first to experiment with carbon fibre, leading to the first version of the Synapse in 2006.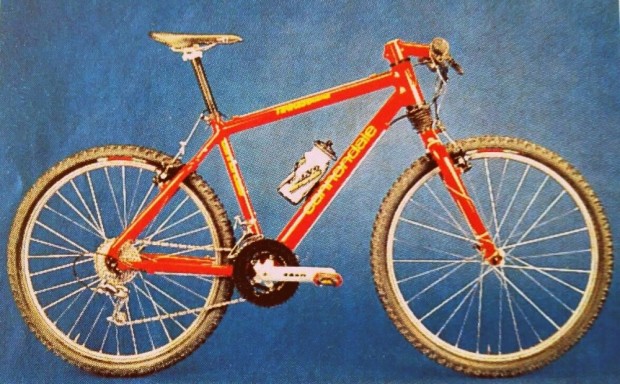 Legends in red and yellow
But if there is one year that changes everything, it was 1994. The moment when they decided to create their own mountain bike team, the legendary Volvo-Cannondale. The biggest stars of the sport at the time, such as the great Tinker Juarez, Christoph Sauser, Cadel Evans, Alison Sydor or Missy Giove, raced on it, and that helped a lot to consolidate models like the Super V, Delta V, CAAD3 or CAAD4 in the collective imagination of the fans, as some of the most coveted of the 90s. One of the best sets we have ever had the chance to enjoy (and let's not forget that, 15 years later, they would also have a road set: the former Liquigas, with giants like Vincenzo Nibali or Peter Sagan).
However, it wasn't all roses for Cannondale at the turn of the century. The company expanded into other areas, such as motorbikes, but that move did not work out well, and they ended up in bankruptcy in 2003. It was then that it was taken over by the Pegasus fund, which again concentrated on bicycles, and in 2008 sold it to the Canadian group Dorel, also owner of Mongoose and GT. At that point the frame manufacturing was moved to Taiwan, although the company itself returned 'home'. Its headquarters returned in 2013 to the town of Wilton, after several years in other locations.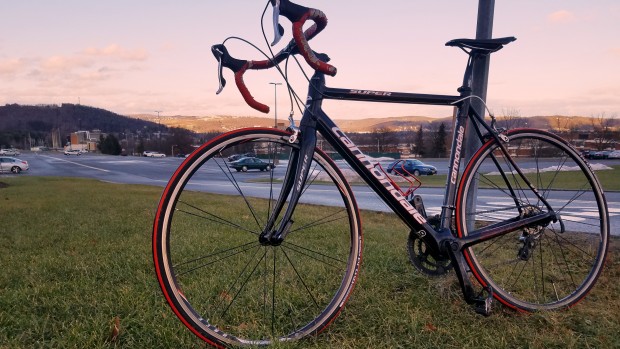 Just a few months ago the last page of this business story was written, when the Dutch conglomerate Pon Holdings (which already owned Cervélo or Santa Cruz) bought all its bike brands from Dorel for $810 million, or about 700 million euros. But what we are likely to continue to see, whoever owns the shares, is a story of innovation that continues. There is, for example, the SmartSense intelligent system that has just been unveiled.
They have also been revolutionary in the field of components. There is, for example, the BB30 bottom bracket system, which they invented back in 2000, and which so many brands have adopted since then. Or the Lefty, the first single-sided fork, which was exceptionally light, stiff... and whose design was so groundbreaking, of course. In fact, much could be written about Cannondale's contributions to suspension.
Among their latest twists are the Slate, a bike that, in 2015, was ahead of the gravel explosion. Or the major overhaul of the Supersix Evo in 2019. The question now is: what's left for us to see in the future from Connecticut? More than one surprise for sure.