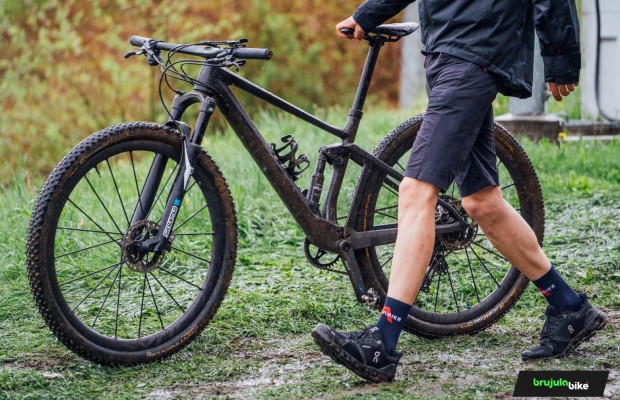 Tom Pidcock's BMC Fourstroke at the Nove Mesto World Cup
British rider Tom Pidcock is the mountain biker of the moment and his mountain bike has become a real unicorn. Everyone wants to see it in detail but we could say that it is the most difficult to photograph in the World Cup paddock. His team and he take care not to give it too much publicity, but in brujulabike.com we have managed to capture it to analyse it in detail.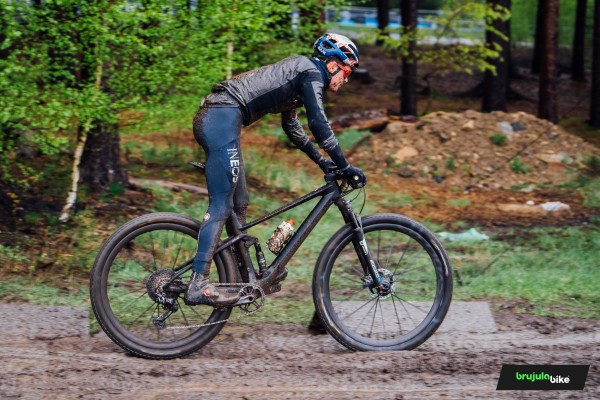 Tom Pidcock's BMC Fourstroke at the 2021 Nove Mesto XCO World Cup
Since Tom Pidcock signed for the Ineos Grenadier team, they knew they would have a problem in terms of equipment for this season. The British rider made it a condition before joining the all-powerful Ineos that he would continue to compete in MTB, but the team's partner was the Italian bike manufacturer Pinarello, which currently has no mountain bike models in its catalogue.
This dilemma has been resolved in favour of the cyclist who has practically been given total freedom to choose the material he wants from all the brands on the market. And we say "almost" because Ineos maintains brands such as Shimano or Continental, which it already uses on the road, in mountain biking.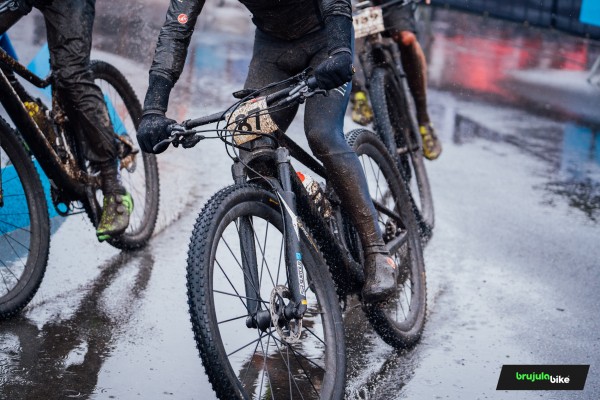 With this freedom of choice Tom Pidcock has put together a bike that we will rarely see again in the World Cup. For the frame he has opted for the Swiss manufacturer BMC, the Fourstroke full suspension model with its own integrated telescopic seatpost. For the suspension we see the French brand SR Suntour, with the SR Suntour Axon Werx 34 fork and the SR Suntour Edge shock. This choice of brand for the suspension is unusual in World Cups where RockShox and Fox reign supreme, but the fact that the SR Suntour stickers have been left on suggests that there is an agreement between the brand and the team.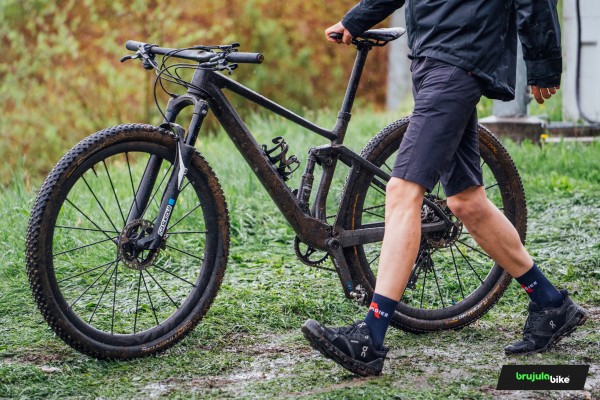 For the drivetrain and brakes, Shimano provides all the equipment with its XTR groupset and the Stages power meter integrated into the cranks. And the Syncros brand of components has been chosen by Pidcock for wheels, the Silverton SL are the same as those used by Scott SRAM, and handlebars, the Fracer iC SL with integrated stem that Schurter has been using for a couple of seasons.
Only a few logos of Shimano, SR Suntour and Continental stand out on this all-black bike, as it is better to try not to advertise the rest in order not to conflict with sponsors.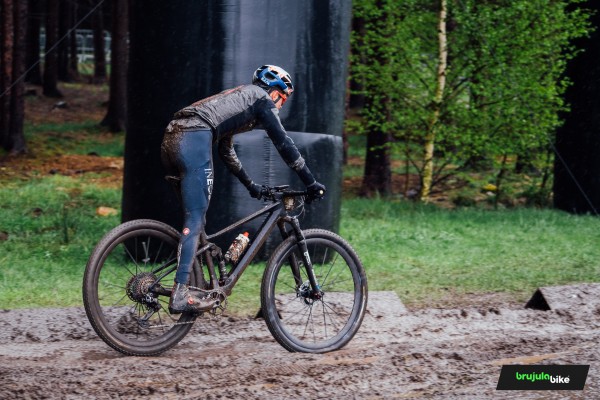 But perhaps the most striking aspect of its aesthetics is the large number of cables in front of the handlebars. The seatpost, fork and suspension locks have been solved with 3 levers arranged above and below the right handlebar, and all of them without using any mechanical device to try to hide them. But, in this aspect, Pidcock's bike may still give us some surprises in the next races.
Tom Pidcock's BMC Fourstroke assembly
Frame: BMC Fourstroke 01 ONE
Wheels: Syncors Silverton SL
Tyres: Continental X King
Handlebars and stem: Syncros Fracer iC SL
Drivetrain: Shimano XTR 10-51
Crankset: Shimano XTR 17mm with integrated Stages power meter
Seatpost: BMC Rad integrated 80 mm
Brakes: Shimano XTR
Fork: SR Suntour Axon Werx 34
Shock: SR Suntour Edge
Saddle: Fizik