The best GPS for bicycles 2023
Which GPS bike navigator to buy in 2023, bike computers have evolved in recent years to delight data lovers, but when it comes to choosing it is easy to get lost among the multitude of models available on the market. We have selected for you the best GPS on the market so that you can find the one that best suits your needs.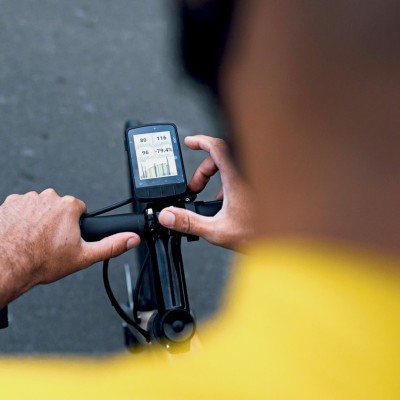 Selection with our best GPS 2023
How far away are the times when cyclists used to calculate the kilometers done during their training by counting the mileposts on the roads they passed or with rudimentary mechanical devices that were attached to the front wheel. Then, well into the 80s of the last century, electronics became more and more affordable, also in the world of cycling.
Who does not remember those primitive odometers, with basic functions and tiny screens that, through a cable, detected the turns made by a magnet fixed on one of the spokes of the wheel, transforming that measurement into speed and distance data.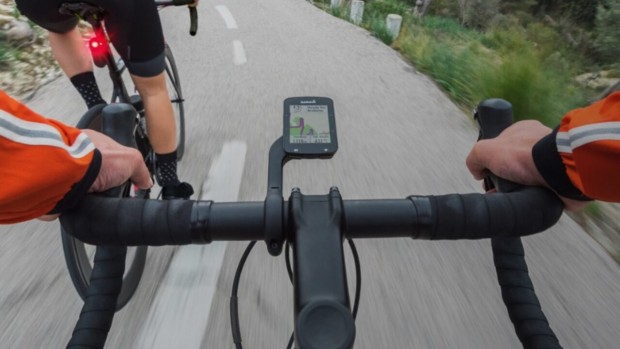 Today, what were then known as odometers have evolved to be called cyclocomputers, because that is precisely what they are, real computers specifically designed, even the most basic models, to be used on bicycles. Based on a satellite positioning system, commonly called GPS as a lexicalization of the satellite system created by the U.S. military in the early 80s and that was extended to civilian use.
On the basis of this system, manufacturers have been adding larger, color screens, various functions, interconnection with sensors or web platforms to analyze all the data collected. All this in a jungle of models among which it is difficult to choose. We have analyzed the available offer to bring you the best GPS for bicycles of the 2023 ranges.
1. Garmin Edge 1040 Solar
The bike computer market has a clear dominator: Garmin. And within its wide range, this Edge 1040 Solar is the jewel in the crown. A device with all the functions you need and more, of course, without neglecting the usual training functions. Intended for those who love adventure thanks to its navigation capabilities and a very wide autonomy, extended thanks to its solar screen. Undoubtedly the most complete device on the market. Large screen that is useful for displaying a large amount of information, but is bulky on the handlebars of the bike.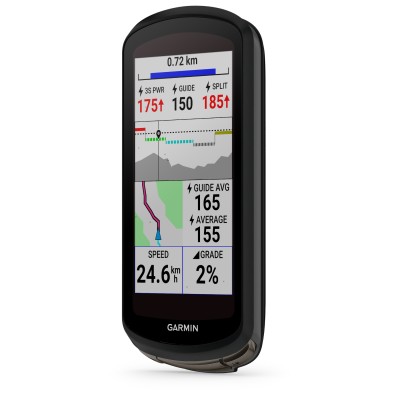 The best

- Autonomy
- Extremely complete
The worst
- Size
- Price
Price: 749.99 €
Weight: 133 g
Size: 59,3 x 117,6 x 20,0 mm
Display: 3.5'', color, touch screen
Connectivity: Bluetooth, ANT+, Wi-Fi
Receiver: GPS, GLONASS, Galileo, GNSS
Autonomy: more than 45 hours
2. Hammerhead Karoo 2
Based on an Android operating system, as we can find in our cell phones, the new Hammerhead Karoo 2 offers incredible features without blowing up the price. The quality of its full-color touch screen, which doubles the resolution of its rivals, stands out. Of course, so much quality makes the unit quite bulky. Useful for navigation routes or displaying a lot of data on screen, but bulky for those looking for a GPS for sports use. It also offers complete training functions although it is more focused on navigation, where the ease of creating routes stands out. It highlights the possibility of installing a SIM card for live tracking of our activities without the need to carry it linked to our cell phone.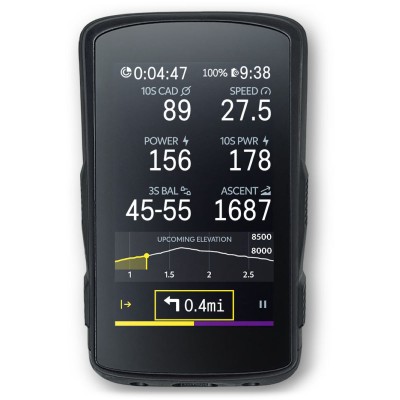 The best
- Display quality
- Full functionality
The worst
- Unit size
- Unprotected charging port
Price: 399 €
Weight: 131 g
Size: 60,25 x 100,45 x 19,5 mm
Display: 3.2'', color, touch screen
Connectivity: Bluetooth, ANT+, Wi-Fi, 2G/3G/4G
Receiver: GPS, GLONASS, QZSS, BEIDOU
Autonomy: Up to 14 hours
3. Wahoo Elemnt Bolt
This bike computer is just part of the complete ecosystem that Wahoo has created, which includes its famous turbo trainers, indoor cycling accessories, sensors, and even Speedplay pedals with a power measurement option. Within the Wahoo range this Bolt is a sporty device, which seeks a compact size and weight but maintaining full training features and navigation capabilities despite a more compact screen but capable of showing a lot of information with its color display. Looking for a compact and aerodynamic design, it dispenses with the increasingly common touch screen, although it is not a problem for the easy operation of its three large front buttons that allow us to access all functions.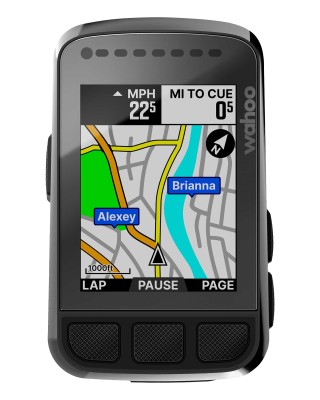 The best
- Lightweight and compact
- Display quality
The worst
- Non-touch screen
Price: 299.99 €
Weight: 68.38 g
Size: 47,24 x 77,47 x 21,33 mm
Display: 2,2'', color
Connectivity: Bluetooth, ANT+, Wi-Fi
Receiver: GPS, GLONASS, Beidou, Galileo, QZSS
Autonomy: 15 hours
4. Lezyne Super Pro GPS
It is difficult not to get lost in the huge range of Lezyne, ranging from pumps or multitools to lights or these GPS devices. All of them with the common nexus of a level of quality and finishes that we can qualify as excellent. Within its range of cyclocomputers, this Super Pro GPS would be the most oriented to a sporting use for its compact size and but with the usual capabilities of these devices such as being able to import training sessions from your specific application or third parties, GPS navigation, although its small monochrome screen greatly limits this function; or connectivity with various sensors such as heart rate monitor, power meter or interactive rollers. It is remarkable the tremendous autonomy it has despite its small size and the curious feature that allows us to use it horizontally or vertically according to our preferences.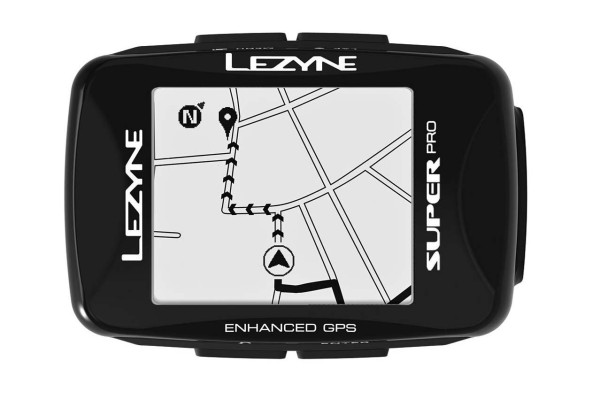 The best
- Great autonomy
- Can be used horizontally
The worst
- Monochrome screen
- Non-touch screen
Price: 139.95 €
Weight: 60 g
Size: 48,2 x 70,6 x 26 mm
Display: 32,6 x 39,8 mm, monochrome
Connectivity: Bluetooth, ANT+
Receiver: GPS, GLONASS
Autonomy: 28 hours
5. Sigma ROX 11.1 EVO
The German firm is one of the leaders in electronic products for bicycles, in fact, is a pioneer in its range with odometers for bicycles. It took them to enter the era of GPS devices but finally has done so with the solvency shown by this ROX. The approach is that of a compact sports-oriented device. However, it is perhaps too small, at least in terms of its screen which, in any case, has a color display that allows up to 8 fully configurable data fields. It has the usual functions, including navigation, highlighting that we can include the map as if it were another data field and not have to devote an entire screen to this function. Being a German brand, where eBikes are widely used, it is not surprising the great compatibility with multiple motor models, allowing the connection and management of its functions from the device itself.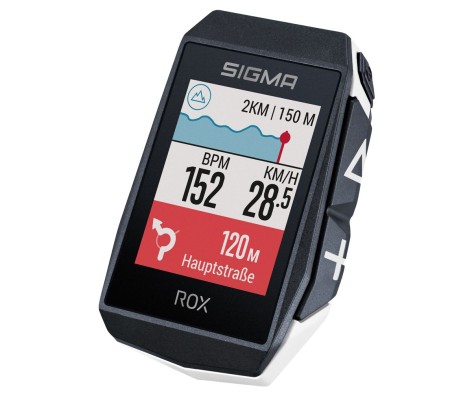 The best
- Performance/price ratio
- Great autonomy
The worst
- Small screen
- Non-touch screen
Price: 169.95 €
Weight: 55 g
Size: 46,8 x 66,1 x 20,8 mm
Display: 1,77'', color
Connectivity: Bluetooth, ANT+
Receiver: GPS, GLONASS, Galileo
Autonomt: 18 hours
6. Bryton S500T
Despite not being one of the brands that tends to be on the mouths of cyclists, almost without making noise, Bryton has been creating a complete range of cyclocomputers, from the most basic models to some as complete as this S500T. It has a color screen of a more than acceptable size, although it does not take advantage of all the space available in the case, which, however, maintains a contained size, far from the more navigation-oriented devices. The functions offered are the usual in cyclocomputers, including some such as live tracking of routes or full compatibility with different devices. The training options stand out, with a very graphic on-screen display of what to do at any given moment and the different intervals we have programmed for that session.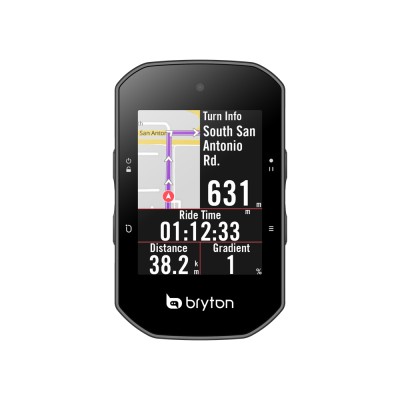 The best
- Great autonomy
- Compact
The worst
- Unclear screen touch
Price: 379.95 €
Weight: 87 g
Size: 51 x 83,9 x 17,4 mm
Display: 2,4'', color
Connectivity: Bluetooth, ANT+
Receiver: GPS, GLONASS, Galileo, Beidou, QZSS
Autonomy: 24 hours
What to consider before buying a GPS for bicycles
Choosing the GPS that best suits our needs involves assessing a large number of features, something quite complicated with the current models, which in most cases include similar and common functions. How the brands implement these functions is what can tip the balance between the choice of one model or another, always taking into account, of course, the price of each model.
The first thing we have to consider when choosing a GPS is the size and type of screen we are going to choose. The flagship models of the ranges usually have large full color touch screens, designed mainly to facilitate the display of maps when we use them for tracking routes or exploring new routes.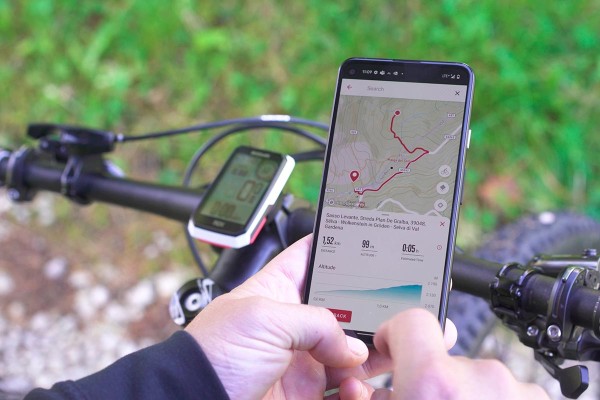 Of course, these GPS also provide us with a complete set of data that, thanks to these large screens, we can have a good number of them simultaneously. However, as is often said, too much information often leads to misinformation. In any case, if we are fans of numbers, these models will delight us.
If we plan to give a more sporty use to the cyclocomputer, we will surely value a more compact model, which does not weigh much and does not steal too much space. Despite their smaller size, these devices provide us with a complete set of data and training functions, in addition to maintaining navigation functions that allow us to follow tracks without any problem.
Another reason to opt for a more compact model is to opt for the more economical options of the brands that, despite their reduced price and dispensing with some of the functions of their big brothers, today have features that were unimaginable a few years ago.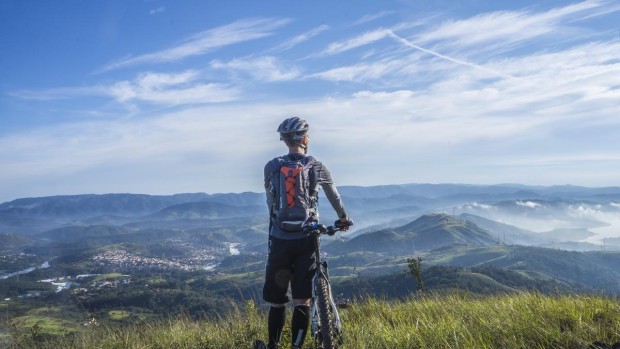 The autonomy of the device is another parameter that can be essential. Not if we are cyclists who never ride for more than 5 or 6 hours, a duration that is more than covered by current cyclocomputers. However, if we are lovers of long-distance rides or of getting lost for days riding our bikes, we will need to take this parameter into account. Some have even taken this parameter to the maximum with participants in ultra-distance events in mind.
Regarding the positioning signal receiver, although we usually call them GPS, practically all devices are capable of capturing signals from different satellite systems, not only the GPS of the U.S. military. The Russian GLONASS satellite constellation and the European Galileo system are commonly supported.
Although the coverage of these systems is theoretically global, each one prioritizes the most accurate positioning in the areas of the world in which they have greater influence, in addition to the fact that the capture of a greater number of satellites always increases the accuracy. A fact to take into account if we are going to pedal in remote places.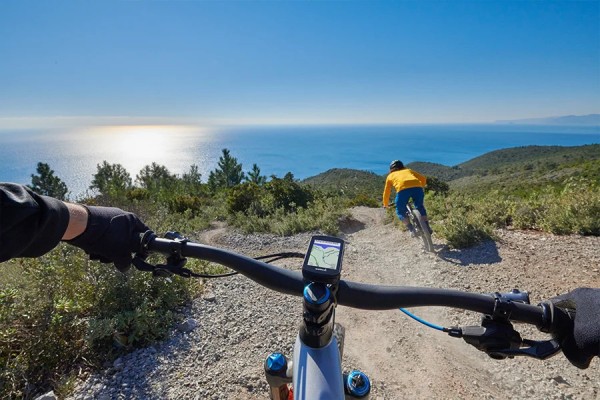 The current models all support connectivity with ANT+ and Bluetooth devices, so this is a secondary parameter. In addition, some models offer the possibility of Wi-Fi connection, useful when configuring and downloading data at home. It is also a detail to check the compatibility with the FE-C protocol used on ANT+ connections to control smart turbo trainers.
Today, there are several brands that offer quality products and with a performance more than solvent, but there is no doubt that Garmin is the absolute market leader, with good devices but also with a management portal settled worked in addition to a large user base. The last key aspect when choosing a GPS cycling computer is usability. Not only the ease of use of the device itself but also the web interface used to store the data.