Albstadt 2022 XCO World Cup: favourites, timetables and how to watch it
After the great premiere in Petrópolis, it's time for the XCO/XCC World Cup in Albstadt, Germany. The second round of the calendar returns the competition to Europe and here you can find out who are the favourites, the race schedules and where you can watch it.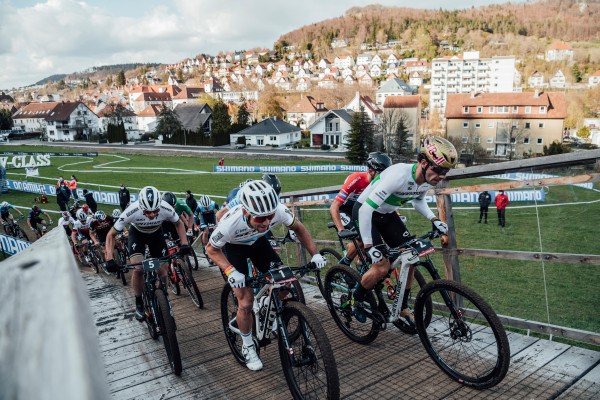 Who can win the World Cup in Albstadt 2022?
We are living through some magnificent years for mountain biking in which the favourites to win any XCO or XCC World Cup almost multiply with each race. This makes it more and more difficult to predict a podium, but at the same time it ensures spectacle in any race.
Many favourites to win in Albstadt
At the XCO World Cup in Petrópolis, Brazil, Australian rider Bec McConnell (Primaflor Mondraker) took a well-deserved victory, her first in the Elite World Cup, after a great race in which she was the most consistent from start to finish. In a recent interview she herself explains that great result in Brazil does not mean that she will always be in the fight for the podium, but it was enough for us to confirm her good form and to put her as one of the great favourites in Albstadt.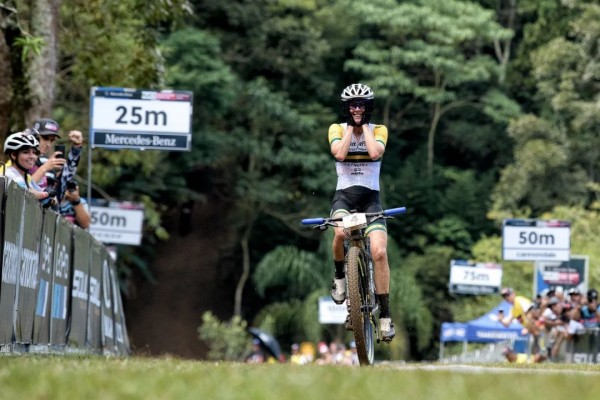 French rider Loana Lecomte (Canyon CLLCTV) was on course for victory in Brazil when several technical faults caused her to lose concentration a few laps from the end and she had to settle for third place. She proved once again that the attacks and devastating rhythms she sets from the start of the race can give her many victories this year. Moreover, Lecomte was the winner in Albstadt last year and we would be surprised not to see her fighting for the victory again next Sunday.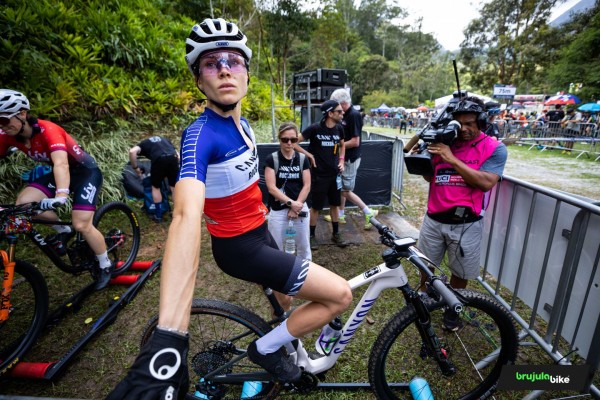 Trek Factory Racing riders Jolanda Neff and Evie Richards, Olympic and World Champion respectively, were unable to compete in the XCO race in Brazil due to last minute illness. Little has been heard from them in recent weeks, but if they are both recovered, there is no doubt that they will be at the front in Germany.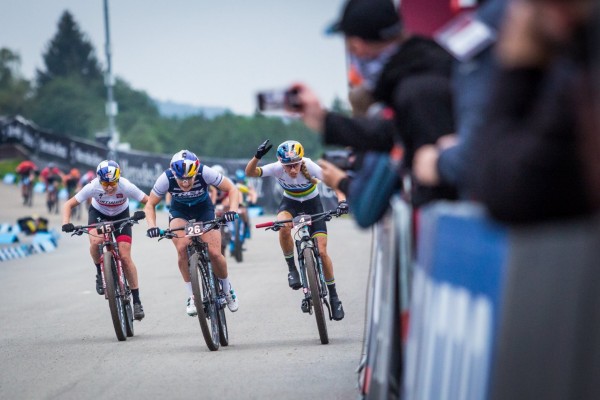 In Brazil, Pauline Ferrand Prevot (BMC Racing Team) rode an impeccable Short Track that gave her the first victory of the year, but she also suffered some illness that left her out for the XCO race on Sunday and although she took the start, she finally retired. Last year she finished second in Albstadt and in 2022 she is another favourite for the podium.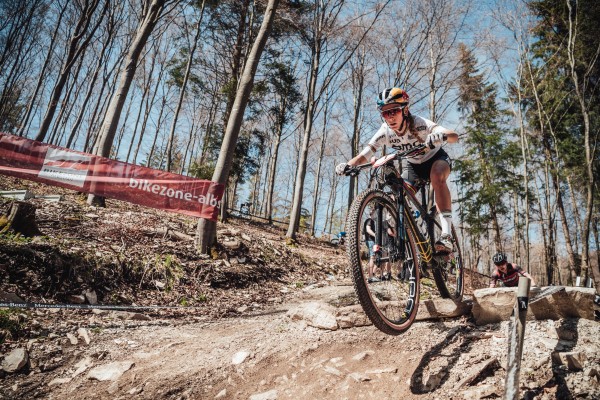 American Haley Batten (Specialized Factory Racing) was third in 2021 in Albstadt and although she didn't have a great performance in Petrópolis, we think she could be a protagonist again this weekend.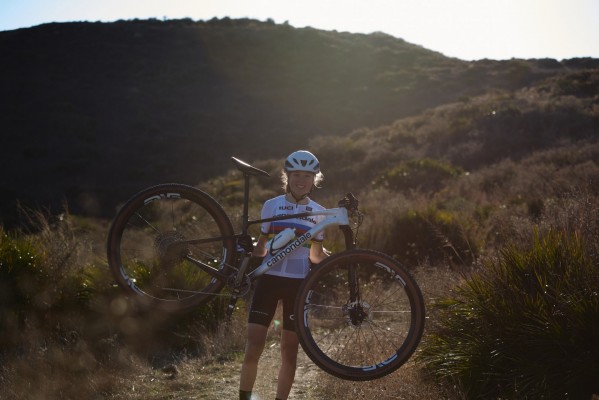 Finally, Mona Mitterwallnner (Cannondale Factory Racing) made her debut in Brazil in the elite World Cup category and did it with a great fifth place on the podium. From what we saw last season, it's only a matter of time before the Austrian steps on the gas and wins her first World Cup.
Nino Schurter against everyone
Nino Schurter (SCOTT SRAM Racing Team) won in Petrópolis, equalling Julien Absalon's record of World Cup victories, so it seems clear that his next goal is to beat him. And Albstadt will be his first chance. This circuit is good for the World Champion, which isn't? Last year, although he was the only one competing with full suspension, Nino was second after losing in the sprint to Victor Koretzky. He will undoubtedly take the start as one of the top candidates for victory.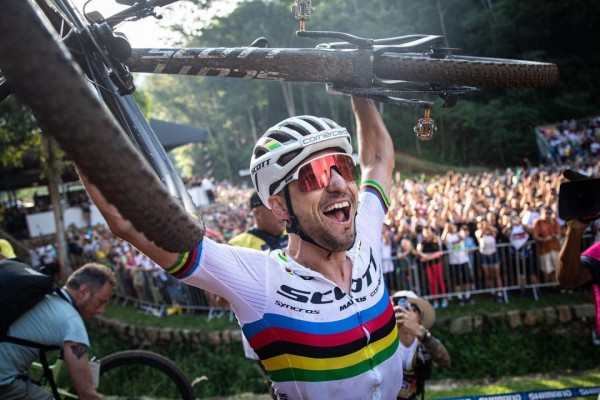 Although he has yet to compete in MTB this year, Frenchman Victor Koretkzy (B&B Hotels-KTM) has confirmed his participation in the next two World Cup events, Albstadt and Nove Mesto. He comes straight from the road and it remains to be seen how well he will manage the transition from one discipline to the other, but he won here last year and there is no doubt that he will try again in 2022. As a reminder, this will also be Koretzky's first race on a KTM, almost certainly on the Myroon hardtail model.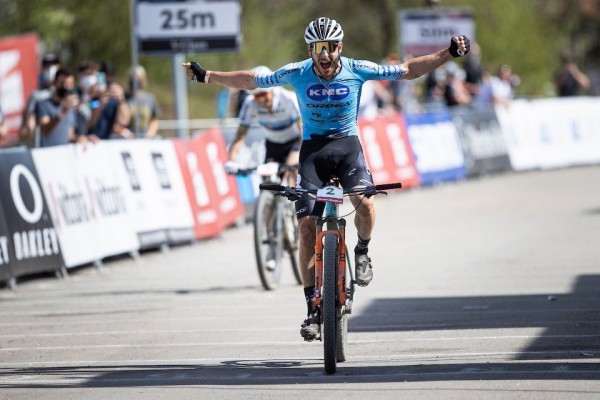 Tom Pidcock (INEOS Grenadier) will also be on the start line in Albstadt and it will be his first MTB race since his victory at the Tokyo Olympics. Although it may seem like a long time, the British rider has shown that he doesn't need a lot of preparation to be at the front without any problems. Last year's race in Albstadt was his first Elite World Cup and he was a long way back on the starting line, but managed to move up more than 80 places to finish fifth. Such a comeback in the World Cup is unheard of.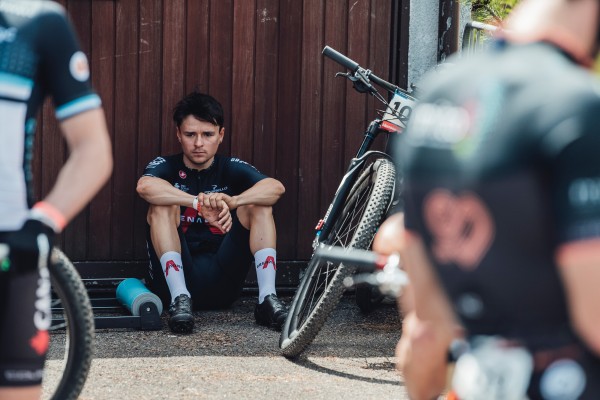 We didn't see the best version of Mathias Flueckiger (Thomus Maxon) in Brazil, but there is no doubt that in Albstadt he can be one of those who can dominate the race, as he did last year. In 2021, only a failure of his dropper seatpost a few metres from the end denied him victory. So he has every reason to go for the win at the Albstadt World Cup.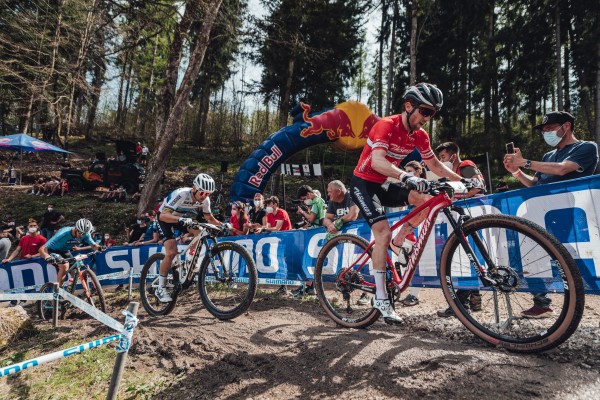 He was third in Brazil, and it seems clear that Vlad Dascalu (Trek Factory Racing) is very close to his first Elite World Cup victory. Albstadt may not be the circuit best suited to his technical qualities, but he is sure to be in the fight for the podium again.
As we said at the beginning, the list of riders who could currently win a World Cup is too long to make a reduced selection, so it is inevitable to leave out many favourites with clear options to be on the podium, such as Maxime Marotte (Santa Cruz FSA), Alan Hatherly and Henrique Avancini (Cannondale Facory Racing), Ondrej Cink (Kross Orlen) or Chris Blevins and Jordan Sarrou (Specialized Factory Racing), among others.
Timetables and where to watch the World Cup in Albstadt 2022
The Albstadt 2022 World Cup can be watched live on RedBull TV, both the Short Track race on Friday and the XCO race on Sunday. In addition, you will be able to follow the live timing of each race from this UCI website.
Friday 06/05/2022
Sunday 08/05/2022