Why Laporte and Van Aert's wheels broke at Paris Roubaix 2022
It is no secret that Paris-Roubaix is perfect for breaking any component or bike, no matter how tough or expensive it is. But it was still surprising to see how several Jumbo Visma riders broke their Shimano Dura-Ace R9100 carbon wheels, so what happened?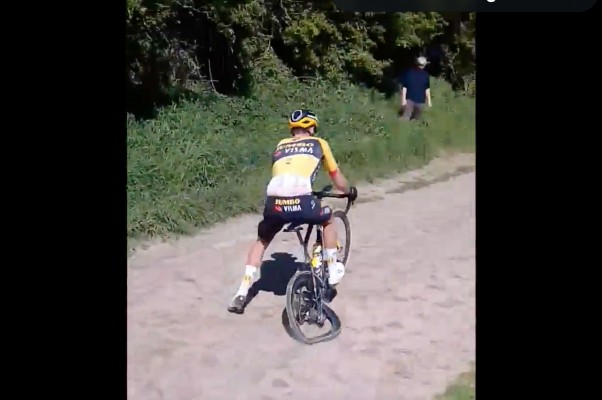 Why the Shimano wheels of the Jumbo Visma broke at Paris Roubaix 2022
The first thing that caught the eye was that the Van Aert team chose to ride the Shimano Dura-Ace R9100 instead of the new Dura-Ace R9200, but it seems the only reason was to be able to fit an 11-speed cassette, something that Shimano's latest version doesn't allow. The rest of the wheel setup was Dugast tubulars with 30mm Vittoria Corsa tyres.
Malheureux accident de Christophe Laporte sur le secteur pavé de Saint-Python, plus de peur que ne mal c'est là que l'on reconnaît un professionnel, courage à tous les coureurs !! @lequipe @France2tv @Paris_Roubaix @LAPORTEChristop pic.twitter.com/JCaaduiPW8

— haegeman nolan (@nolan_haegeman) April 17, 2022
As for the causes of the breakage, both in the case of Wout van Aert and the Frenchman Christophe Laporte were similar. From what we can see in several videos circulating on social networks, both had a punctured rear wheel and tried to continue this way to get out of the stretch of pavé in which each one was. The combination of riding at around 30 km/h on a cobbled area and with the rim absorbing all the impacts resulted in the breakage of both wheels.
The unseen footage of @WoutvanAert's bike change on the Wallers cobbles. Wheel folded double.

Speedy work from @TimoRoosen, I have to say #ParisRoubaix @sportwereld_be pic.twitter.com/2bQKzVc4bW

— Vincent Van Genechten (@VVGenechten2) April 19, 2022
It doesn't seem unusual, but it does say a lot for the tubeless system with the foam inserts. In this Paris Roubaix, we saw how many of the riders riding on tubeless tyres with the well-known "churro" inside, were able to ride through the pavé sections with a flat tyre almost without any problems until they received mechanical assistance.
If you want to see just how strong a carbon wheel can be, we recommend you take a look at this extreme test in which Danny MacAskill put a Santa Cruz Reserve MTB wheel through its paces. Obviously the construction is very different to the Shimano Dura Ace, but it gives us an idea of how strong they can be.