Tour de France 2022 route and stages: "It's a very complete Tour"
The 109th edition of the Tour de France, which will be held from 1 to 24 July 2022, was unveiled today at the Palais des Congrès in Paris. A route has been announced which promises to be more combative and exciting than in previous years and which seems to have pleased protagonists such as Tadej Poga?ar, Mark Cavendish and Julian Alaphilippe who were present.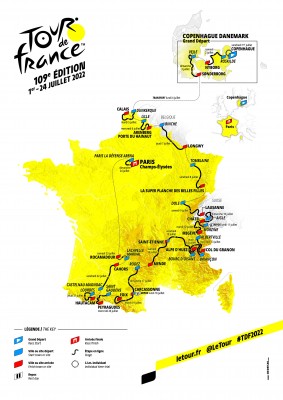 Route and stages of Tour de France 2022
01.07.2022 - Copenhague 13 km
02.07.2022  Roskilde - Nyborg 199 km
03.07.2022 Vijle - Sonderborg 182 km
04.07.2022 Transfer day to France
05.07.2022 Dunkerque - Calais 172 km
06.07.2022 Lille - Arenbert 155 km
07.07.2022 Binche - Longwy 220 km
08.07.2022 Tomblaine - La Planche des Belles Filles 176 km
09.07.2022 Dole - Lausanne 184 km
10.07.2022 Aigle - Châtel 183 km
11.07.2022 Rest day in Morzine
12.07.2022 Morzine - Megève 148 km
13.07.2022 Albertville - Col du Granon 149 km
14.07.2022 Briançon - Alpe d'Huez 166 km
15.07.2022 Bourg d'Oisans - Saint-Etienne 193 km
16.07.2022 Saint-Etienne - Mende 195 km
17.07.2022 Rodez - Carcassona 200 km
18.07.2022 Rest day in Carcassona
19.07.2022 Carcassona - Foix 179 km
20.07.2022 Saint-Gaudens - Peyragudes 130 km
21.07.2022 Lourdes - Hautacam 143 km
22.07.2022 Castelnau-Magnoac - Cahors 189 km
23.07.2022 Lacapelle-Marival - Rocamadour  40 km
24.07.2022 La Défense - París 112 km
After a few editions in which the organisation has been asked to draw a route with more options for other profiles of cyclists, it seems that the 2022 Tour de France will have everything necessary to make the race more exciting and we can see a more animated fight for victory.
Starting from Copenhagen, Denmark, in the first stages, and some more like the one in Carcassonne, we could see windy days where the weather will play a fundamental role. But obviously there are more key points in this edition, such as the cobblestones, which return to the Tour and in stage 5 there will be almost 20 km of pavé spread over 11 sectors. Or the two time trials that add up to 51 agonising kilometres distributed between the first and penultimate stage, which could be decisive.
But above all this edition brings a lot of mountains. In addition to the fact that there will be up to 4 mountain finishes in stages not considered as mountain stages, we will have 5 big mountain finishes starting at La Planche des Belles Filles, stage 7. In the Alps we will finish at Col du Granon and Alpe d'Huez, and in the Pyrenees we will see the Peyragudes and Hautacam stages.
Reigning Tour de France champion Tadej Pogacar has defined the route after the presentation:
"It's a beautiful and interesting course from the first to the last stage. It has sprints, wind, cobbles, short climbs, long ones, and some very steep ones. It's a very complete Tour".