The unique 5DEV titanium chainring costs €200 and promises exceptional value for money
The exclusive American brand 5DEV has in its catalog a MTB chainring made of titanium for Direct Mount cranks. It costs about 190 € at the exchange rate, and still promises an unbeatable value for money.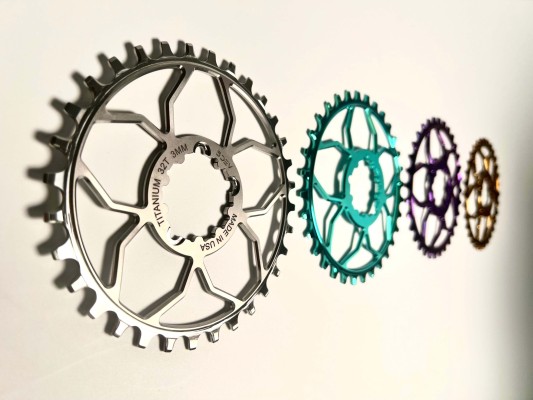 This titanium 5DEV chainring promises to last three times longer than an aluminum one
Although it is not yet well known outside the US and remains a brand of exclusive components, the truth is that 5DEV is part of a larger and more relevant brand called 5thAxis. A group specialized in manufacturing surgical implants and plates and aerospace components for NASA or SpaceX.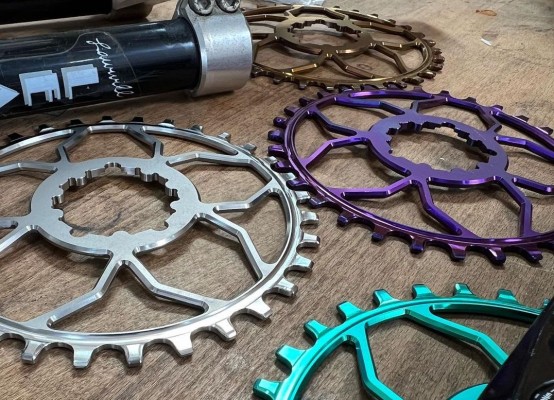 In their catalog we can find exclusive and original components of outstanding quality, such as cranks, stems or chainrings, both in titanium and aluminum. In addition, they offer several colors to customize it.
But focusing on its titanium chainring for MTB, we find a model available in 30T and 32T that costs $ 200, about € 188. It may seem a very high price if we consider that an aluminum SRAM is around 90€, but 5DEV ensures that its chainring lasts up to 3 times more kilometers, avoiding maintenance and generating less waste.
It is available through their website and can be chosen in up to 4 different colors: Raw, Bronze, Purple and Teal
Details:
Enduro Announcing 5DEV Titanium 3 Bolt Direct Mount Chainrings
Designed, engineered, and machined in San Diego, California, US
At least 3 times the durability and longevity of an aluminum ring
30T and 32T with 3mm Offset
Colors: Raw, Bronze, Purple, Teal
Price: 199,99 $