Riding with the Scott Genius 2023
The SCOTT Genius is the Trail model by excellence of the Swiss brand's catalog and has just undergone a radical renovation in its latest version. Integration goes to a new level with its hidden rear shock and the model comes in two versions to satisfy all riders.
For its presentation we went to Aosta, Italy, where we were able to see and test it for the first time.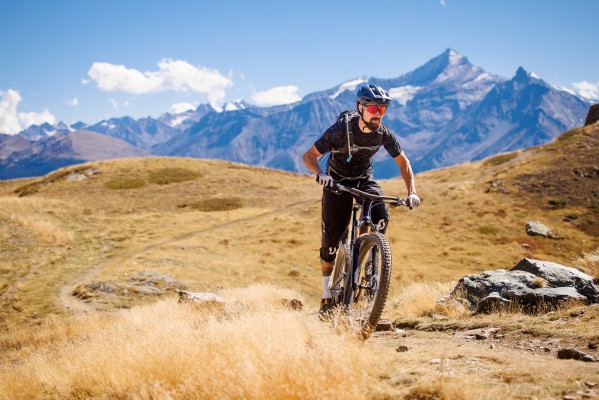 First impressions on the SCOTT Genius 2023
At first glance, the Genius 2023 leaves no one indifferent. The trend of integrating the shock into its MTB models is giving SCOTT perhaps the most iconic silhouette in modern mountain biking. On the Genius 2023 this integration also works to perfection and we have yet to find anyone who doesn't like its aesthetics.
But trying to leave its spectacular image aside, we were lucky enough to get close to it and get some first impressions. The test model we were able to try was the Genius 900 Ultimate, the top of the range version of the 900 series. A Trail MTB with 150 mm rear travel, 160 mm fork travel, a 64º steering angle and a NUDE 5T damping system with TwinLoc (3 positions with total lockout) focused on achieving maximum pedaling efficiency.
Before we get on it, the new Genius gives the feeling of being a light bike with its 12.8 kg. A feeling that is exaggerated when we remember that this is a trail bike, or All Mountain, with travel to swallow almost any obstacle downhill.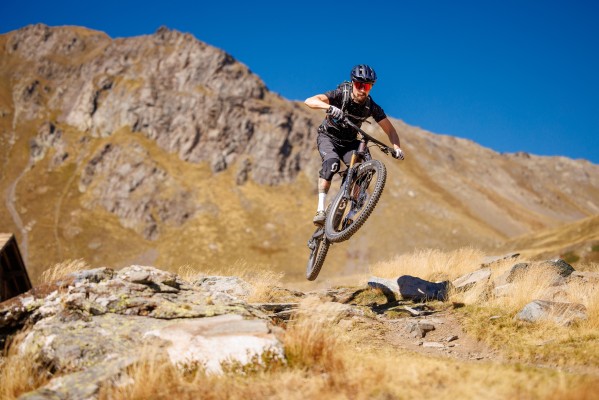 At the heart of the new Genius is the NUDE shock, developed by SCOTT, which the brand makes the most of with its TwinLoc system. This, together with the new geometry, makes the Genius 2023 a versatile bike, with a firm pedal stroke and almost total lockout in closed mode. In intermediate mode we have an opening of 80% and in open mode would give us 100% of the travel for maximum enjoyment, a very practical setup for any biker looking for fun and great versatility in a trail bike. 
With a 32T chainring and a 10-52 Sram cassette we could see that we had no problem climbing any ramp no matter how hard it was, but what really mattered to us is to feel the traction of this new Genius on technical terrain. And that's where the whole SCOTT set-up comes into play. In the intermediate position and aided by the 30mm inner width rims and 2.6 tires, traction is total and it's easy to climb any type of terrain, no matter how technical.
Another point to keep in mind on climbs is its short 50mm stem, which can force us to change our position on the bike on steep ramps to prevent the bike from lifting, although the relaxed 64 degree angle also helps reduce this effect. Admittedly, this does slow the bike down a bit on uphills compared to an XC. But we have to remember that this is a trail bike designed for fast downhills and relaxed uphills.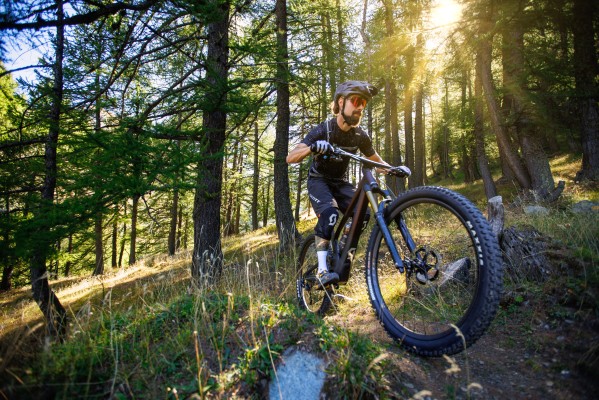 On the first uphills SCOTT chose to guide us to some tough sections, over 20% gradient, where the Genius could boast of being a great climber. The lower center of gravity and a pedal stroke with almost no damping contamination are its main uphill improvements over the previous version.
But after the uphill it was the turn of a long downhill with more than 1,000 meters of elevation gain where the 2023 Genius 900 had room to shine. With the TwinLoc in downhill mode and the seatpost down, we soon felt the handling and precision that this version has gained on twisty trails and fast corners. It's really agile.
If the 640 mm of reach did not hinder us in the twisty sections, they took all their sense when we really started to go down fast through areas with obstacles. Its geometry, poise and 150 mm of travel make this Genius a very stable plane that invites you to go faster than we are used to. Fun is guaranteed with the new Genius. 
One of the things we miss in this new SCOTT Genius 2023, is a handlebar stopper to avoid bumps on the frame. A mechanism that should be mandatory on almost any model and we don't understand why SCOTT hasn't included it.
We are looking forward to riding the new Genius 900 for a few weeks, but our first test confirmed that this is a very versatile MTB that has gained a lot of uphill qualities and is even faster downhill. 
Aesthetics could be something secondary in a mountain bike, but not in this case. The Genius 2023 is a perfect combination in which aesthetics, geometry and suspension system have elevated the model to a new Trail concept.