We test the Thule Epos: the ultimate bike carrier
A few months ago, the Swedish company Thule presented what they called the most versatile bike carrier in their catalog, the Thule Epos. And after testing it for a few weeks we can confirm that it is a definitive solution. It does away with all the classic problems and hassles of this type of transport and is capable of carrying any type of bicycle, from a very light and compact road bike to an e-MTB weighing more than 20 kg.
Thule Epos bike carrier keys
Quick and easy installation with tow bar
Allows access to the trunk with loaded bikes
Any bike can be independently loaded and unloaded (no need to remove one bike to get another one out)
Telescopic supports to fit almost any bike size
Three bike mounting points with no need to add any accessories, all types of bikes can be mounted, regardless of size or geometry (wheels from 16" to 29" with tyres up to 3.2").
Fully foldable for compact storage
Available with capacity for 2 or 3 bikes
Up to 60 kg load capacity, 30 kg per bicycle
Features, installation and transport
The Thule Epos is a bike carrier compatible with any vehicle that has a tow hitch, also known as a ball hitch, and its installation is as simple as any model of this type. The unit we were able to test is the one that holds 2 bikes and weighs just over 17 kg, so virtually anyone can do the installation without help.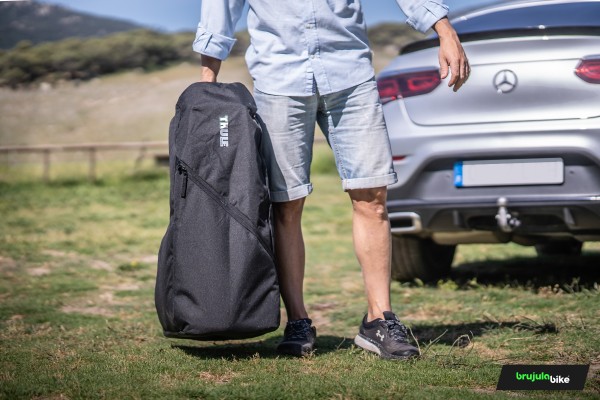 Once installed, the Epos bike rack can remain completely folded if we are going to travel with it empty, or we can unfold the support surfaces and the telescopic supports that will be fixed to the horizontal tube of each bike.
These telescopic supports are one of the keys to this Thule Epos. Raising and lowering them is ridiculously easy and with them we can fix the top tube or seatpost of any bike regardless of height. That will allow us, for example, to carry a 29" MTB and a road bike at the same time.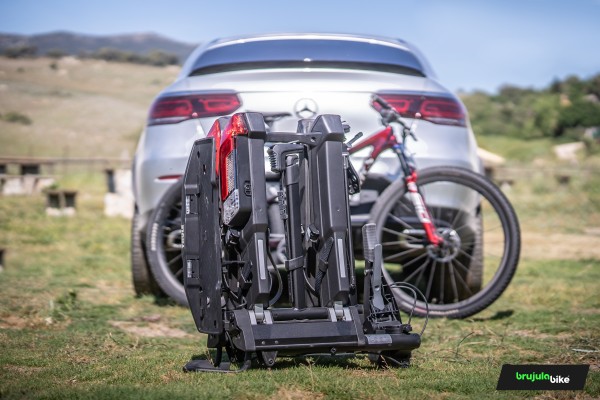 The space between bikes is 25 cm, something that is appreciated and completely changes the experience when handling the bikes. This allows you to mount and dismount any of the 2 or 3 bikes independently no matter what position they are in. Forget about having to remove all the bikes to adjust or lower the last one, with the Thule Epos you can access any of them without the annoying and typical snags of most bike racks.
This bike carrier can be folded down, even when loaded, allowing access to the vehicle's trunk at any time.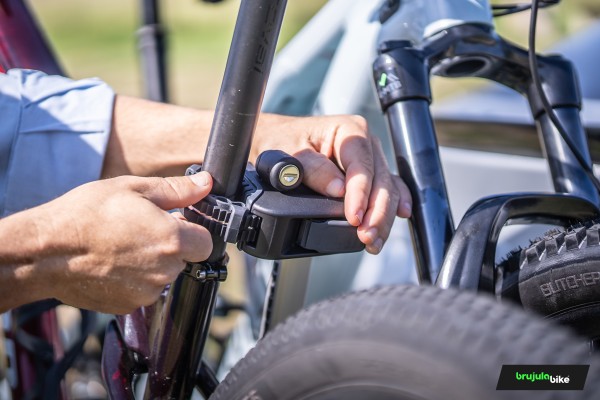 As specified in its features, the Epos model for 2 bikes supports up to 60 kg of load, 30kg for each bike, which makes it practically compatible with any e-MTB on the market.
In addition, its attachment system and the distance between bikes ensures that you can carry any carbon bike on it, no matter how light and delicate you consider it to be.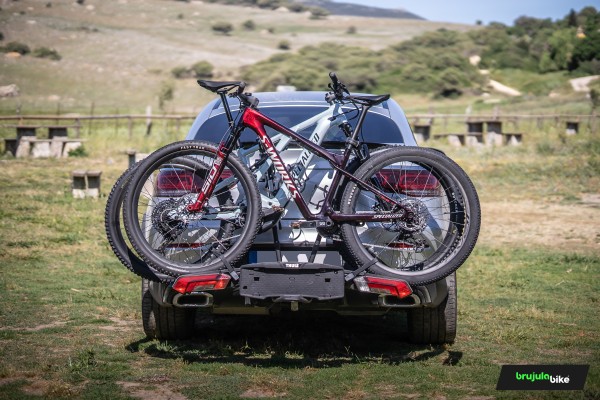 The ability to carry a road bike weighing just 6kg and an e-MTB weighing more than 20kg at the same time on the Thule Epos is a clear example of its versatility and load capacity.
Test run of the Thule Epos
As we have already mentioned, we have been lucky enough to test the Thule Epos in its version with load capacity for 2 bikes.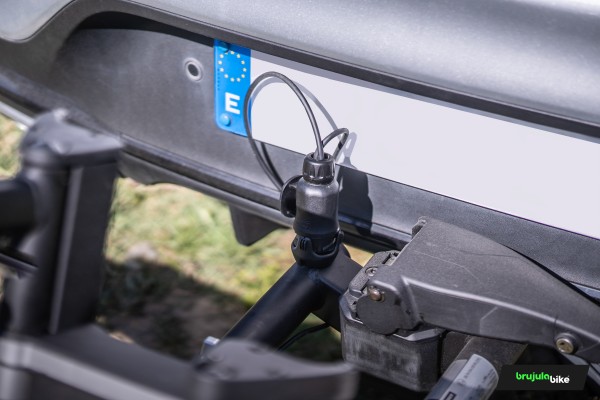 Installation to the vehicle is like that of any other bike carrier with a tow hitch, but the possibility to install it folded makes it easy to handle. Once mounted, the deployment of the platforms where the bikes are supported as well as the telescopic bars is as easy as you can imagine.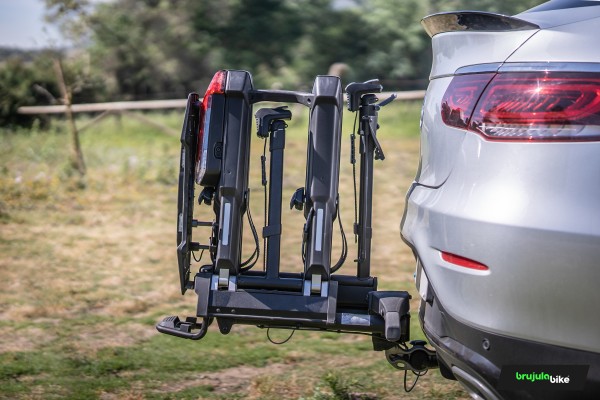 In our case we have tested gravel bikes, mountain bikes and electric bikes and we can confirm that loading and unloading is as easy as promised.
The space between bikes is sufficient to be able to handle them independently and the telescopic system to fix them to the top tube or seatpost is a success. Finally, the bike is anchored to each wheel by means of two straps with a pleasant feel and very robust appearance.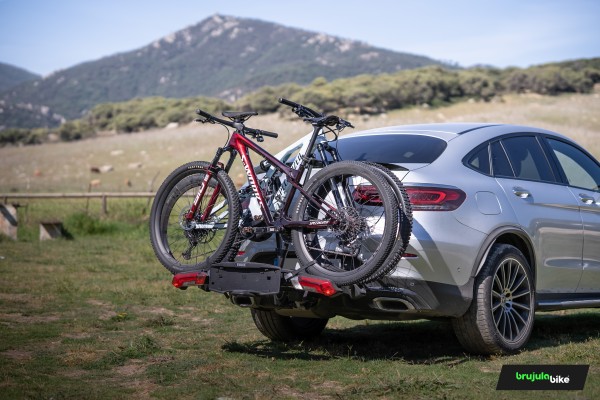 If we need to access the trunk, the Thule Epos has a pedal that can be operated with a single foot and the bike carrier folds down without any feeling of instability.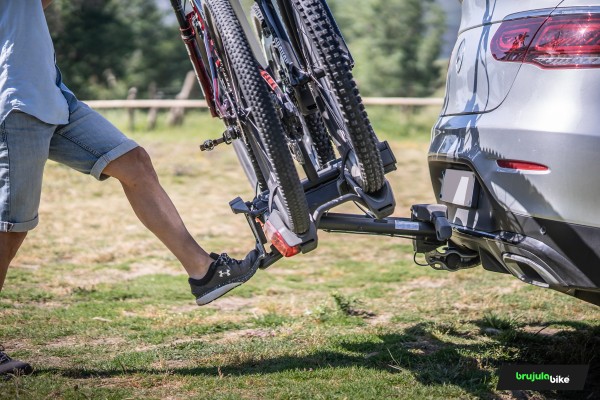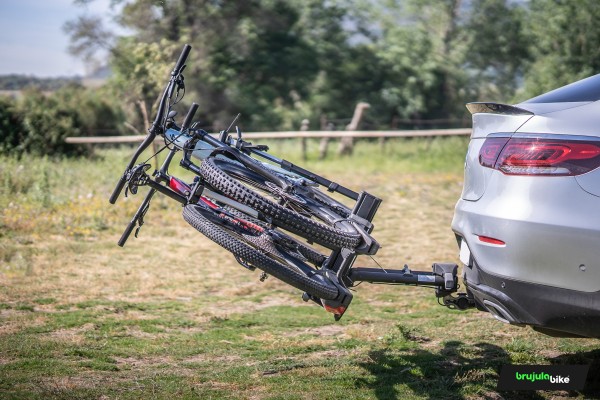 Finally, and speaking of stability, we have to say that, as expected, the Thule Epos behaves very firmly on the road. During our test we were able to test it both on the highway at high speed and on fairly rough dirt roads, and the bike rack remains as firm as if it were a structural part of the vehicle.
Conclusion
In conclusion we can say that the Thule Epos is a premium bike carrier that ends with almost all the complications and limitations that can be attributed to this type of accessories. Its price is high compared to other models, even from the brand itself, but we have to say that so far it is the best version of a bike carrier that we have been able to test, so if you are one of those who use them very often or your bikes are high-end, it is sure to be a good investment.
Thule Epos specifications and price
The Thule Epos bike carrier is available in versions of 2 and 3 bikes with a price of 1025,95€ and 1.127,95€ respectively. Here are all the specifications of the 2-bike model that we have tested.
Max number of bikes: 2
Load capacity: 60 kg
Max bike weight: 30 kg
Dimensions: 69 x 126 x 22 cm
Folded Dimensions: 69 x 27 x 73 cm
Weight: 17.3 kg
Fits frame dimensions: 22-90mm
Max tire width: 3" (With Thule XXL Fatbike Wheel Straps 4.7")
Max wheel size (diameter): 29"
Max wheelbase: 1350 mm
Distance between bikes: 25 cm
Carbon frame compatible
Wheel mounting on adjustable holders: Pump buckles
Tilt function (with bikes)
Fits cars with exterior spare tyre
Rear lights
Power connector: 13-pin
One Key System compatible
Lockable rack-to-vehicle
Colour: Black
More information on this and other models can be found on the official Thule website.