We test the Specialized Diverge STR, a true gravel hovercraft
In 2022, Specialized introduced what was one of the bikes of the year in every way, the Diverge STR. A full suspension gravel bike in which we saw for the first time an innovative rear shock system capable of isolating the rider from the bumps without losing the performance of a stiff road frame. We've been able to test it for a few weeks and here's our thoughts on the gravel bike that has raised the most excitement in recent months.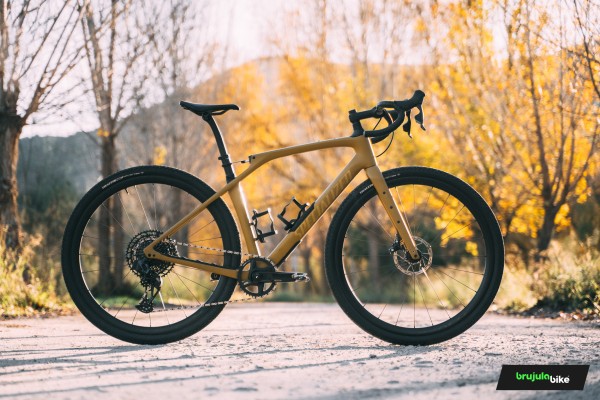 Specialized Diverge STR, a full suspension with a lot to say in gravel
After quite some time we've learned that when a new bike model arrives surrounded by a tremendous cloud of controversy and prejudice that means we should give it our full attention. And the new Specialized Diverge STR has generated opinions of all kinds.
This is certainly not the first full suspension road or gravel bike, but Specialized's system comes at a unique time when gravel riding is at an all-time high in popularity and many road and mountain bikers are converging for the first time in their love of the same type of bike and activity.
With this popularity, the gravel bike market has grown in all directions and today we can choose between ultra-light and responsive bikes, such as the Specialized Crux, perfect for aggressive gravel riding and more comfortable adventure bikes. The Diverge STR comes to combine these two extremes and in that sense it seems to us the best bike to date for the vast majority of gravel riders, that is to say for 80 to 90% of cyclists. For those who want to enjoy their bike riding on roads and trails but without losing the speed of a road frame. As you can imagine, it's not all advantages and the Diverge STR also comes with some limiting factors.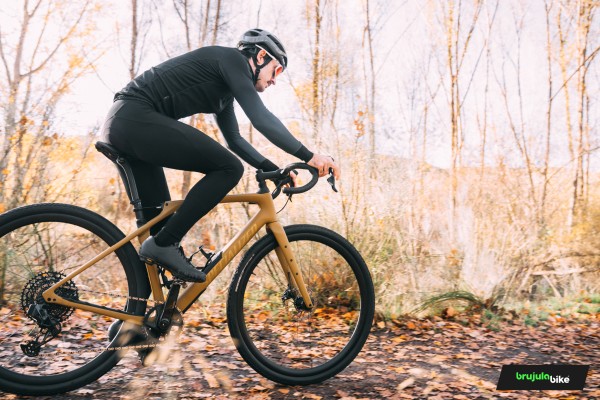 What is the STR (Suspend The Rider) system and how does it work?
Specialized engineers have invested 5 years in the development of this new Diverge STR, and much of that time has been spent in giving a new use to Future Shock technology and finding a simple full suspension system. The result is 20 mm of travel at the front and another 30 mm at the rear to isolate the rider from bumps and vibrations without contaminating pedaling or the reactivity of a stiff frame.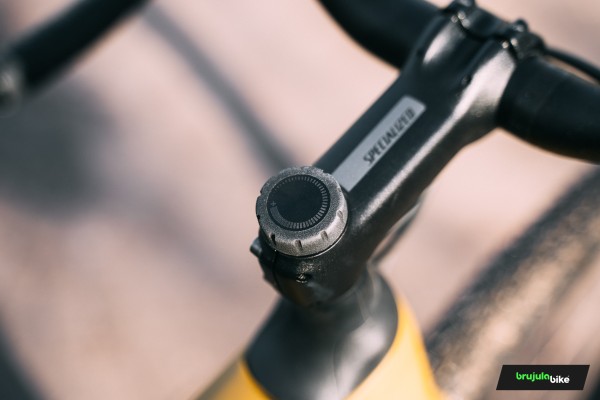 20 mm front suspension with Future Shock 2.0
At the front, under the stem, the Diverge STR mounts the Future Shock 2.0 that was introduced in 2020 and offers 20mm spring damping that is gradually adjustable in rebound and travel via a top dial. It's a damping system designed for the road, for the hard cobblestone roads of Paris Roubaix, and remains one of the best gravel options considering its damping-to-weight-to-simplicity ratio.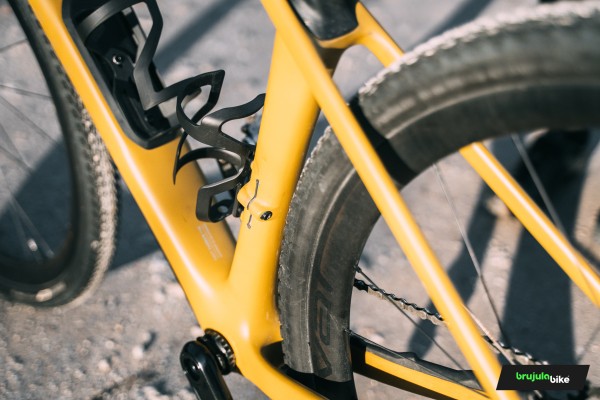 The rear suspension is a stroke of genius
But the jewel in the crown is at the rear. The rear system is made up of a "double seatpost" that functions like a pole that is regulated and steered by a hydraulic shock absorber inserted in the top tube. The frame maintains its stiff structure, without any pivot, and a removable carbon tube is first inserted into the down tube, Specialized calls it a "frame seatpost", which is fixed by an external bolt. Inside that "frame seatpost" the seatpost is inserted and the result is an extendable seatpost that flexes back and forth as soon as we sit down.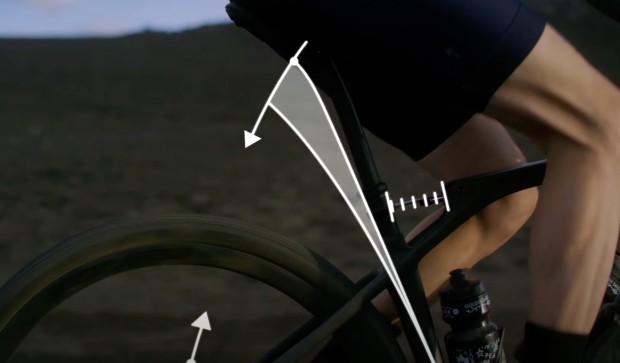 That's when the compact hydraulic shock absorber comes into play to keep you from being catapulted. The shock is attached to the seatpost by a metal linkage that controls the 30 mm of travel and offers three positions, interchangeable on the move with a lever, that allow you to open, close or leave it in an intermediate position, in the style of any mountain bike.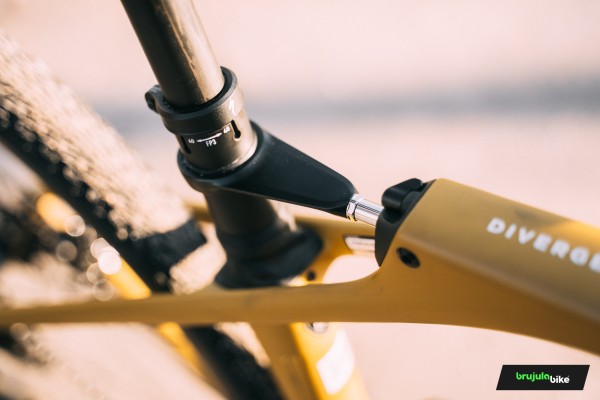 This system can be adapted to any weight and height through various combinations of the "double seatpost" and Specialized includes two seatpost sizes of different lengths depending on size. The system has up to 9 different options that will be available through Specialized dealers and Specialized ensures that any rider will have the perfect setting for their height and weight.
Shock rebound can be adjusted by a screw located under the top tube, and the first leg of the seatpost has two flex options. Simply release the bolt on the frame down tube and rotate the lower stem section to make it more or less sensitive to flex.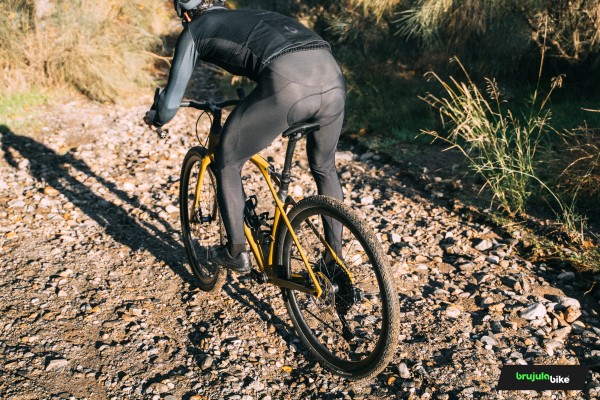 The whole system adds just 400 g in weight compared to the previous Diverge without rear suspension and after seeing and testing it we can only say that it is as spectacular as it looks. The complicated simplicity of the STR has managed to give a stiff frame an effective and sophisticated rear suspension.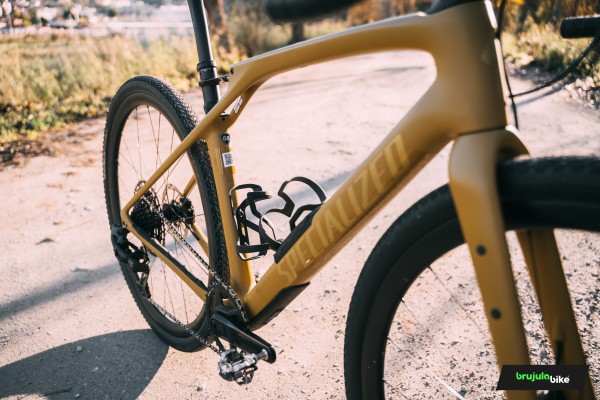 By the way, for those who are thinking that one of the current suspension seatposts on the market would have the same result for much less money, the truth is that they have nothing to do with it. The Future Shock system is much more sophisticated and feels like a real suspension, smoother and more effective. 
Weight and speed: two evolving cycling concepts
Although it is not the turn of the conclusions, it is time to talk about one of the most controversial factors of the Diverge STR, its weight.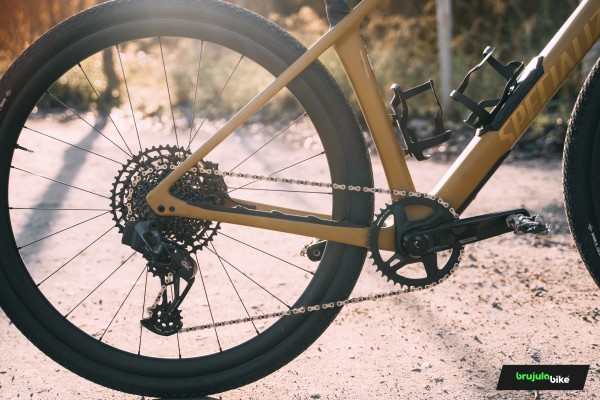 Our test model was the first of the STR range, the Specialized Diverge STR Expert, which has a weight of 9.5 kg in size 56, but which goes up to over 10 kg as soon as we mount pedals, bottle cages and put some spare parts in the SWAT storage system found in the down tube.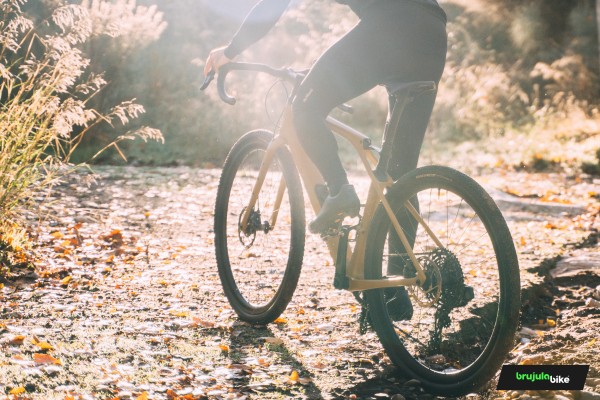 There are still two versions above it with lighter frames, but equally its weight is not comparable to any gravel bike in this price range, the Expert costs 7,500 €. And it is not because the weight here has a different conception.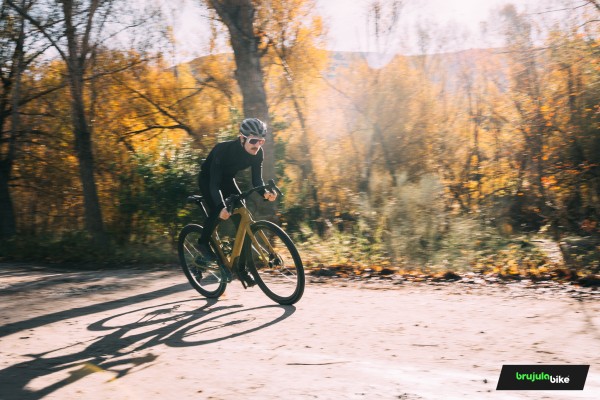 For cyclists who come from the road, a large part of the gravel public, weight has been a determining factor since the beginning of the sport and has only gone in a downward direction as the bikes became faster. But in mountain biking this has not been the case and if in the 2000s it was normal to find XC competition models under 9 kg, those of today are around 11 kg and yet they are much faster. This happens because as the suspension systems allow to pass faster through complicated areas and, most importantly, they reduce fatigue to the rider and get that the average speed increases.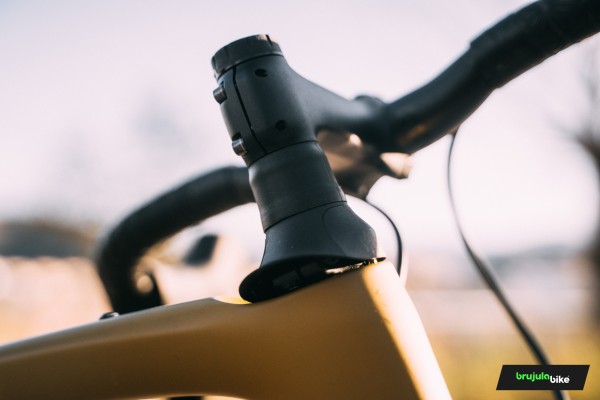 Justo eso es lo que pretende y consigue la Diverge STR, reduce el desgaste del ciclista ofreciendo un mayor confort y logra una velocidad media mayor en rutas de gravel. Por este motivo, decíamos al inicio, que una bicicleta como la Diverge STR es perfecta para la gran mayoría de ciclistas. Aún queda por ver si se convierte también en el modelo que elijan los profesionales del gravel para carreras de larga distancia, como la Unbound Gravel.
That is exactly what the Diverge STR aims to achieve, reducing rider wear and tear, offering greater comfort and achieving a higher average speed on gravel routes. For this reason, we said at the beginning, that a bike like the Diverge STR is perfect for the vast majority of cyclists. It remains to be seen whether it will also become the model of choice for professional gravel riders for long-distance races, such as the Unbound Gravel.
Even so, it is also true that the model we tested, the Specialized Diverge STR Expert, seems to us to have a set-up with room for improvement in terms of weight, if that is what we are looking for.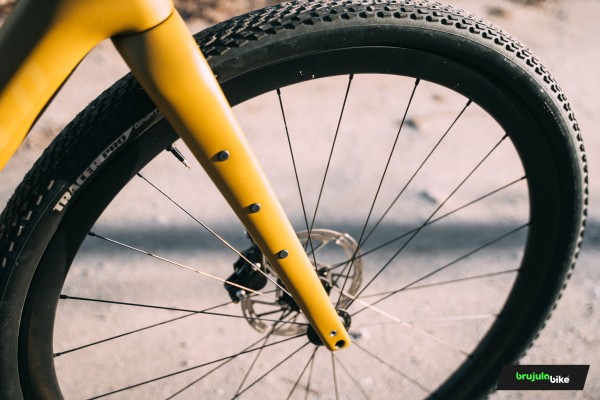 Riding the Specialized Diverge STR Expert, what did we feel about it?
The first impression the Diverge STR gives is that of a very different gravel bike, and not just because of the shock. Its oversized tubes give it a robust and adventurous look that makes you think it will be a slow and safe bike. Not at all. As soon as you get on it, it behaves in an agile way and the sensations of the carbon, present in the frame, seatpost and wheels, and the stiff frame invite you to accelerate on any flat.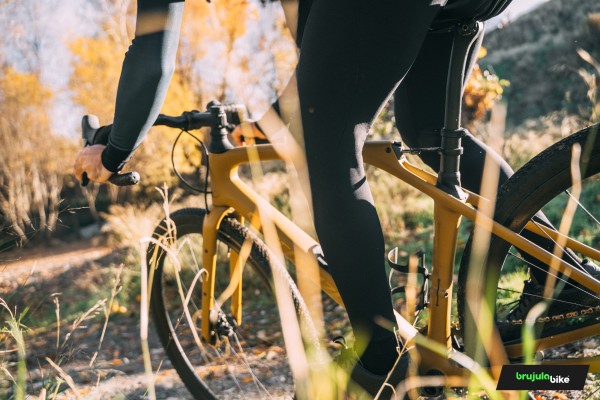 As we said its appearance is that of an adventurer or bikepacking bike and on the frame we find attachments for extra bags or water bottles on the top tube and on both sides of the fork. If we wanted to carry more load would have to resort to saddle bags with Velcro adjustment because its structure does not allow mounting rear rack.
The geometry of this model is almost identical to that of the normal Specialized Diverge, only adding a few millimeters more reach and in the chainstays, so the sensations are very similar. This is a very versatile and capable gravel bike that has earned to be one of the most appreciated models of the modality.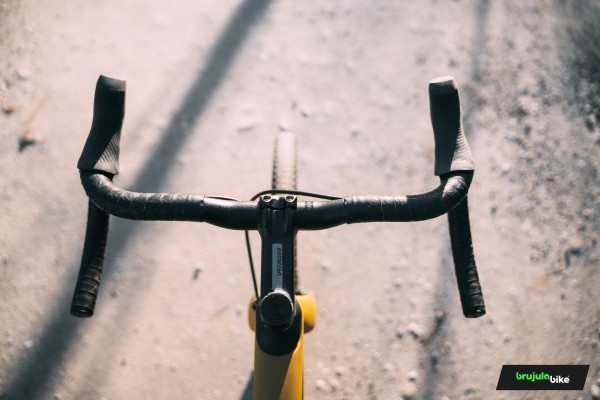 The behavior of the rear shock is noticeable as soon as you get on the bike, a sign that it's an effective system and not one of those where you have to trust that the frame and seat stays are working as suspension. But at the same time, that feeling of flex will force you to optimize the system before you start pedaling. That is to say, choose the position of the seatpost down tube (because of its braiding, it can flex more or less by simply rotating it) and choose the length of the seatpost itself according to your height and weight. These initial adjustments, together with that of the shock rebound, will once again be simple preliminaries for any mountain biker, but could be more work than usual for a road rider.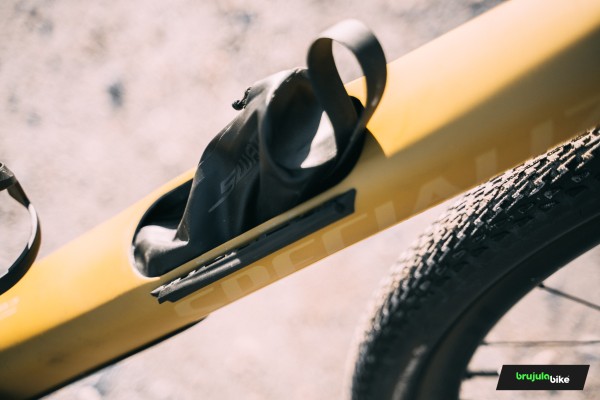 Now, with the initial adjustments made, the bike feels like a hovercraft on any terrain and its absorption capacity is very evident. After testing it on all types of terrain, from pure gravel trails to road passes to completely broken trails and mountain bike trails, the Diverge STR's performance can only be described as good to excellent.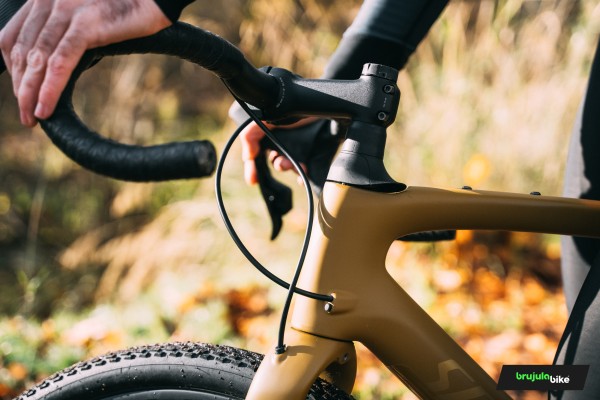 Starting with the situations that benefit it the least, in mountain passes on the road or in sprint accelerations is where the weight penalizes it the most, but it was also here where it was clear that the reactivity of the bike is still what any road bike can offer. When pedaling standing up on the bike the rear suspension is completely cancelled out and the power transmission is total. Even seated and with both suspensions closed, pedaling is just as efficient.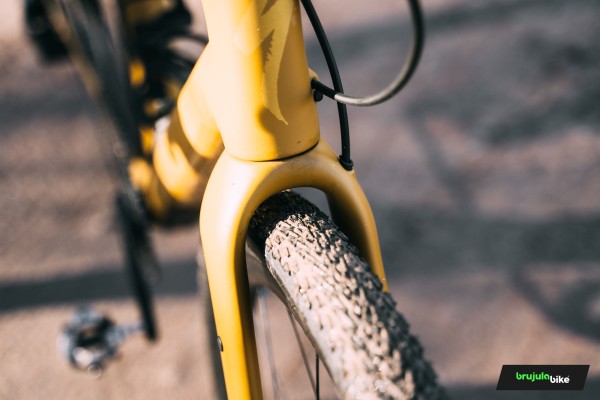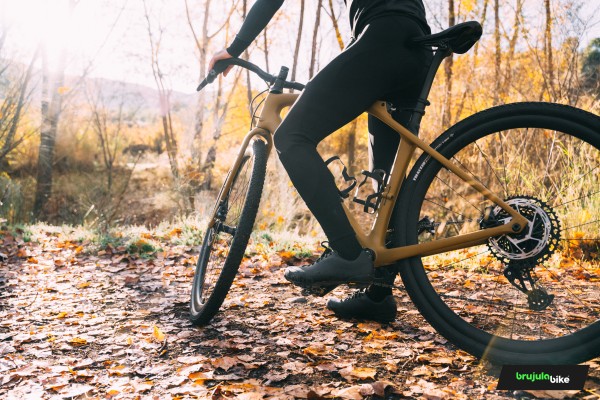 After testing it on the road, it was time for its natural environment and this is where it can show off the most. On pure gravel trails, the Diverge STR just asks for more kilometers and it can be seen that the full suspension is decisive in the comfort and performance of any rider.
It was during our test rides that we felt the need to put an adjective to the feeling of speed and comfort that the Diverge STR offers, and the closest thing we found was to compare it to a hovercraft. That's how we felt about it.
But there's one more area where the Diverge STR is almost unrivaled: demanding gravel areas. On those trails or mountain bike trails where it is more advisable to put your foot down or go too slow, the Diverge STR allows you to go faster than with almost any other gravel bike.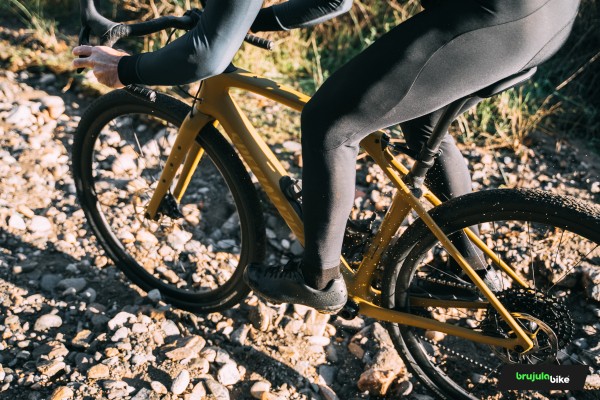 From the set-up, we can say that SRAM's AXS electronic drivetrain, the GX model mounted on the Expert, is still addictive for its feel and precision, but of course there are other lighter ones that could help to reduce the weight of the set. So would tires that are lighter than the 42mm Specialized Tracer. These tires help reinforce the feeling of floating, but if you're a weight-conscious rider, you can afford to fit lighter ones.
Conclusion: Will all future gravel machines be like this?
After spending a few weeks with the Specialized Diverge STR we reaffirm that the vast majority of gravel enthusiasts would find this model their ideal choice, but we can not ignore that the weight and price of the Diverge STR are its limiting factors. The weight, as we have already explained, is justified by the successful suspension performance. And the price is typical of an exclusive bike with a unique system for the moment. Everyone will have to assess their preferences and not be carried away by previous prejudices.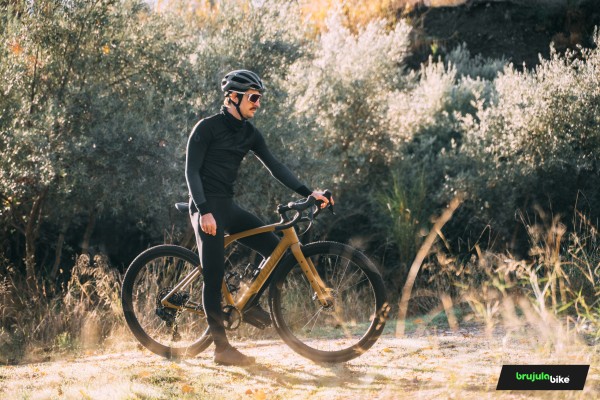 In any case, if we were forced to choose and stay with only one bike this would be a great candidate. The suspension system has won us over and it seems to us that this and other similar systems could have a better acceptance in gravel than the adaptation of forks with damping or mountain bike systems.
Specialized Diverge STR Expert: features, weight and price
Frame: Diverge FACT 11r carbon
Fork: Future Shock 2.0
Groupset: SRAM Rival eTap AXS. GX Eagle rear derailleur. 40 Crankset. NX Eagle PG-1230 11-50
Handlebar: Specialized Adventure Gear Hover
Stem: Future Stem
Handlebar Tape: Supacaz Super Sticky Kush
Saddle: Body Geometry Power Expert
Seatpost: S-Works Carbon
Wheels: Roval Terra C
Tyres: Specialized Tracer Pro 2BR, 700x42
Weight: 9.5 kg (without pedals or bottle cages)
Price: 7,500 € 
Here you can check the complete range and setups of the Specialized Diverge STR.