We test the Scott Addict Gravel Tuned: integration, speed and bikepacking all in one
The new Scott Addict Gravel was presented a few months ago, just in time to get on the podium of the Badlands 2021, and more than a renovation we can talk about a revolution. This is a 100% gravel bike, far from the old version, closer to cyclocross models. 
Scott has opted for integration, low weight and the good base of its road model, the Addict RC, to give life to the new Addict Gravel. We have been able to test it to bring you our first-hand sensations of it.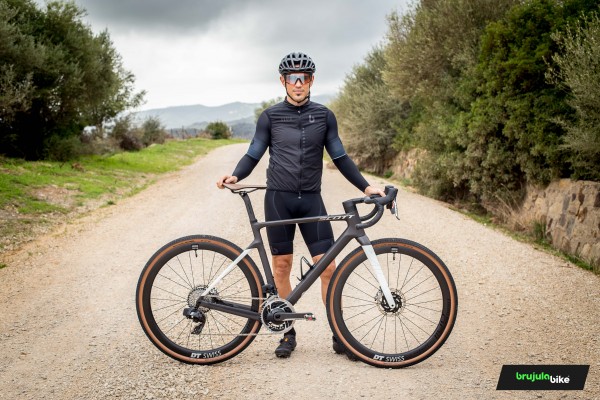 Scott Addict Gravel: complete renovation for the new gravel
Scott, a brand linked to competition, has opted to give a racing character to its star gravel model, without leaving aside those who practice this modality in a more adventurous and recreational way. For this reason, using the base of the Addict RC, it has shaped this HMX carbon frame that equals in numbers the stiffness of its road sister in the head tube and bottom bracket area.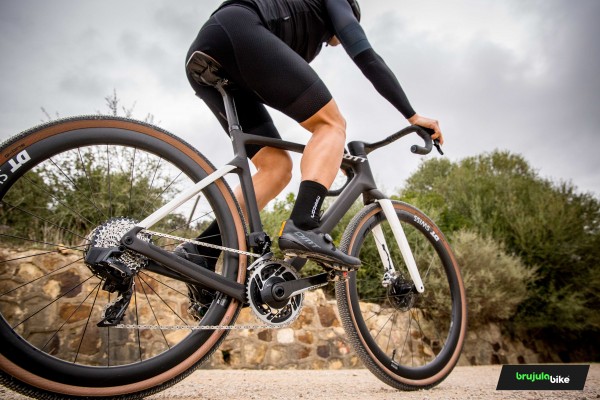 The weight of the frame is one of its strong points, in size 54 it weighs only 930 grams and is accompanied by a robust fork weighing 395 grams. In addition to the stiffness, another inherited point is the D-shaped section of the tubes, which together with the complete internal cable routing improves aerodynamics and gives a very clean aesthetic to the whole.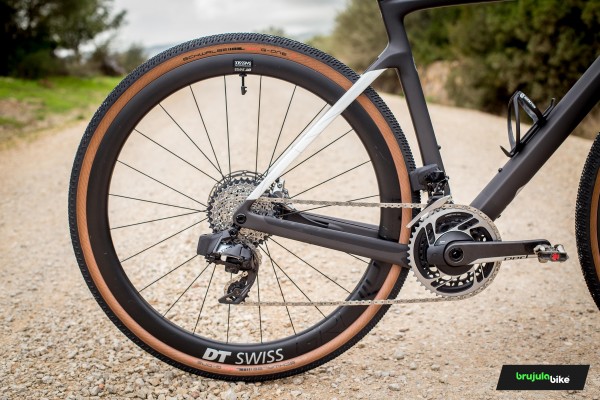 At the rear, its stays are low in order to improve the flex at that point to provide greater absorption. The chainstays have a wide wheel arch to accommodate tyres of up to 45 mm and a flat-mount caliper anchorage that allows us to mount 140 or 160 mm discs.
It gives us the possibility of mounting single or double crankset drivetrains. In case of opting for 1X groupsets, it gives us the possibility of fitting a subtle chain guide on the derailleur mount to prevent the chains from slipping off in bumpy areas.
Another of the brand's priorities and what makes this Addict Gravel stand out is the integration. The Eccentric Bicycle Fork Shaft design, patented for the development of the Addict RC, has been used, which allows all the cables and brake hoses to be routed inside the headset on models with electronic groupsets and mechanical derailleur gears. The Syncros Creston iC SL X handlebar and stem assembly also plays an important role here, from which all the cables are routed through the inside, playing a key role in the aerodynamics and clean aesthetics of the bike.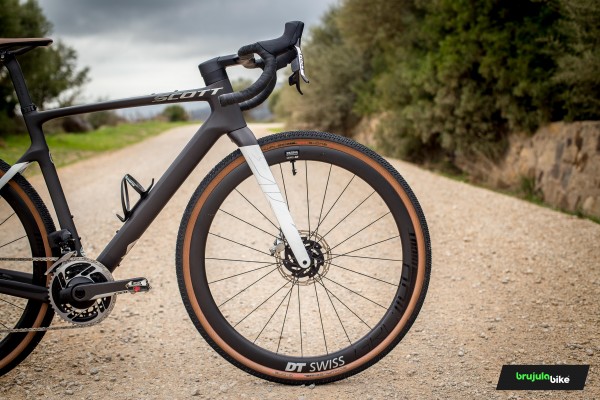 It comes with a minimalist seat tube clamp weighing just 14 grams and an ultra-light D-shaped seatpost that makes it specific to this frame and weighs no more than 150 grams.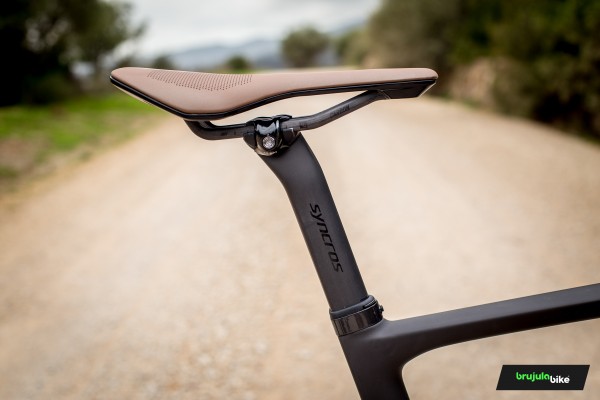 A bike that, although focused on speed, does not leave aside the more adventurous essence of gravel and bikepacking. It is equipped with different anchor points distributed in strategic points of the frame, below the down tube and on the top tube, where you can place a third water bottle, tools or a bag, as well as fork supports and braces for mudguards or luggage rack. In this case we have the option of equipping the specific Syncros mudguards that allow the mounting of tyres up to 40 mm. All the mountings are well concealed by tiny covers.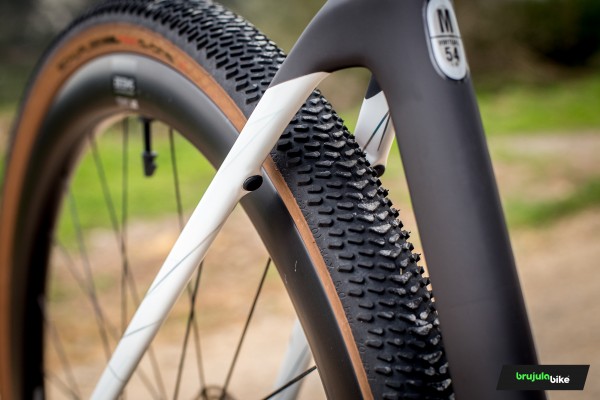 In terms of paint finish, the decoration of the Tuned range is on a higher level within the brand. The frame is dominated by the matt black finish typical of carbon, combined with gloss white on the fork and seat stays, with arbitrary litmus lines. Scott has even created a line of Tuned clothing to match this bike.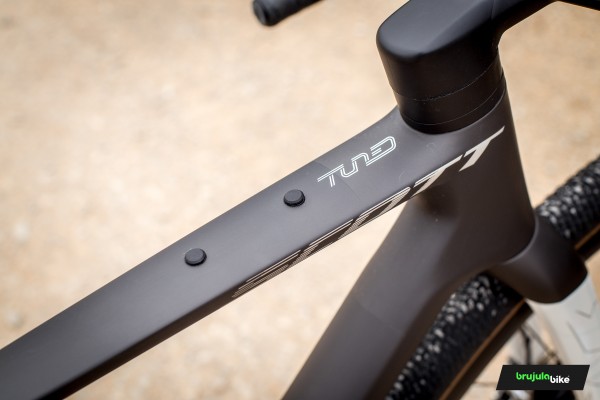 Progressive geometry
Despite being a frame based on the road Addict, Scott has worked to give its gravel bike a more balanced geometry without losing its racing character.
The steering angle has been relaxed to 71° in size M to give you more stability and control on rough terrain.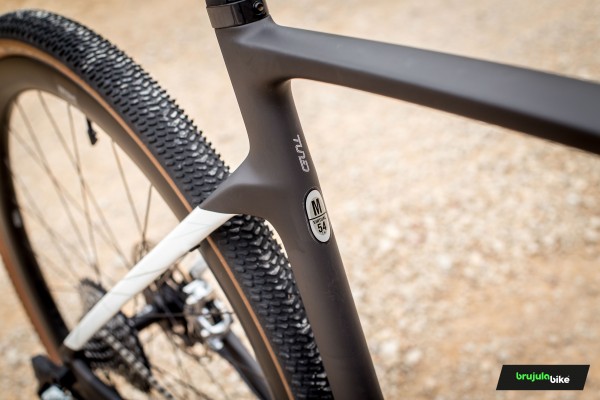 A longer reach combined with shorter stems for a balanced riding position and a 73.5° seat tube angle to ensure good pedalling power transfer.
A low centre of gravity has been sought by locating the bottom bracket closer to the ground. In addition, the 425 mm chainstays accommodate the 45 mm tyres, which compensate to some extent for the lower bottom bracket height.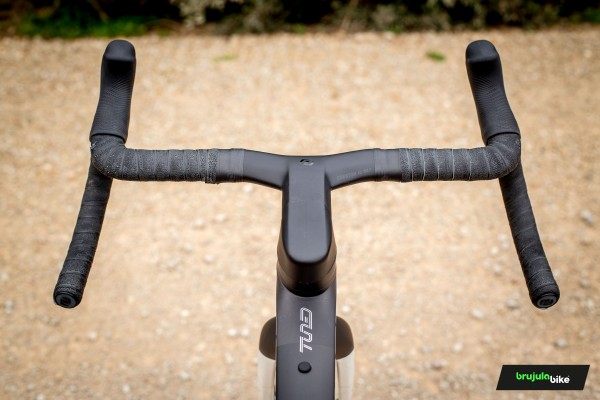 In short, a more progressive geometry, designed for a faster gravel bike.
Top quality components
The version we have had the pleasure of testing belongs to the Tuned collection. In this category Scott goes all out and in addition to giving a special aesthetic, equips these bikes with the most advanced components on the market.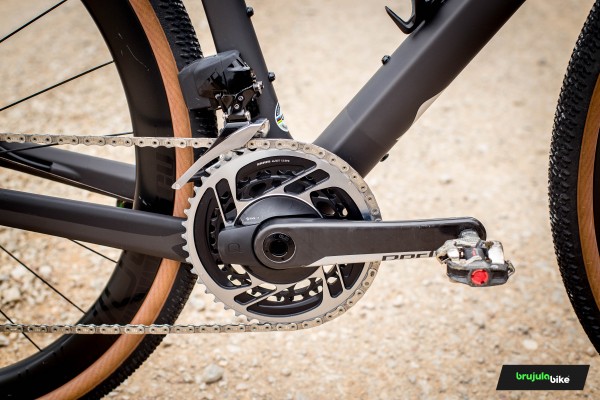 Few components stand out from the rest. All the components are of the highest quality. We found it mounted with the Sram Red AXS groupset in which stand out its cranks with power meter, an element that we don't usually see in gravel bikes. But for those who only have one bike and want to control their workouts more precisely, it can be the perfect complement.
The chosen gearing is 46-33T on the cranks combined with a 10-36T cassette, a common gear ratio in this modality. It allows you to maintain good speed on asphalt sections and to defend itself perfectly on hilly trails.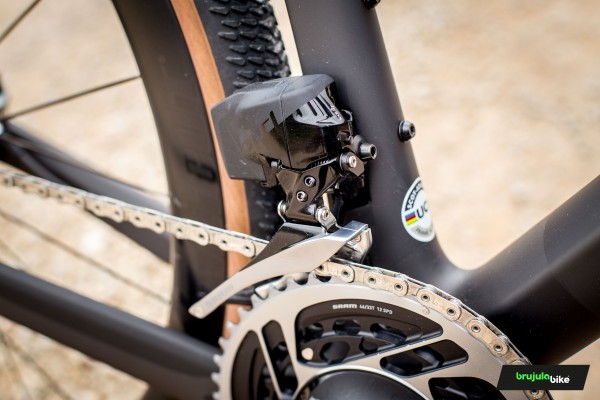 The wheels are DT Swiss GRC1100 Disc specific gravel rims with a 42 mm profile and 24 mm internal width, which are accompanied by Schwalbe G-ONE Race Evolution tyres with a width of 45 mm, which provide good grip in all the situations in which we tested this bike.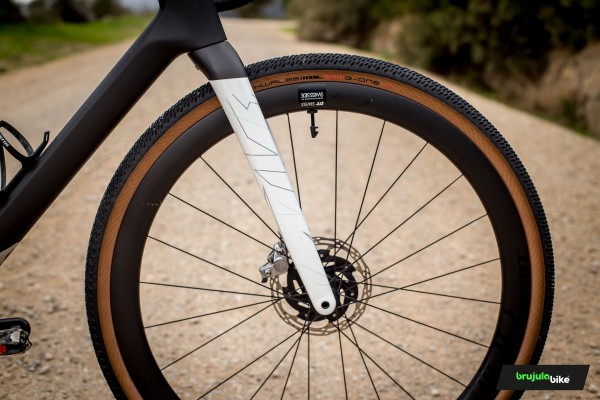 Among all this festival of components, perhaps there is one thing that stands out in particular. We're referring to the Syncros Creston iC SL X handlebar and stem set, which has some new features compared to the one fitted to the Addict road bike. The Y-zone has been modified, making it smaller to achieve shorter stems. The front has been shortened and its ends are flat to provide greater comfort when gripping the levers. In addition, its section is 2 mm thinner to make it possible to accommodate thicker webbing. And finally it has a 16° flare to improve our grip and position in off-road areas.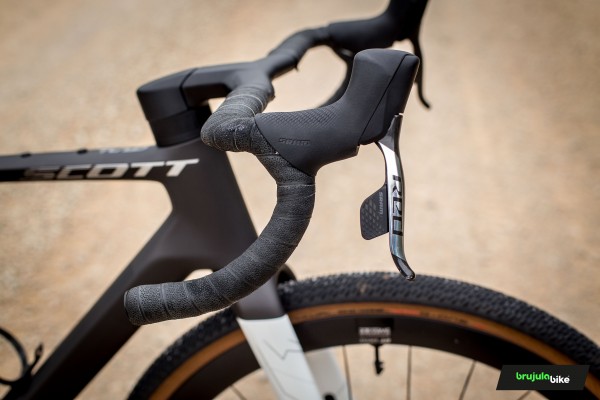 This handlebar allows all the cables to be hidden, both for the electronic and mechanical groupsets, and the weight of the set is 335 grams, which in addition to the aesthetic and aerodynamic improvement also helps to reduce the weight of the bicycle.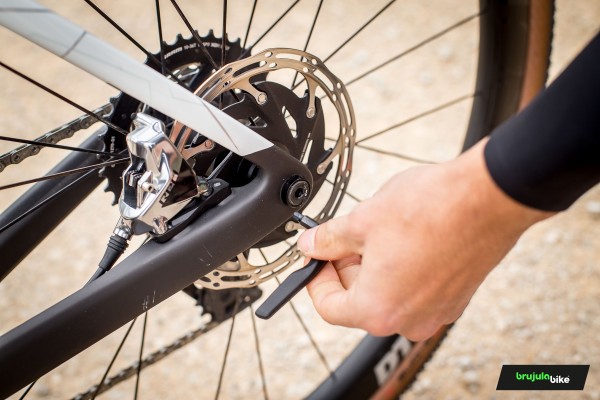 As usual with the Swiss brand, Syncros is used for the rest of the components. Highlights include the carbon D-shaped seatpost, Syncros Duncan SL Aero and the comfortable Tofino Regular 1.0 saddle.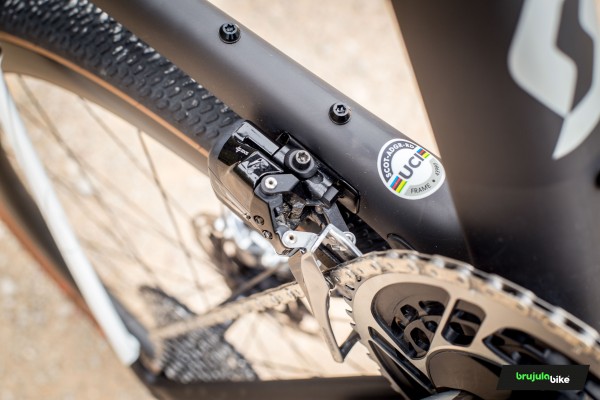 In action with the Scott Addict Gravel Tuned
As soon as we get on the bike we can appreciate its racing character, we don't find an uncomfortable or forced position, but we can notice that it is prepared to go very fast.
On tarmac sections it rolls fast and stable. Every acceleration brings out the stiffness of the frame. The 42 mm profile wheels and the good aerodynamics of its tubes help to maintain speed with ease.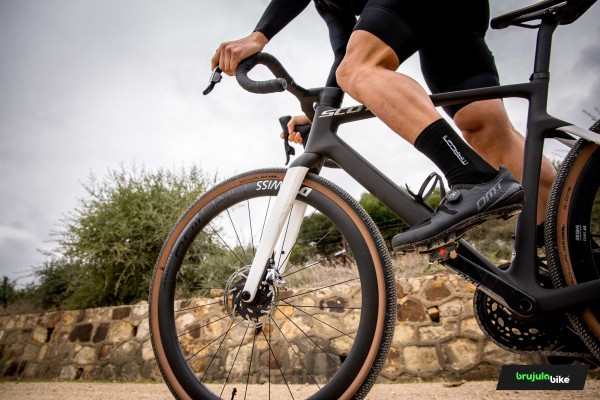 The 45mm tyres are not noticeable at any time and have a quieter ride than expected.
On asphalt uphill climbs it also allows us to ride at a happy pace, it is not comparable to a road bike, but its light weight, on our scales it weighed 8.3 kg ready to ride, helps us to climb with more agility.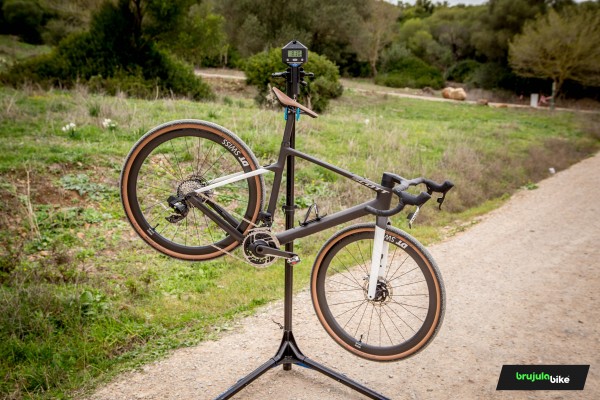 Off-road it is surprisingly easy to handle, and on the most technical trails it offers a controlled ride, moving in an agile manner. From the first moment you get the feeling that you've been riding this bike for a lifetime. It's only in the bumpiest and roughest sections that we suffer a little from its stiffness. It is true that the 45 mm Schwalbe G-ONE R tyres are the perfect complement to a frame with these characteristics as they provide extra comfort, even so, their casing is not as hard as we expected and forced us to carry a little more pressure than we would have liked on the more technical sections.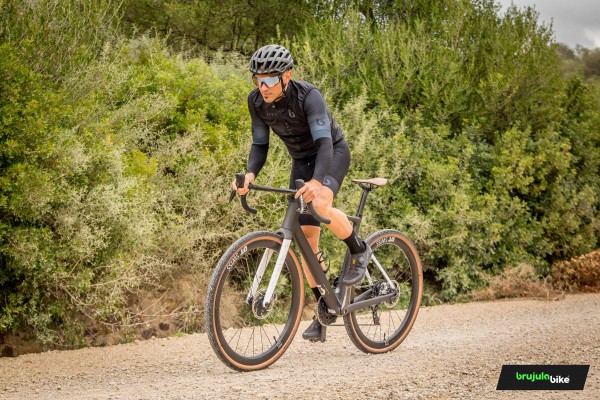 The open trails are where its characteristics stand out the most, as it allows us to ride at high speeds with comfort and safety thanks to the stability it transmits to us. Here the Syncros Creston iC SL X handlebar plays an important role, as it allows us to adapt to any trail in an efficient way.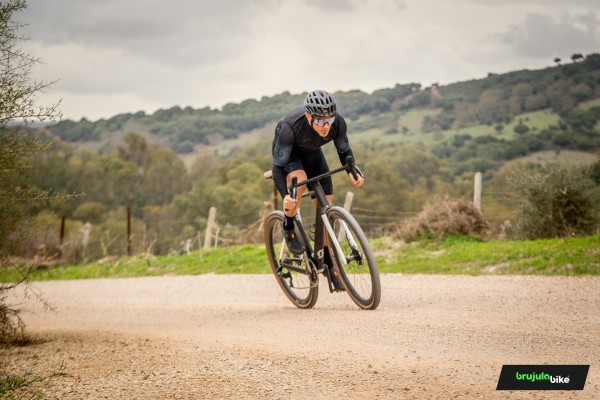 Spending several hours on the Scott Addict Gravel is very enjoyable due to the comfort it offers on all terrains and the possibilities of varying our routes.
All these features make this bike one of the top choices in high-level gravel competitions.
Conclusion
The Scott Addict Gravel is a bike designed to go fast on almost any terrain. A gravel more focused on performance than comfort, with aerodynamic lines and an integration of components far from what we are used to seeing in bikes of this modality. Its stiffness and progressive geometry make it competitive in any situation.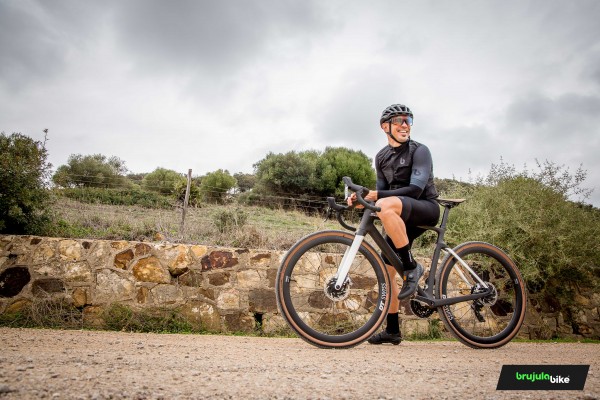 It does not forget the adventurous spirit by equipping it with various anchorages to be able to carry everything you need. An option to take into account if you like to go fast during your gravel routes and you usually combine it with the occasional bikepacking getaway.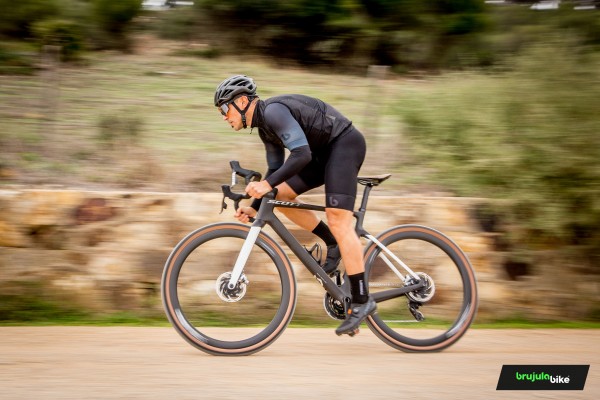 Scott Addict Gravel Tuned Specifications and Pricing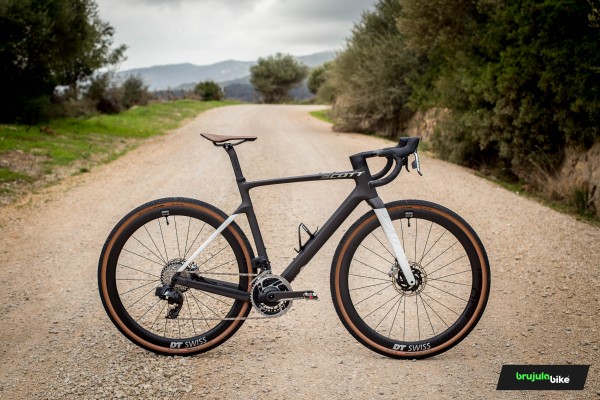 FRAME: Addict Gravel Disc HMX Carbon, Gravel geometry
FORK: Addict Gravel HMX Eccentric Carbon steerer
REAR DERAILLEUR: SRAM RED eTap AXS 24v
FRONT DERAILLEUR: SRAM RED eTap AXS
SHIFTERS: SRAM RED eTap AXS HRD Shift-Brake System
CRANKS: SRAM RED Power Meter Crankset 46/33 T
BOTTOM BRACKET: SRAM DUB PF ROAD 86.5
CHAIN: SRAM RED
CASSETTE: SRAM FORCE 10-36T
BRAKES: SRAM RED eTap AXS HRD Shift-Brake System Flatmount
BRAKE DISCS: SRAM Centerline XR rotor 160mm
HANDLEBAR: Syncros Creston iC SL X Carbon
SEAT POST: Syncros Duncan SL Aero
SADDLE: Syncros Tofino Regular 1.0 Cutout
WHEELSET: DT Swiss GRC1100 Disc
TYRES: Schwalbe G-ONE Race Evolution 700x45C
WEIGHT: 8.3 kg
PRICE: 8.999€