We test the GT Pantera, an electric bike perfect for urban and off-road riding
The GT Pantera arrived in the brand's catalogue as an improvement of its first models of hardtail e-bikes. With a more elegant design and better pedalling assistance, this is a very versatile e-bike and perfect for those who don't want to use their bike for a single purpose. We have had the opportunity to test for a few weeks the GT Pantera Dash equipped with some accessories for trekking or bikepacking and here we tell you all our impressions with it.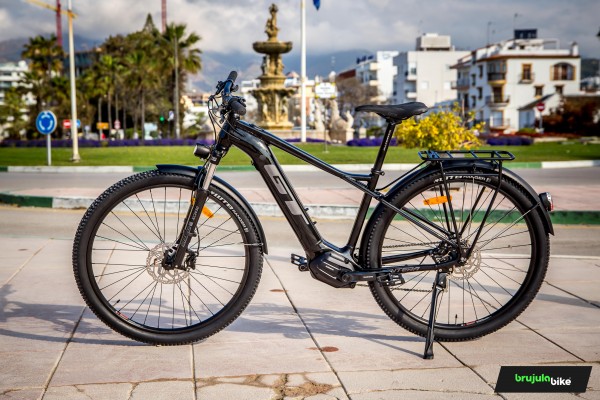 Peaceful appearance with MTB spirit
To begin with, we can say that under the sober aesthetics of a trekking bike with mudguards and luggage rack hides an MTB with a hardtail frame and classic geometry. There are two versions of this Pantera Dash, one with no equipment and the one we tested, which comes with everything you need to ride around town or do any weekend route (lights, mudguards, luggage rack, etc).
Its frame, made of T6 aluminium, follows the brand's characteristic triple triangle design in which the floating stays start from the horizontal tube and reach the rear axle, without ever touching the vertical tube. This GT design is one of the key features of this bike, as it makes it up to 50% more vertically absorbent than other conventional frame models. We will comment later on why we think this feature is so important.
This is a 29" model with wide Boost axles, and its tubes are similar to those of any muscular mountain bike, with the exception of the diagonal tube, giving it a classic look, far from the risky designs of the new e-MTBs.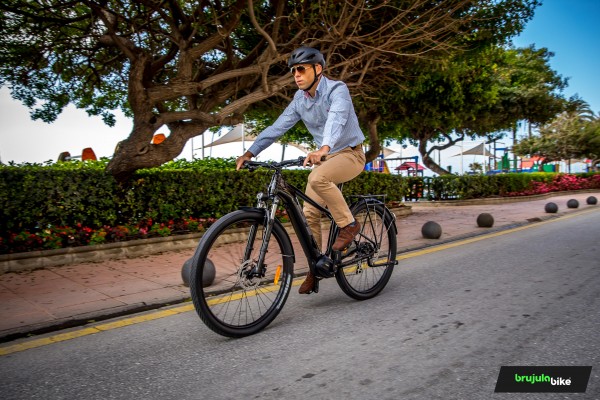 A clean aesthetic in which Shimano's STePS motor and battery system is integrated into the bottom bracket and down tube, the latter being covered with a cover, which not only gives it a better finish, but also protects it from the weather or any impact.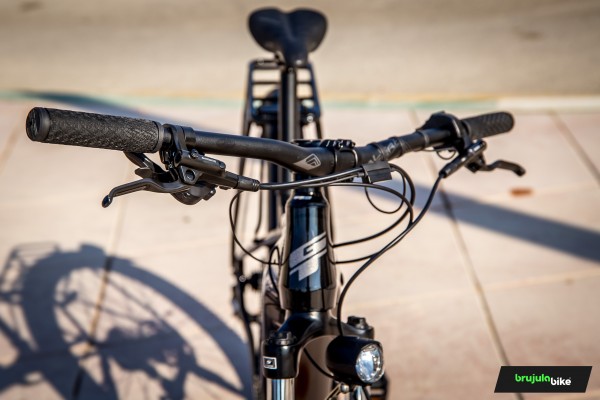 Speaking of aesthetics, this GT Pantera has all its cables routed internally, leaving a frame with clean lines.
As mentioned above, its geometry can be described as classic, with some slight modifications to make it as versatile as possible. It has a steering angle of 68.5º to give it poise on all terrains and safety in the event of having to face a downhill with more challenging terrain. The seat tube angle varies depending on size, ranging from 72.1° for size S to 71.4° for size XL. These figures are close to those of any XCO hardtail and provide good pedalling transmission and a comfortable position on the bike.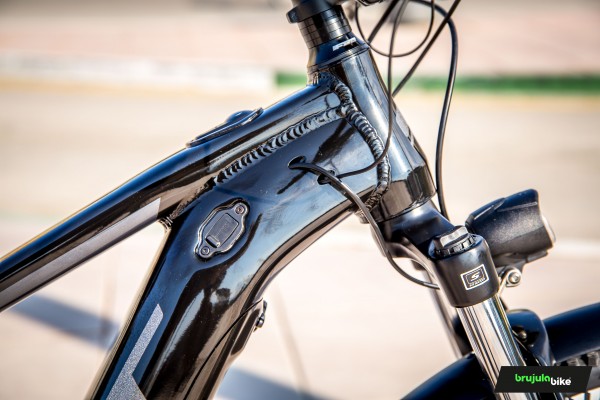 Balanced assistance for all-day use
The second key strength of the GT Pantera is its electric motor. While not the most powerful, the Shimano STePS E5000 unit is a light and quiet system, ideal for any use you might have in mind, but especially designed for city touring or commuting.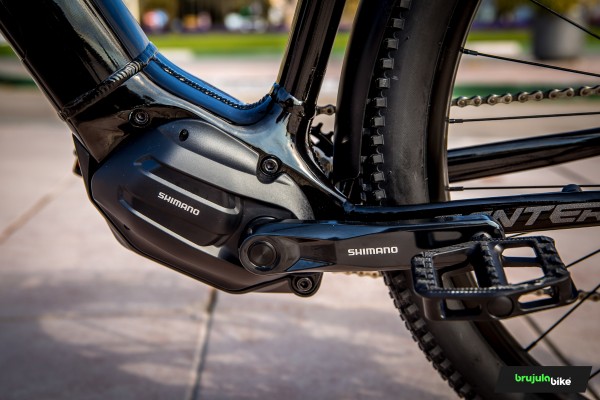 The Shimano STePS E5000 is not intended to enable the fast accelerations of e-MTB pedalling, but is designed for urban or trekking type electric bikes. It offers a power output of 250 W which generates a quiet and efficient torque of 40 Nm. This, together with a weight of 2.5 kg, makes it lighter and makes it easier to manoeuvre. We can say that we have sought to offer the same quality and driving performance as the conventional MTB versions.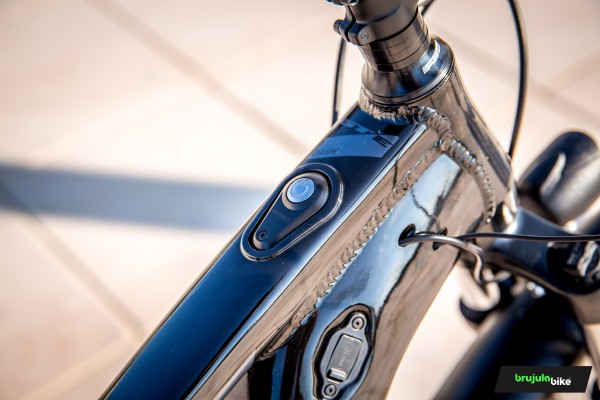 To power this motor, a Shimano STePS BT-E8035 504 Wh battery has been placed in the lower part of the down tube to provide it with the necessary autonomy for day-to-day use or any excursion you can think of.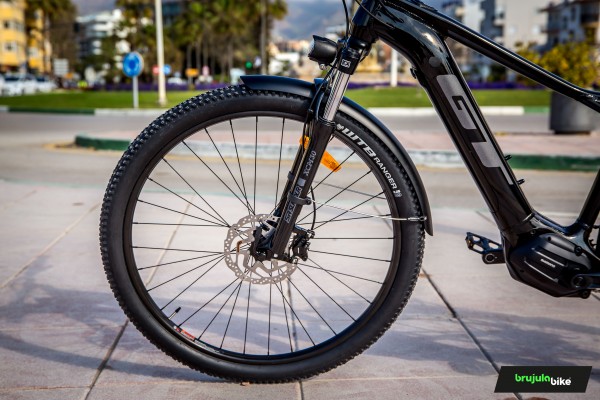 To control the motor, it has been equipped with an easy-to-use button panel on the left-hand side of the handlebars, where we can control the 3 assistance modes available: Eco, Normal and High which mimic the pedalling style of a conventional bicycle, maintaining a very natural feel. The assistance and battery levels are displayed on a minimalist set of LEDs, in different colours, located on the cable of the control panel itself as it passes through the central part of the handlebars to be visible to the biker.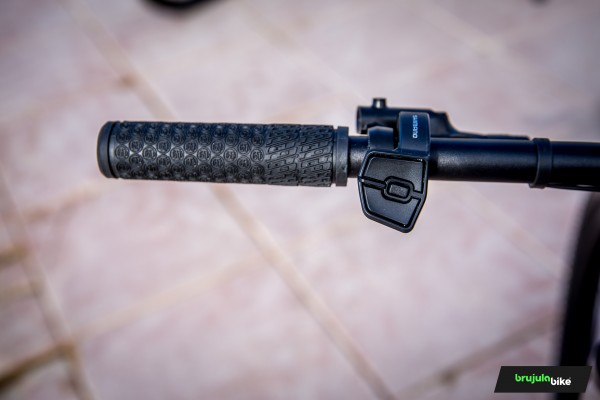 Assembly of the GT Pantera
In order to achieve a cost that is appropriate for the target audience, balanced components have been chosen to obtain a price/quality ratio that makes the difference.
The fork chosen is an SR Suntour XCM, with 100 mm of travel, which is sufficient for the GT Pantera's intended use. Although in other ranges of this same model we can find 120 mm forks to make it even more versatile.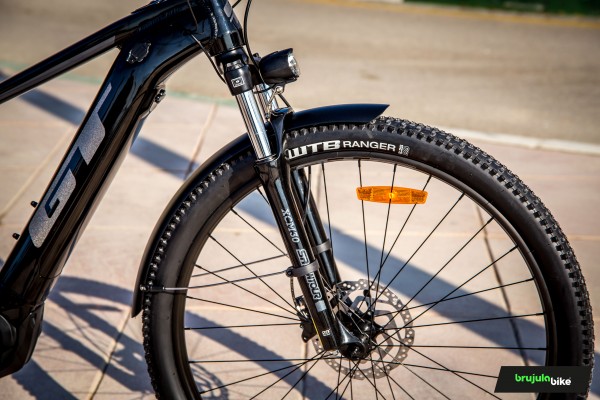 The drivetrain has an 8-speed Shimano Altus rear derailleur with an 11-36T cassette, very suitable for its intended use. The cranks are also from the Japanese manufacturer, a 165mm FC-E 5010 with a 36-tooth chainring.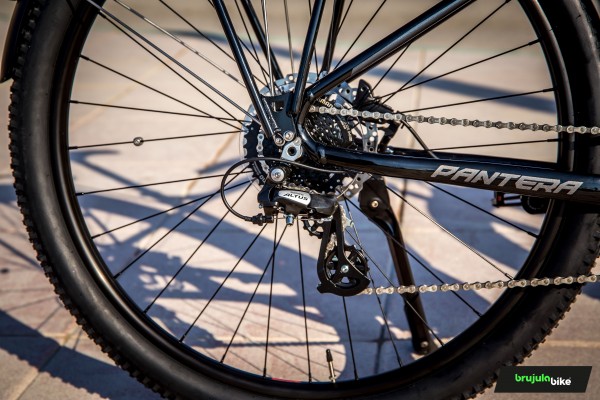 The brakes are Shimano MT200, which are accompanied by 180 mm discs on both wheels to improve brake response.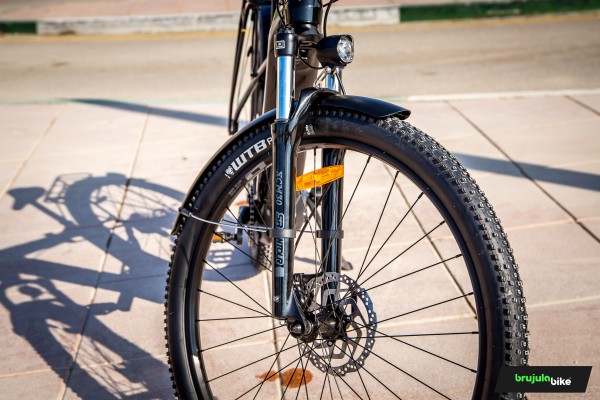 The wheels are fitted with WTB STX i25 TCS aluminium rims with Shimano hubs and WTB Ranger Comp tyres, 29 x 2.25" with generous tread.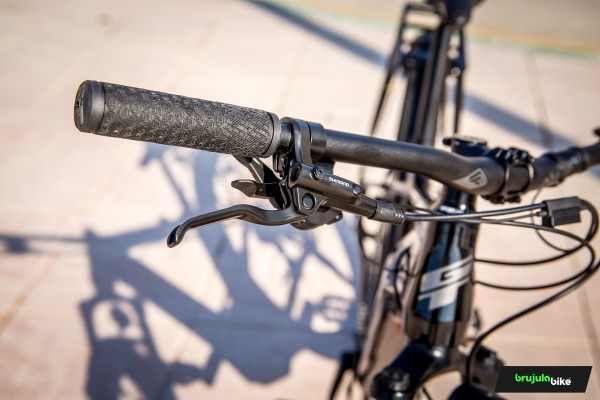 It features a 740 mm double-height aluminium handlebar, straight seatpost and WTB Silverado saddle.
The unit that we have been able to test is the GT Pantera Dash that comes equipped, and as accessories includes mudguards, luggage rack, front and rear lights and a side stand placed on the rear chainstay. Accessories that will delight the most adventurous bikers, as it will allow you to load it with what you need for several days of touring.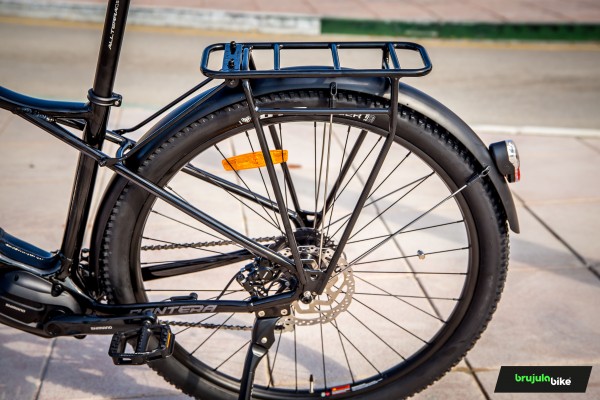 In action with the GT Pantera
As soon as we see it, we are impressed by its colour, the whole frame is painted in black, which gives it a sober aesthetic, it does not go out of fashion and gives it an elegant touch for users who decide to use it for their trips around the city.
Once adjusted to our measurements we began to make our first trips to ride with it in urban areas, testing the different modes of assistance provided by the Shimano STePS engine. The ECO mode is a very smooth assistance, which is only noticeable when you start pedalling. Once you get up to speed, it's so light that it feels like you're riding a conventional bike. In HIGH mode, on the other hand, we notice a greater acceleration and that the assistance is very strong.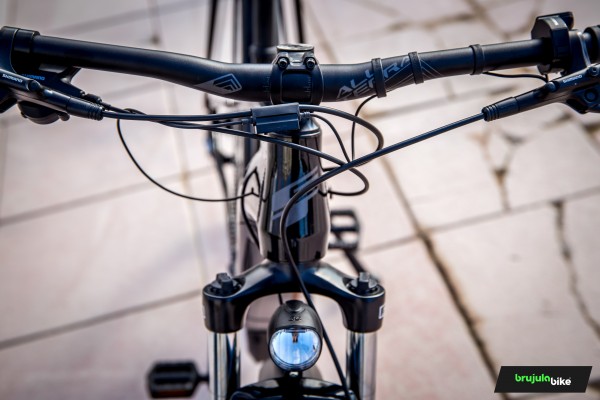 It doesn't take long to get used to it. It has a comfortable riding position and that helps. We decided to leave the city and take the first track we could find to see how it behaved off-road. As we expected, behind its urban bike aesthetics it hides some good MTB qualities.
This is where its main feature shines the most. Its triple triangle design really gives us that comfort we need in off-road areas. It's obviously not a shock absorber suspension, but we do notice that the effect of bumps is reduced. Especially when we have extended the days of pedalling, looking to squeeze the battery to the maximum, is when we have most appreciated this extra comfort.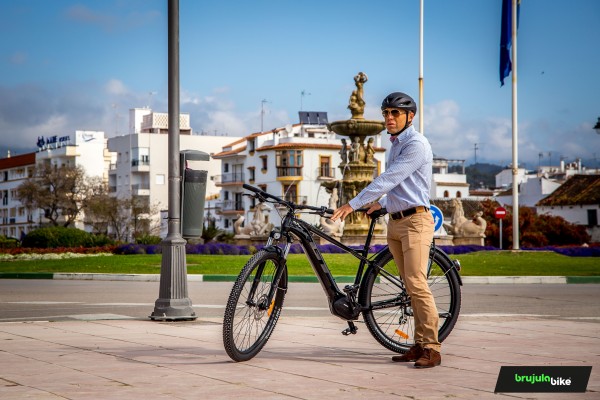 When the terrain becomes steeper, we keep the HIGH mode fixed. It offers the necessary help, together with the appropriate development offered by its drivetrain, to overcome all the hills we have encountered. It is true that most of the routes we have been on have been medium level. The engine doesn't have the blazing acceleration of the most powerful e-Mtb's on the market and this is noticeable at certain points on steep slopes, but in our opinion the GT Pantera is focused on another use for which it doesn't need this quality.
On the twistier sections we were also surprised by its handling, with a muscular bike-like feel, thanks in part to its lightweight motor and geometry. The 740mm handlebars make turning and changing direction much easier, but for more urban areas we found them too wide.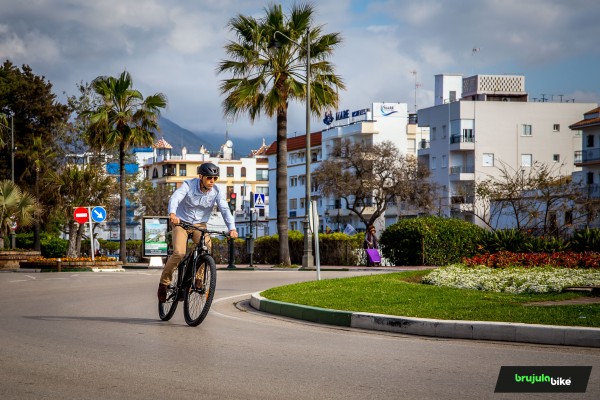 When we've faced downhill sections, as we said at the beginning, it brings out its MTB side. Its SR Suntour XCM fork, without being one of the most cutting-edge on the market, performs perfectly. We spent a few minutes adjusting its preload and found it to be more than acceptable. The 68.5º steering angle also has an influence here, giving us poise and confidence when the downhills got a little more complicated. The Shimano MT200 brakes combined with 180 mm discs did the job every time.
After several days of cycling we have been able to appreciate that its battery gives us enough autonomy for routes of about 70-80 kms, yes, we have used the HIGH mode quite a lot in each of them.
One thing we'd like to highlight is the pannier rack. We've used it for a variety of purposes, from carrying a rucksack to work, to putting some panniers on it for a couple of days of touring. For those who like trekking and multi-day routes it will be very useful.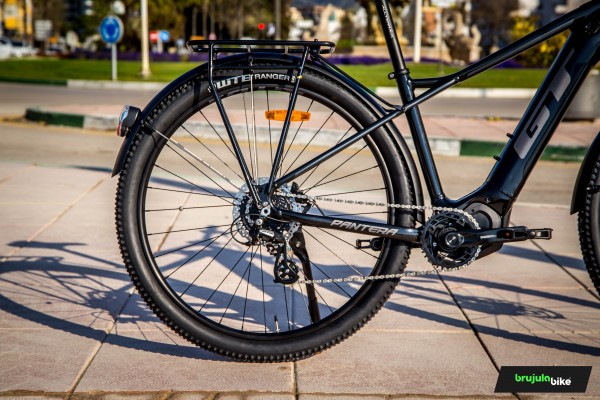 On the other hand, we didn't really like the combination of 2.25" tyres and mudguards. The 29 x 2.25" WTB Ranger Comp tyres have a generous tread pattern that doesn't make it easy to ride in town, and for trails it might also be too much. When we use them with mudguards, in slightly bumpy areas they start to rub against the tyre. From our point of view, if the bike is intended for more urban use, we would opt to change the tyres for more rolling ones.
Conclusions
The GT Pantera Dash is a versatile bike, designed from the base of a hardtail MTB. Suitable for city commuting thanks to its comfort and assisted pedalling, as well as defending itself like a real panther when we go off the beaten track or when the terrain is uphill.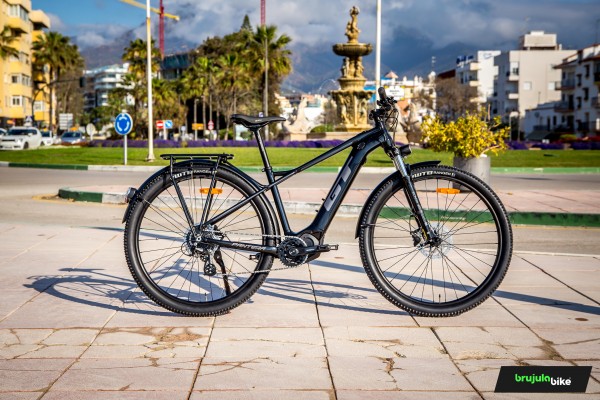 From our point of view, it can become a faithful travel companion or your everyday vehicle. All this for a reasonable price, according to the quality offered by its frame and the good workmanship of its components.
GT Panther Dash Specifications and Price
Frame: ePantera 29" T6 Aluminium, Tapered Steering, Boost Axle 12×148 Thru Axle
Fork: SR Suntour XCM, 100mm, Coil, 46mm offset
Motor: Shimano STePS E5000
Battery: Shimano STePS BT-E8035, 504Wh
Crankset: Shimano FC-E5010, 165mm, 36T
Rear derailleur: Shimano Altus, 8-v
Cassette: Shimano HG200, 11-36, 8-v
Chain: Shimano HG71
Rims: WTB STX i25 TCS, 32h, Tubeless ready
Front hub: Shimano TX505, 15x100mm, Centerlock
Rear hub: Shimano MT400, 12x148mm, Centerlock
Tyres: WTB Ranger Comp, 29 x 2.25"
Brakes: Shimano MT200 hydro disc, 180/180mm RT10 rotors
Handlebar: GT All Terra double height, Aluminum 6061, 15mm Rise, 8° Sweep, 4° Rise, 740mm
Grips: GT Statement Logo
Stem: GT All Terra, 31.8mm, 7º
Saddle: WTB Silverado Sport
Seatpost: All-Terra Micro Adjust, 30.9mm
Sizes: S, M, L, XL
Equipment: Stainless steel mudguards, integrated front and rear lights, side stand and luggage rack.
Price: 2.799€ // The unequipped version of the GT Pantera Dash costs 2.699€.
For further information, please visit the official GT website.