We test the GT Force Carbon Pro LE: a reference in the wild side of MTB
A few months ago the GT Force, a benchmark in the Enduro World Series, was revamped and now comes in a new carbon fibre version. This is a long-travel mountain bike that has everything to become the ultimate bike for those looking for adrenaline and fun. We've had the chance to test the GT Force Carbon Pro LE and here we tell you all about it.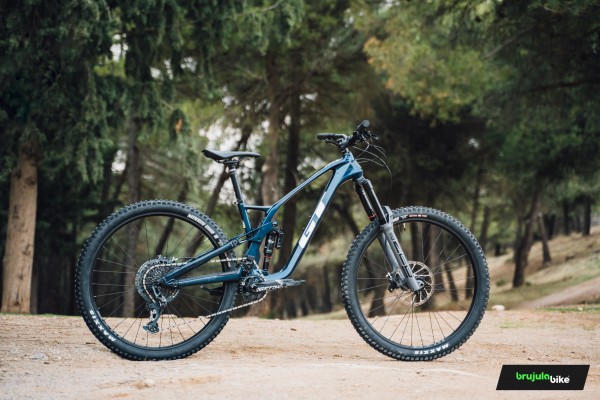 GT Force Carbon Pro LE: designed and assembled to become the ultimate MTB for downhill junkies
GT has always specialised in designing bikes for aggressive riding even before we were familiar with the term 'enduro'. And in this day and age of astonishing levels of technology and performance, the iconic company was not going to be left behind.
The GT Force Carbon Pro LE features a carbon main triangle frame, including of course the brand's legendary triple triangle. It has a new internal cable routing system and a fairly robust rubber protector at the bottom of the down tube.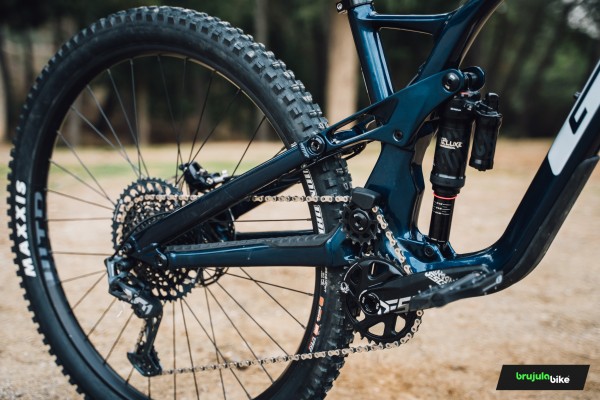 The aluminium swingarm adds strength and some interesting new features, such as the elevated main pivot point, which is quite common on DH bikes and is starting to become a trend on enduro bikes too.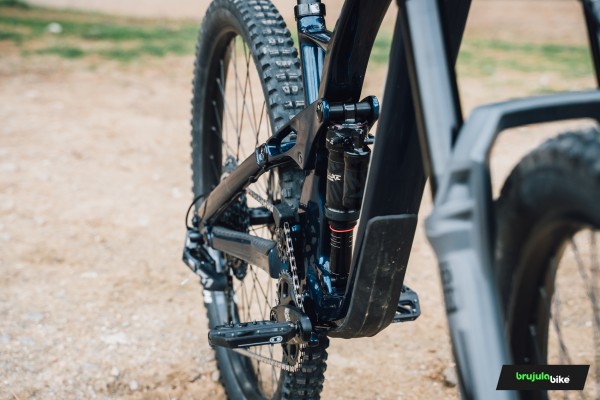 The high pivot has great advantages in terms of sensitivity and absorption of the rear suspension, as the wheel moves backwards when the suspension is compressed, following the direction of impacts. The big disadvantage of this system is its high interaction with the pedalling, in particular an excessive "pedal kickback", but this is solved with the pulley that we see located at the height of the pivot that deflects the trajectory of the chain while acting as a guide. With this solution, all the advantages of the high pivot are obtained and the negative effects are neutralised.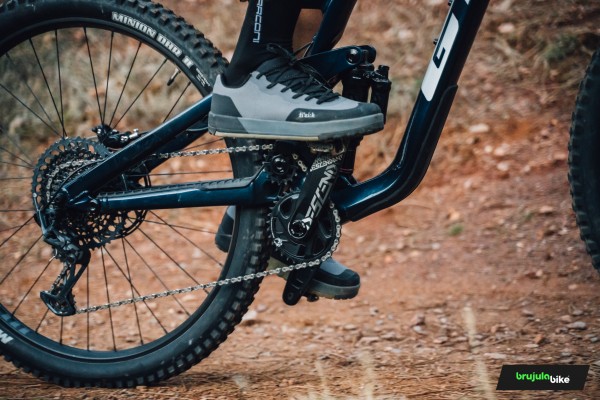 Apart from the location of the main pivot, the 4 bar rear suspension system offers 160 mm of travel with great braking independence.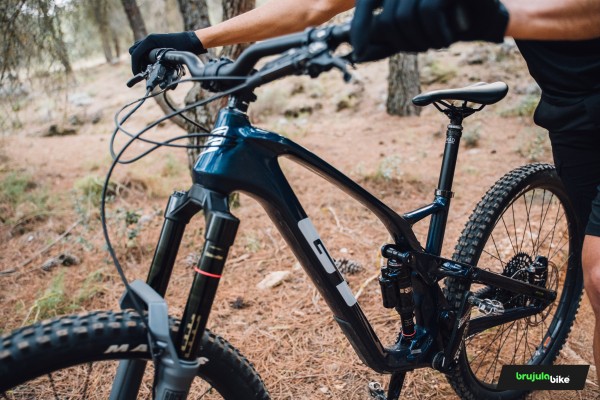 Geometry
The GT Force comes with an aggressive geometry, following the latest trends, and even going a step further in some aspects.
It has a tremendous steering angle at 63.5°, which clearly speaks to the Force's intentions. The saddle angle is one of the most vertical we've seen at 78 degrees, which will put you well forward of the bottom bracket and will be very favourable on climbs.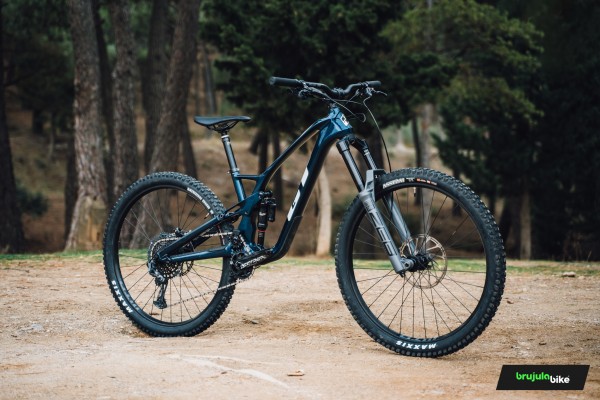 The Force's reach is also very generous, in line with the trend, at 455 mm for size M.
And a very particular detail of this GT is the use of a flipchip system in the dropouts with which, by varying its mounting position, the chainstay length can be modified by 10 mm, going from 435 mm to 445 mm. This allows us to lengthen the chainstays if we want even more stability at higher speeds than this bike already offers. Or it also makes a lot of sense for tall riders who use large sizes and want to lengthen the chainstays in line with the other dimensions of the bike.
All these measurements result in a rather large overall length, being 1240 mm between axles in size M, or 1250 mm if using the long chainstay configuration.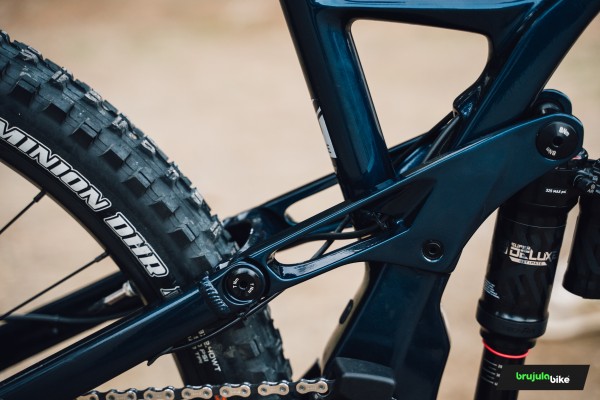 Another particularity of the frame design is its very small standover, since its short down tube (41mm in size M) together with the shape of its triple triangle, give us a very wide space for our freedom of movement.
And despite being a very compact frame, it can be fitted with a bottle cage and has enough space to hold a large capacity water bottle.
Assembly
The choice of every component on the GT Force Carbon Pro LE seems oriented towards making it an infallible device for devouring trails at high speed.
Starting with the suspension, which has been entrusted to RockShox and is fitted with the brand's top-of-the-range forks and shock absorbers.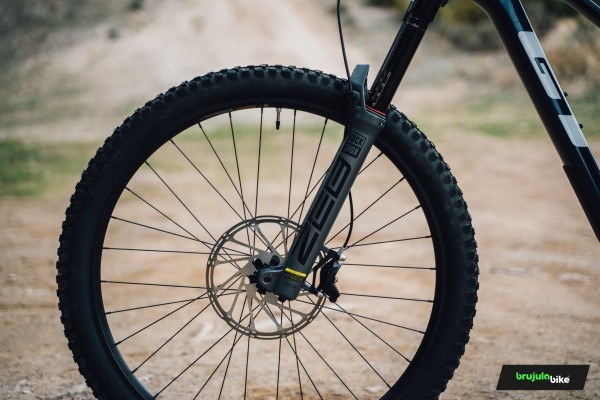 The fork is the RockShox ZEB Ultimate, which gives us 170mm of travel. A fork so robust that you'd only distinguish it from a pure downhill fork because it's a single plate fork. With 38mm bars and an ultra-reinforced chassis, this fork is ready to withstand the toughest treatment on the most aggressive trails.
In its Ultimate version, the ZEB features the Charger 2.1 cartridge with independent low and high speed compression adjustment, as well as rebound. It also features SKF ultra-low friction seals for smoothness.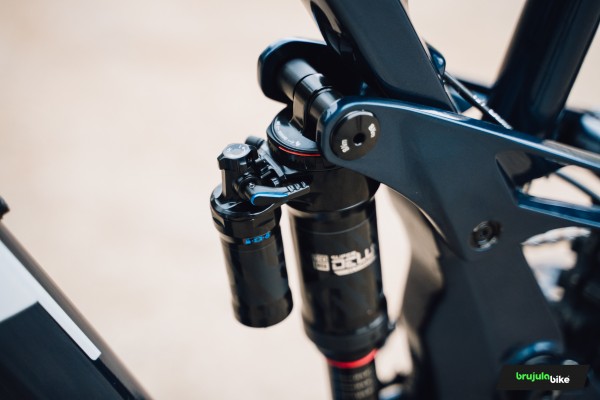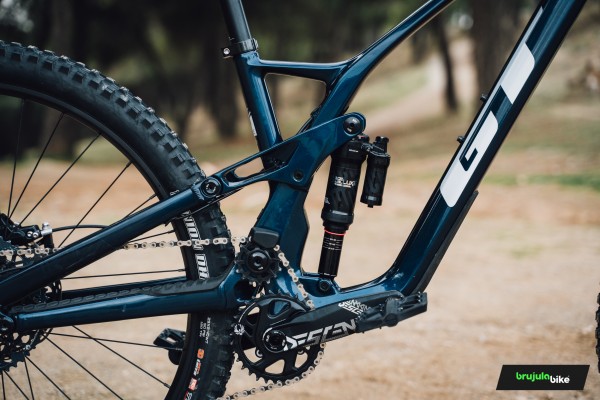 At the rear we have the RockShox Super Deluxe Ultimate shock which, apart from offering the widely configurable DebonAir air spring, has rebound adjustment dials, low speed compression and a lever to minimise movement during pedalling sections.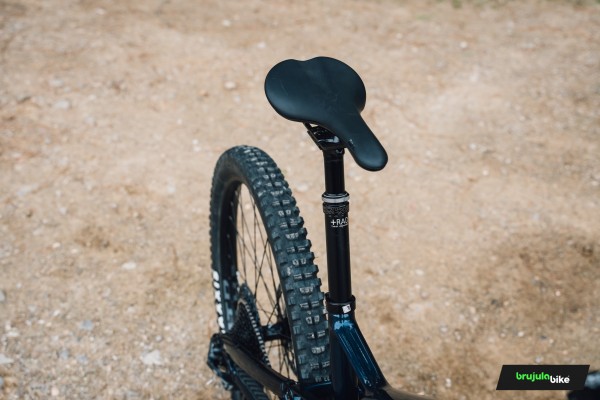 We have already mentioned that this frame has a very small standover. But in order to make the most of it, they mount a very special seatpost. This is the Tranz X +Rad dropper seatpost with adjustable travel. This allows them to mount a very long seatpost travel (150 mm for size S, 170 mm for size M and 200 mm for the rest). And they do so without the risk of the saddle being too high for some users, as the maximum extension of the seat post can be limited by 1, 2 or 3 centimetres in a very simple way and without tools.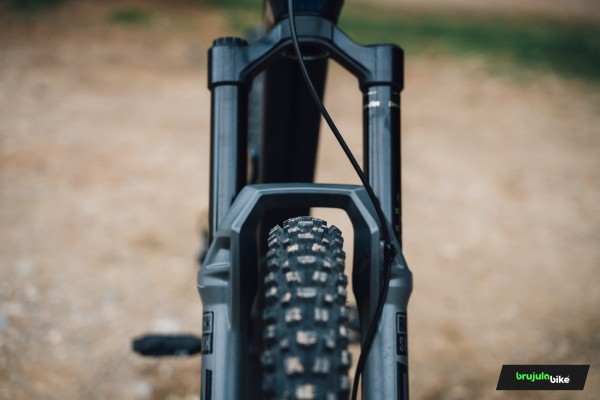 The rest of the set-up follows the same line of offering maximum guarantees. The wheels combine Formula front hub and Sram MTH 746 rear hub with WTB KOM Trail i30 rims, which we have already tested on multiple occasions with great results.
Maxxis Assegai and Minion DHR2 tyres with 3C compound and EXO+ casing are also a safe bet.
The Sram Eagle system is used for the groupset, combining the GX with the XO1 and a Truvativ Descendant crank with 32-tooth chainring.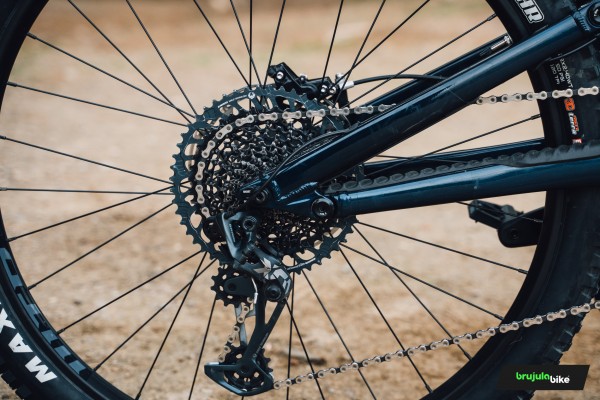 The brakes are also entrusted to Sram with the powerful and adjustable Code RSC, with 220 and 200mm discs.
The rest of the components are mostly from the brand itself and we found them to be very correct, highlighting the handlebars which, despite being aluminium, have attractive shapes and a rise of 30mm and length of 780mm that puts us in a position of control.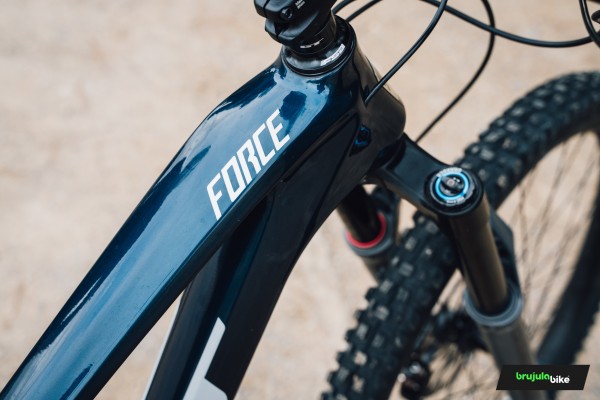 Let's hit the trails!
As soon as we received the GT Force we adjusted measurements, pressures and made a first suspension setting. Everything was fast and with the only idea of going as soon as possible to look for the most fun descents with this bike.
In the first few metres we rode we noticed a couple of things. The suspension with the lever open has no excessive oscillation at all with pedalling, and if we close the lever the movement is not felt at all. It doesn't mean it's a total lock because if we press the saddle when stationary it gives a little, but when riding there is no oscillation. Even on some ramps we can pedal while standing up, which is quite remarkable for a suspension that is very absorbent and very forgiving. Another detail was that the posture on it is very natural and comfortable, but we clearly noticed its tremendously vertical seat tube with its 78º.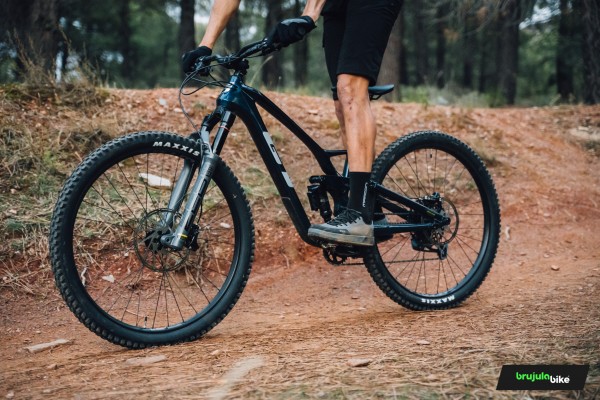 We are very much in favour of this tendency to move the saddle forward on enduro bikes because it favours pedalling on climbs and helps to compensate for the limitations of this type of bike on ascents. But there comes a point where on the flat you can feel that you're too far forward. In our opinion these 78º are a good limit, and with the small margin that the saddle rails give us we can find our balance.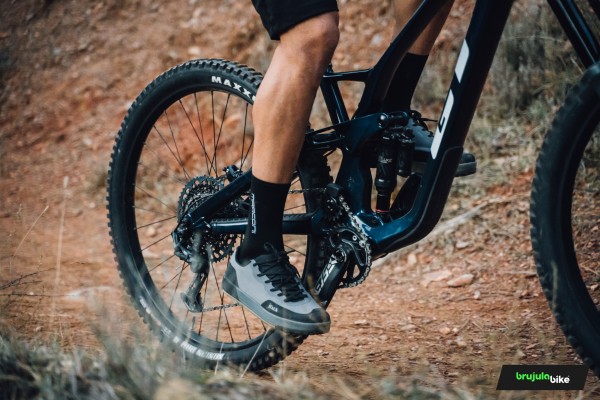 As we have said there is a good pedalling efficiency and, considering the type of bike we are riding, the climbs we are able to cope with quite comfortably. Of course, the weight of the bike is there. It's not a light bike, quite the opposite, it's a very robust bike and the weight on our scales was 15.78kg without pedals.
The geometry is also designed to work very well at high speeds, so on climbs and, in general, when going slowly, it doesn't have the nerve and agility of other types of bikes. Even so, it doesn't take much getting used to and it's a very small price to pay compared to the enormous qualities that we'll enjoy as soon as the terrain starts to favour us.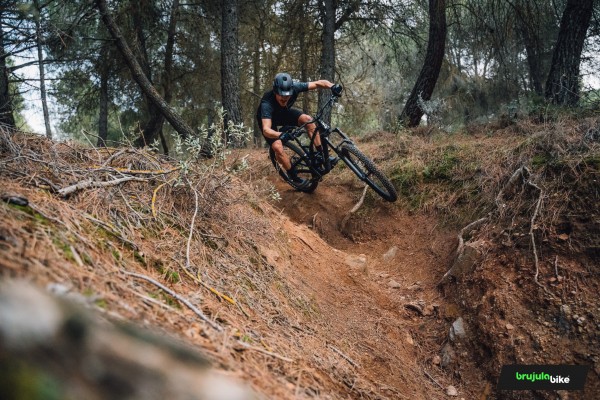 Once we start to pick up speed, things change. The first thing you notice is the smoothness and sensitivity of the suspension. With the smallest irregularities the fork and shock absorber are already working. This fact, together with the Force's stable geometry, gives us a feeling of absolute safety and control.
When it comes to taking curves it is amazing how easily we can move a bike that, at first sight according to its dimensions, could seem a little slow, but as soon as we have some inertia it is easy to handle, and it is so safe and grippy that we can enter with total confidence in curves, whether they are steep or broken and abrupt.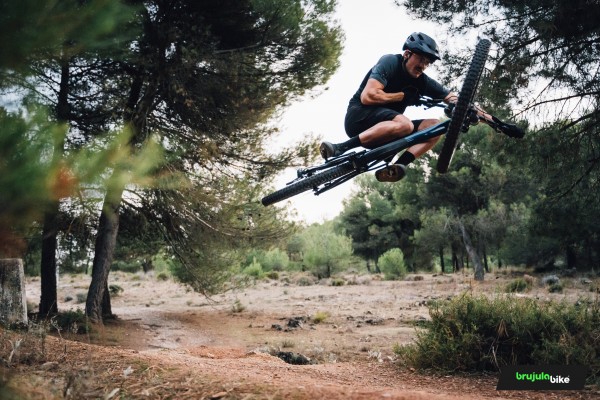 A 170 mm seatpost in size M and such a compact frame contribute a lot to the ease of handling. It gives us a lot of confidence even when going down big steps or steep sections.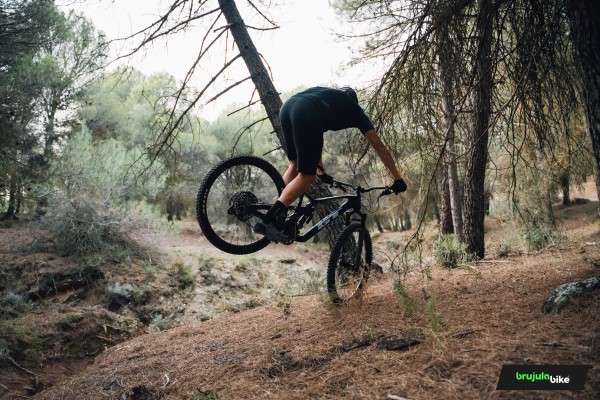 After several tests with the suspension settings we reached a point that is pretty close to perfect performance. The Rock Shox ZEB Ultimate fork is extremely sensitive to small impacts, but with the right compression setting at low speed it doesn't compress more than necessary under hard braking or when changing weight on steep slopes. This means that the geometry of the bike is not altered and in the most critical moments we still have safety and control. And of course when it comes to absorbing big impacts or receptions, the ZEB does it with such ease that it makes us look like better riders.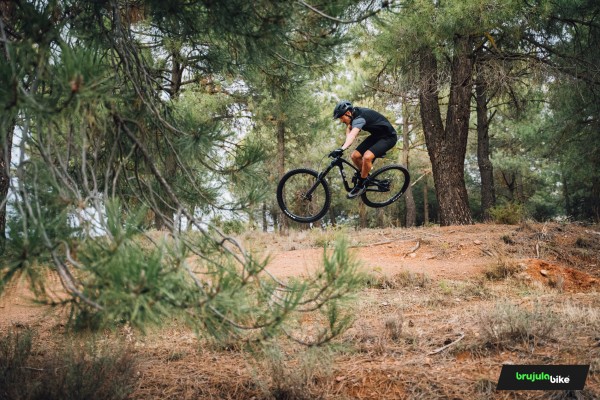 One of the greatest qualities of the GT Force Carbon Pro LE is its great poise at high speed. Its geometry is clearly focused on this and at times, on less twisty trails it reminds us of the feeling of riding an ebike, but when a little more agility is required, it is clearly different from this, allowing us to get it with authority in the lines.
The aforementioned poise makes the GT Force feel very stable and controlled over jumps. In fact, it makes us push our limits a little further.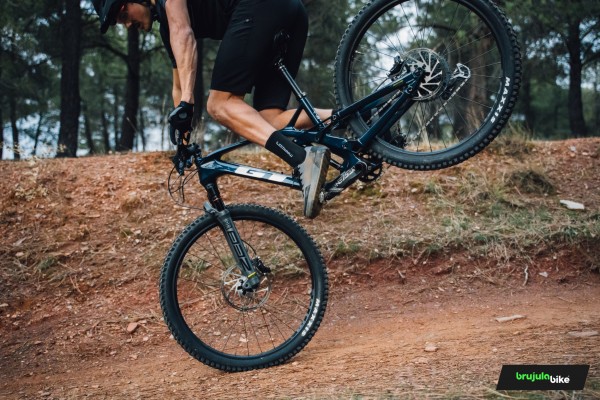 We have not made much mention of the performance of its components as these are of proven reliability. We have put them to the test on multiple occasions and always with good results. The GT Force's combination of Sram GX and XO1 Eagle is very difficult to improve.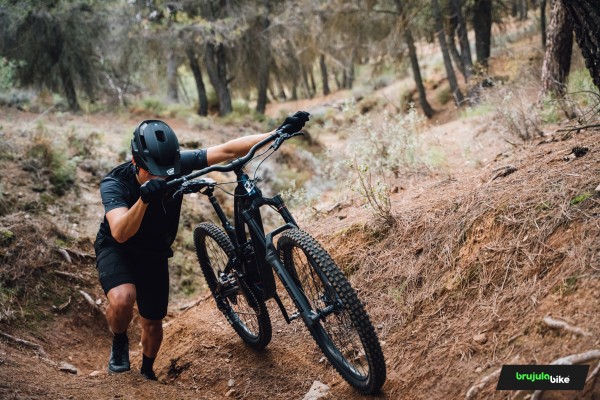 Special mention should be made to the Sram Code RSC brakes with their huge 220 and 200mm discs. They have plenty of capacity to keep the Force under control at all times and, in addition, the lever adjustments allow you to adapt the travel and position of the lever so that, whatever your preferences, you can find your personal setting.
GT Force Carbon Pro LE: a mountain bike to enjoy the wild side of mountain biking
After a season of putting the Force to the test (or rather putting us to the test), we've rediscovered the essence of freeriding. And this bike gives you all the weapons you need to devour downhill trails with full authority. There's nothing to fault in terms of performance when the terrain gets fun. And the best thing is that the evolution and technology that we enjoy today means that a bike like this allows you to pedal and reach every summit without taking away the desire to repeat again and again.
The GT Force promised fun and it didn't disappoint.
GT Force Carbon Pro LE: specifications and price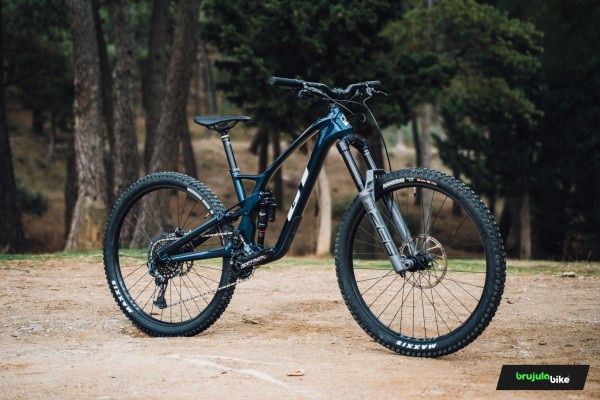 Frame: Force Carbon 29", High Pivot LTS, 160mm travel

Form: RockShox ZEB Ultimate, 170mm, 44mm offset

Shock absorber: RockShox Super Deluxe Ultimate, 230x65mm

Chain: Sram GX Eagle

Cranks: Truvativ Descendant 7K, Dub, 32t

Shifters: Sram X01 Eagle, 12 speed

Rear Derailleur: Sram GX Eagle, 12 speed

Cassette: Sram XG-1275, 10-52T

Rims: WTB KOM Trail i30, Tubeless ready

Front tyre: Maxxis Assegai, 29x2,5", 3C MaxxTerra, EXO+, Tubeless ready

Rear tyre: Maxxis Minion DHR II, 29x2,4", 3C MaxxTerra, EXO+, Tubeless ready

Hubs: Formula / Sram MTH 746

Brakes: Sram Code RSC, 220/200mm

Handlebar: GT Alloy Riser Bar, 780mm, 30mm rise

Stem: GT Alloy

Saddle: Fabric Scoop Shallow Sport

Seat Post: Tranz X +Rad 31,6mm, Adjustable Height (S-150mm, M-170mm, L/XL-200mm)

Price: 6.099€
The GT Force Carbon is available in two other set-ups, the Carbon Pro for €4,999 and the Carbon Elite for €3,899. You can check out the full range on the official GT website.