Van der Poel after winning the World Championships: "I didn't do what everyone expected"
The exciting race of the CX World Championships that we lived yesterday in Hoogerheide is still fresh. Both sides take stock of the race and of a cyclocross campaign that is coming to an end before a season of classics that will start in just three weeks with the opening weekend that brings together the Omloop Het Nieuwsblad and Kuurne-Brussels-Kuurne.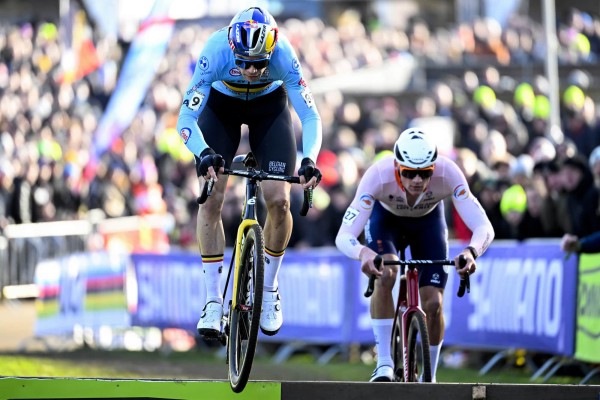 Van der Poel and Van Aert review their CX World Championships race
Like the script of a good movie, in which the tension is increasing, the World Cyclocross race held in Hoogerheide left us some last meters to remember with an immense Mathieu Van der Poel beating his eternal rival Wout Van Aert in a huge sprint against which the Belgian rider could do nothing.
"I expected to be in second place after the boards. Being in front threw me out of position and in the end I forgot to do my own sprint" assumed Wout Van Aert, visibly disappointed with his race, explaining what happened in the last stretch of the race. "I feel I could have won the race. He came from behind and pushed me out two bikes. I was wearing a 48, chainring. I started to drop sprockets but I didn't have enough development."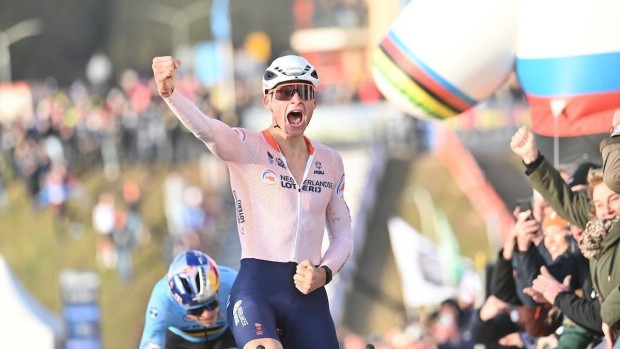 For his part, Mathieu Van der Poel did keep a cool head in those final meters, which, surely, was key to winning his fifth cyclo-cross rainbow jersey. "Everyone expected me to try it on the boards but I wanted to be second when we went into the final straight. I don't think by taking 10 or 15 meters out of him there I could have unhooked him, he would have caught me on the stairs and then I would have had an advantage." "It was good that we were ahead from the start because we didn't have to fight for position.
In a season in which, if we had to decide who has been the strongest rider, most of the votes would probably go to Wout Van Aert, Mathieu Van der Poel has ended up taking the jackpot. "Everyone was saying during the Christmas races that Wout was stronger than he really was," said the Dutchman after finishing second to the Jumbo-Visma rider in 5 races over the Christmas period.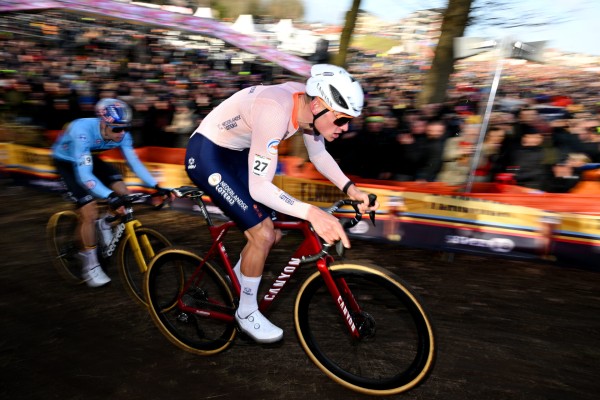 Some dates in which there was speculation about the back problems that forced him to stop last season and in which Mathieu decided to come to train in Alicante. "That's when I connected and focused on this race. I needed two or three weeks to work in conditions".
Eli Iserbyt, ended the season with a good taste in his mouth by finishing in first place among the mortals or, what is the same, winning a disputed bronze medal. A medal that helps him to forget how his chances of winning a World Cup in which he started dominating, but then he had to settle for the overall of the X2O.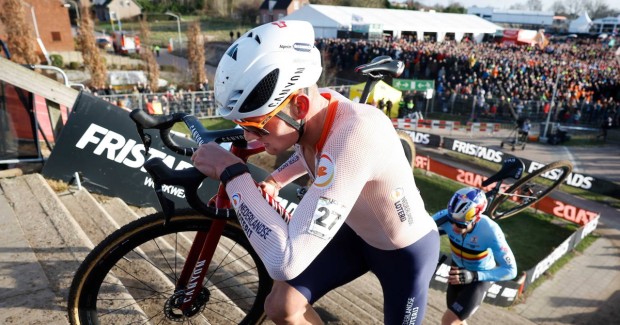 Iserbyt was categorical after the race: "I needed this. I'm very happy for third place, also a bit disappointed that Wout couldn't win, he really deserved it", pointing out that his main goal in the race was, doing work as a national team "my job was to get Wout on Mathieu's wheel at the start. We knew he would go out very strong as he has been doing lately."
Iserbyt, who had a conservative race, ended up fishing in troubled waters "Everyone started hard. I was able to see it all from the background and then slowly work my way into the race. On the last lap I was expecting Lars (Van der Haar) to attack me, so on the boards I accelerated and was able to keep the couple of seconds I gained there until the finish.