IKEA successfully tests solar-powered electric delivery bike
IKEA has announced that all its stores will have an electric delivery bicycle that runs on solar energy. The SunRider, as it has been named, is capable of carrying 90% of the company's products, has a range of 100 kilometers and can carry up to 150 kilograms.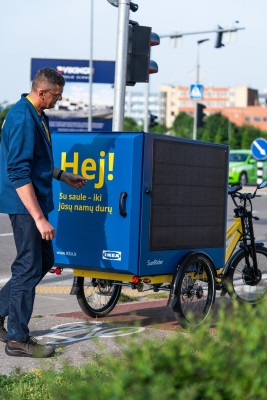 IKEA relies on solar-powered electric bike for last-mile deliveries
The announcement comes after IKEA successfully completed its pilot test last year in Delft, the Netherlands.
Helene Davidsson, Sustainability Manager for the Swedish brand, explains that the SunRider offers great advantages for last-mile deliveries. "A quiet, emission-free alternative that can also bypass traffic congestion," she says.
For all these reasons, Davidsson calls the arrival of this cargobike "a valuable addition", as it can transport 90% of all IKEA products.
The bike captures energy through panels integrated in the cargo compartment which, in turn, transfer it to the motor, located on the front hub. The range is 100 kilometers and the maximum load weight is 150 kilograms.
The solar panels give an average of 65%-70% of the power needed for daily deliveries and up to 100% on sunny days, IKEA reports. On the other hand, it can be charged with grid power, which is important on days with less favorable weather conditions.
The SunRace is designed by Dutch company Need The Globe BV. Although it is not known if the IKEA bike has undergone any changes, the original cargobike has a 250W motor.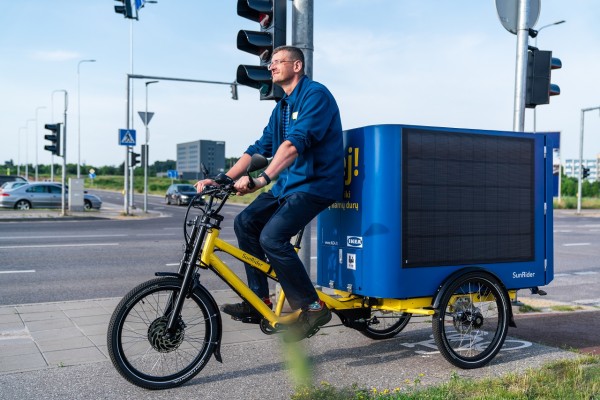 Sustainability in the delivery of products
With the use of the SunRide, CO2 emissions are reduced by 67% compared to a conventional cargo e-bike and 98% compared to a diesel van.
On the other hand, as Davidsson points out, the SunRider could also be used to reach customers affected by traffic restrictions that many cities are considering implementing in the future.