Why does Schurter get so many flat tyres at the Cape Epic? The SCOTT SRAM manager replies
They arrived as the big favourites for the victory, but in the first 6 kilometres of the first day Nino Schurter suffered a flat tyre that started to take him away from the dream of winning his third Cape Epic. It would not be the last, and we have also seen him have a flat tyre in the next two stages. What are the causes? The team manager has tried to explain.
Why Nino Schurter suffers so many flat tyres in the Cape Epic 2022
In a race like the Absa Cape Epic, flat tyres are counted by the dozen in each stage, but if the one who suffers them is the current XCO World Champion, who has at least one a day and they are the reason for not seeing him compete for the overall victory, then the matter becomes much more mediatic, so much so that the SCOTT SRAM director, Thomas Frischknecht, has come out to explain just before the second stage, where Nino had another flat tyre.
 

 

 

Ver esta publicación en Instagram
Frischknecht explained that on the first day what caused the flat tyre was in fact the breakage of one of the spokes of the rear wheel, so he leaves out of the equation any problems with pressure, tyres or fluid. For this race, Nino has decided to use Syncros Silverton 1.0 S wheels with aluminium spokes, instead of the one-piece carbon Silverton SL2 wheels he uses for XCO.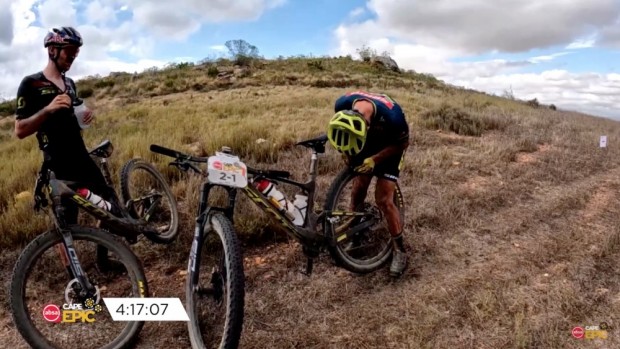 As for the other flat tyres, Frischknecht explained that Nino is riding with the same Maxxis Aspen tyres (and similar configuration) as he has done in the previous three Cape Epics and that he hasn't had any flats with them. He concluded that it is just a matter of bad luck.
For our part, we thought that three flat tyres in three days could have a mechanical explanation, but it seems ridiculous to think that the SCOTT SRAM is not choosing the right pressures, tyres or amount of tubeless liquid. So we're going with a combination of bad luck and taking risks in competition.
We are not going to tell anyone that in mountain biking, mechanics and bad luck play an important role in the final result, but when this happens to a rider like Nino Schurter, some explanations are not convincing to everyone, even if they are the right ones.