Schurter accuses Fluckiger of knocking him down in the last meters of Lenzerheide: "You're not normal!"
The most important moment of the XCO World Cup in Lenzerheide happened far away from the TV cameras, for the moment only those who were on the circuit saw it, but the statements of those involved have not been long in coming. Nino Schurter accuses Flueckiger of knocking him down when he tried to overtake him in a completely impossible place.
Nino Schurter accuses Mathias Flueckiger of knocking him down in the last meters of Lenzerheide
This is the umpteenth incident between Nino Schurter and Mathias Flueckiger, the tension between them is quite high in the race since last year Schurter won the World Championship on the last lap over Fluckiger.
It doesn't help that the two riders are at a very similar level and the differences are almost always made in the last meters of each race.
In the Lenzerheide World Cup the pattern was repeated and both arrived at the last lap very evenly matched and trying to overtake in almost any section. In addition, the two Swiss were racing at home and the motivation of winning in front of their home crowd had multiplied the tension.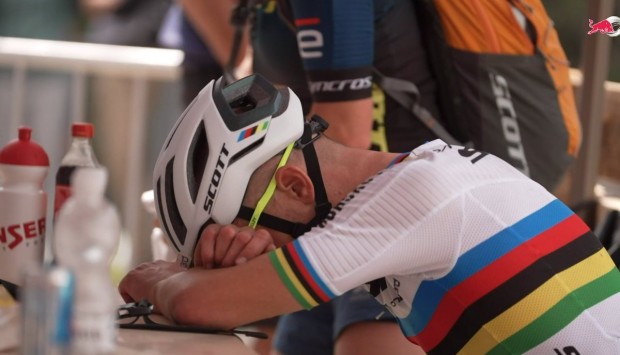 The incident took place in an area without television coverage and there is still no video of the moment, but it happened when Schurter was in the lead and Fluckiger tried to overtake him in a supposedly impossible area. That led to a clash and the fall of both riders.
At the finish line the statements of those involved went in opposite directions. But right at the very finish line a very angry Nino Schurter shouted to a dejected Mathias Flueckiger: "You're not normal!"
Schurter lässt Frust gegenüber Flückiger raus: «Du bist nicht normal!» #srfsport #Lenzerheide #Mountainbike #srfRad pic.twitter.com/uDxEqWoMHt

— SRF Sport (@srfsport) July 10, 2022
Schurter later explained what happened to a Swiss media outlet: "It's sad. In the last stretch of forest, Flückiger tried to overtake me where he couldn't. He knocked me down."
For his part, Fluckiger downplayed the incident: "I would say it's just part of the race." "I'm sorry we crashed, of course. But we're here to race." On Schurter's frustration, he responded, "We can deal with that. We have to take a break, maybe sleep. Next week will continue."