Santini presents its winter gravel clothing collection
The Italian cycling clothing brand relies on Polartec to provide the most technical fabrics for its Terranova winter gravel collection, keeping us insulated from the cold and wind while maintaining great comfort thanks to its great breathability.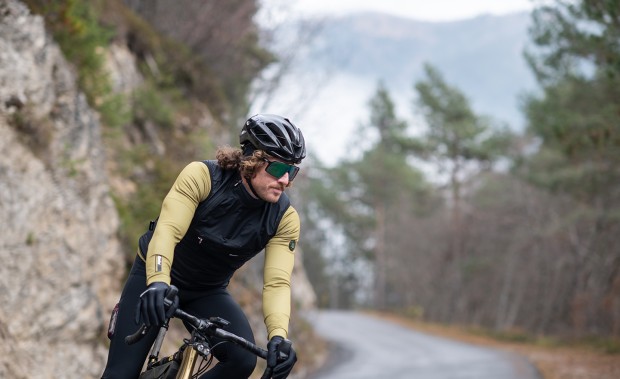 Gravel doesn't stop in winter with the Santini Terranova collection
The coming of winter is not an impediment for gravel lovers who continue to ride the trails and do not mind the adverse weather conditions that usually accompany these months of the year.
To satisfy gravel lovers in particular and off-road cycling enthusiasts in general, the Italian brand Santini has created its Terranova collection for which it has relied on the proven quality of Polartec fabrics that guarantee optimum insulation from the environment while ensuring great breathability.
Garments with their own design, identified by a large Terranova logo on the back and a neutral, simple look that also makes them perfect to accompany us during our urban journeys or any other outdoor activity.
The Terranova collection includes the following garments:
Alpha Trail Jacket
Its casual look allows it to be used for both gravel biking and everyday use. A very lightweight jacket that is constructed using Polartec Alpha fabric that has a windproof outer side and a merino wool laminate on the inner side to keep you warm and comfortable.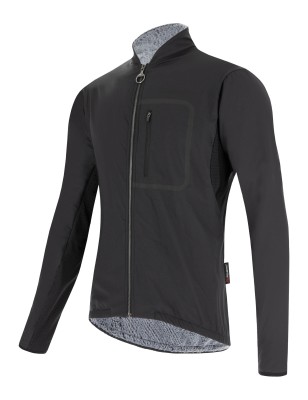 It has the usual back pockets and adds a useful front pocket in the chest area for quick access to the contents. Of course, there are reflective details for visibility in winter conditions.
Available in two colours, black and army green, the Alpha Trail jacket is priced at €189,90.
Alpha Pack Vest
Like the Alpha Trail jacket, this lightweight waistcoat uses, as the name suggests, Polartec Alpha fabric, with a windproof front and merino wool lining.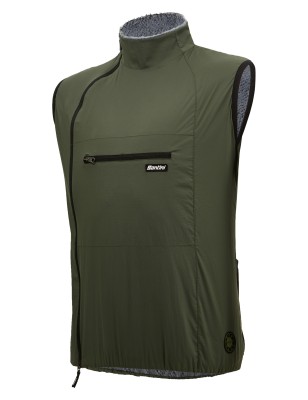 The zip is placed on the side of the jacket to avoid this cold spot where the wind and cold can enter. The structure is completed with the usual back pockets and a large kangaroo-style front pocket that occupies the entire chest area.
Like the jacket, the Alpha Pack waistcoat is available in black or military green and will retail for 159.90 €.
Wind Block Sweatshirt
A completely atypical garment when it comes to cycling clothing. However, Santini has managed to create a completely casual looking piece, which we can even use in our day to day, but with a tremendously elaborate technical design with a front and sleeves in which Polartec Power Shield Pro fabric is used, a soft touch membrane that protects against the wind while offering certain hydrophobic qualities.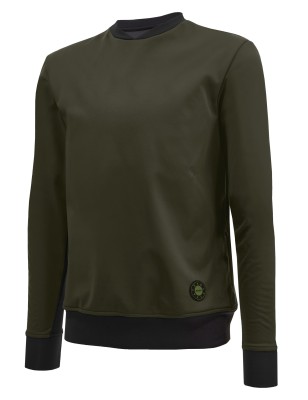 Details such as the lower part of the sleeves, waist and cuffs are made of elastic fabric for added comfort and fit. Like all cycling garments, it includes a pair of pockets, in this case hidden on the side so as not to break the lines of a garment that, like the others in the catalogue, will be available in black or military green at a price of € 129,90.