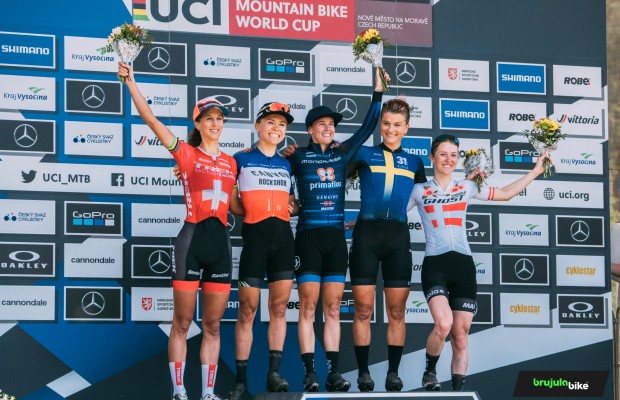 Bec McConnel's brilliant performance to win the Nove Mesto XCO World Cup
After winning the first two World Cup races, Rebecca McConnell did it again in Nove Mesto. And she did it with a spectacular performance.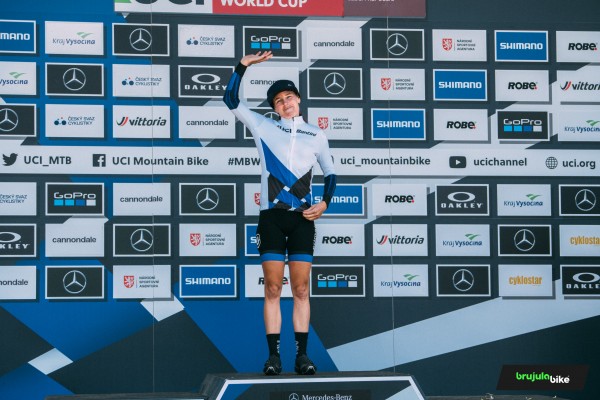 Bec McConnell completes her transformation in Nove Mesto with a stunning win
The wide starting area in Nove Mesto allowed some of the riders who did not have a good position on the grid to gain positions quickly.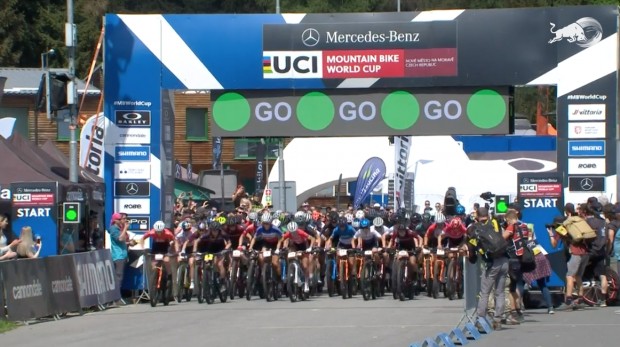 This is what Pauline Ferrand Prevot did, who after breaking the chain in the Short Track on Friday, started very far behind but took the lead in the first meters of the race. This was short-lived, as Australia's Bec McConnell launched an attack in the opening loop that looked like the end of the race.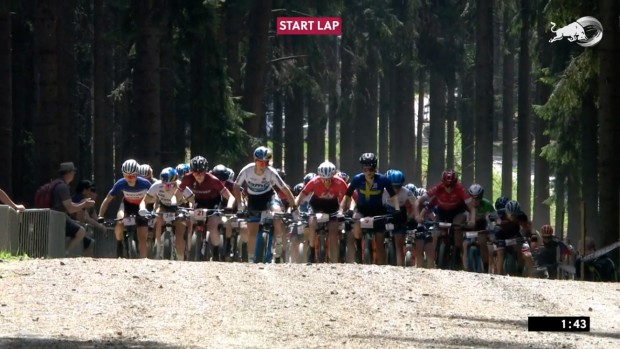 McConnell has won the first two World Cup events and we knew her form was excellent, but the opening attack we were witnessing in Nove Mesto was a giant leap in quality.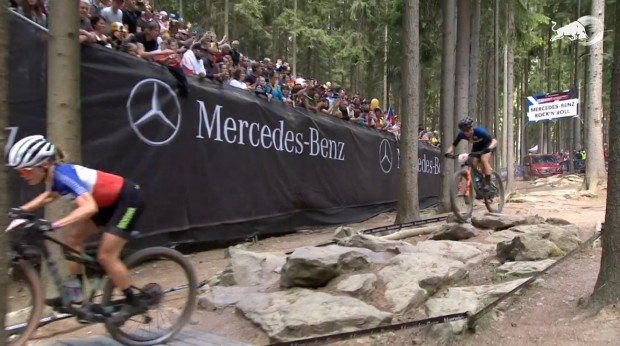 Jenny Rissveds and Loana Lecomte formed a chasing duo that at the start of lap 3 were already 20 seconds behind McConnell. Switzerland's Alessandra Keller was fourth, 24 seconds behind.
Comparing times by zones, McConnell was proving very strong on the uphill, but it was on the downhill that she was setting better times than her pursuers.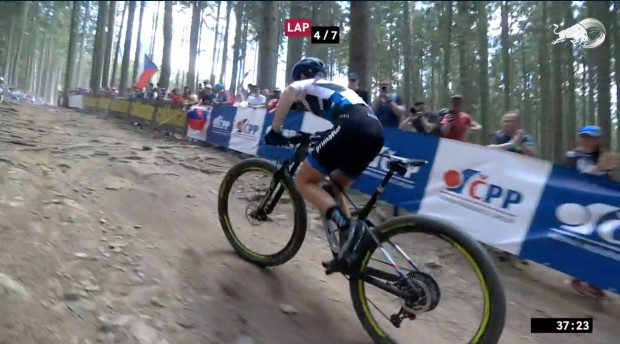 On lap 4, Lecomte and Rissveds had cut a few seconds off the Australian, but they were still 18" behind and it remained to be seen what would happen in the last part of the race. Behind, Jolanda Neff was fourth, more than a minute behind, and Keller jumped up to sixth after suffering a flat tyre.
If a few seasons ago we saw McConnell trying to hold the wheel of the first riders to launch an attack at the end of the race, now we were witnessing a complete transformation in which the Primaflor Mondraker rider is able to attack on the first lap and stay in front for much of the race.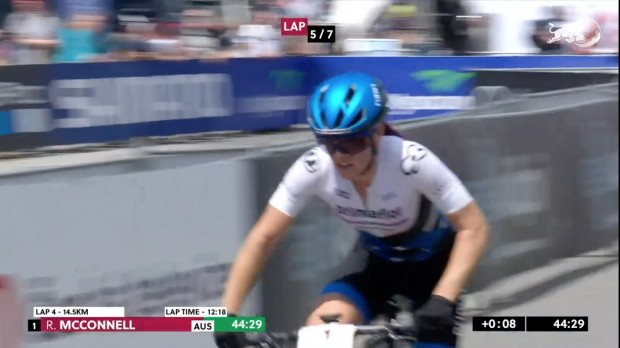 On the last lap, Loana Lecomte saw her last chance to make contact with McConnell and went for it, leaving Sweden's Jenny Rissveds behind. Again we saw the Swede very much out of shape at the end of the race.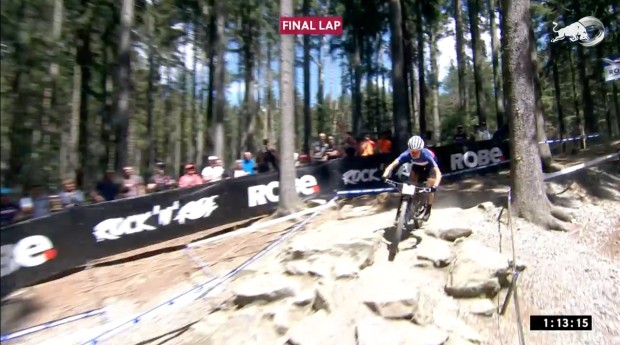 Lecomte was really closing the gap to McConnell on the uphills, but the Australian was more aggressive and precise on the downhills, which was decisive for the final victory.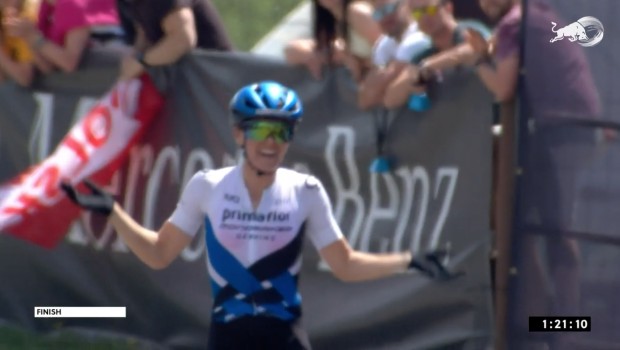 Rebecca McConnell finished first to win the XCO World Cup in Nove Mesto, her third consecutive victory this year.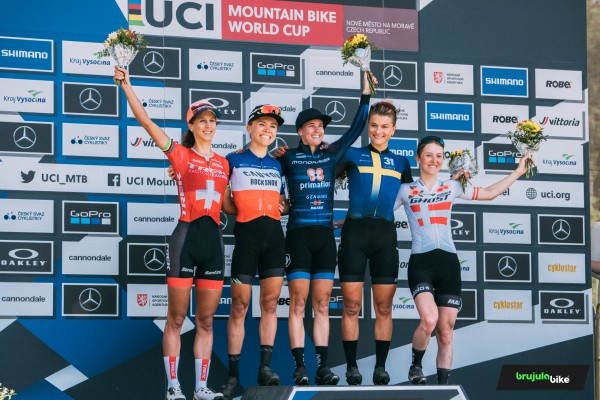 Loana Lecomte came in second and Jenny Rissveds suffered enough to finish third. Fourth place was won by Jolanda Neff in a sprint with Caroline Bohé.
Results Women's XCO World Cup Nove Mesto 2022
MCCONNELL Rebecca Ellen (PRIMAFLOR MONDRAKER GENUINS) 
LECOMTE Loana (CANYON CLLCTV) 
RISSVEDS Jenny (TEAM 31) 
NEFF Jolanda (TREK FACTORY RACING XC)
BOHÉ Caroline (GHOST FACTORY RACING) 
MITTERWALLNER Mona (CANNONDALE FACTORY RACING) 
STIGGER Laura (SPECIALIZED FACTORY RACING) 
KELLER Alessandra (THÖMUS MAXON)
TERPSTRA Anne (GHOST FACTORY RACING) 
FREI Sina (SPECIALIZED FACTORY RACING)