Pidcock beats Dascalu in Nove Mesto with a breathtaking sprint
All eyes were on the British rider, but this time his victory was not so easy. Tom Pidcock won the Nove Mesto XCO World Cup with an impressive sprint finish alongside Vlad Dascalu.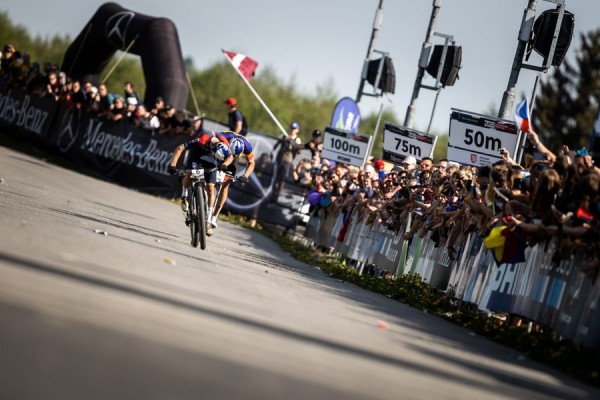 Tom Pidcock wins Nove Mesto 2022 XCO World Cup in a sprint
German Luca Schwarbauer's victory last Friday on the Short Track added another name to the increasingly crowded list of favourites. But it was Romanian Vlad Dascalu who took the lead of the race from almost the start and imposed a high pace to stretch the peloton.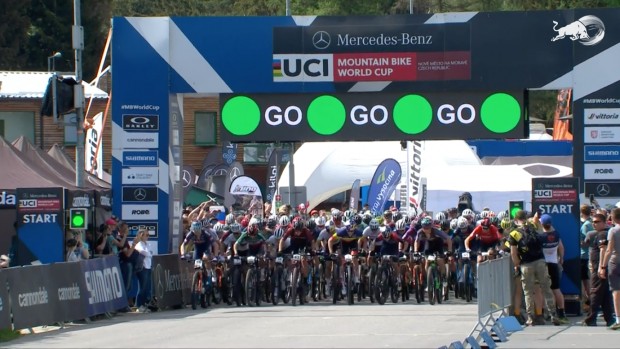 At the beginning of lap 1, the front positions started to change and we saw several relays between Filippo Colombo, Nino Schurter, Vlad Dascalu himself or Henrique Avancini, among others.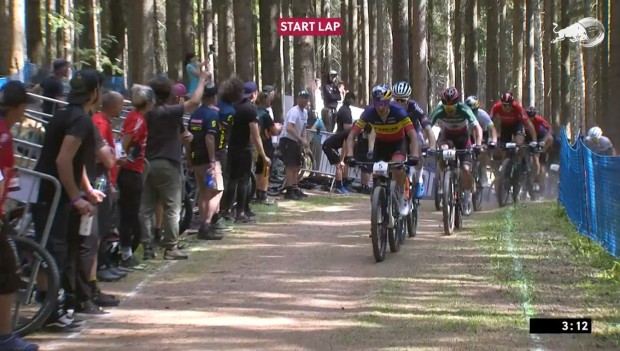 Halfway through lap 2, British rider Tom Pidcock took the lead to set off the alarms of all his rivals. But unlike other times, he did not launch any definitive attack, he just led the race for a few kilometres until, during lap 4, Nino Schurter and Vlad Dascalu overtook him again.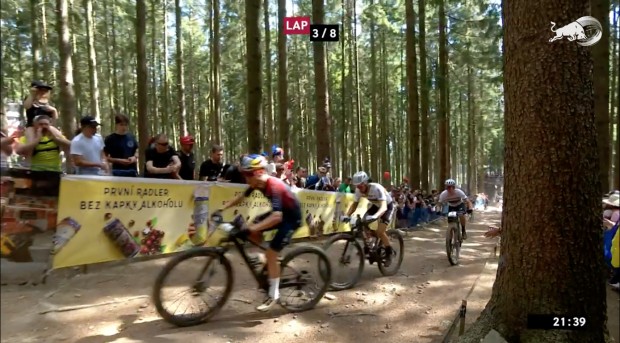 With still no big gap between the favourites, lap 5 started with Schurter, Dascalu, Pidcock, Alan Hatherly and Mathias Flueckiger in the lead. Germany's Schwarbauer and Anton Cooper were 17 seconds behind, while a much larger group led by Avancini was almost half a minute behind.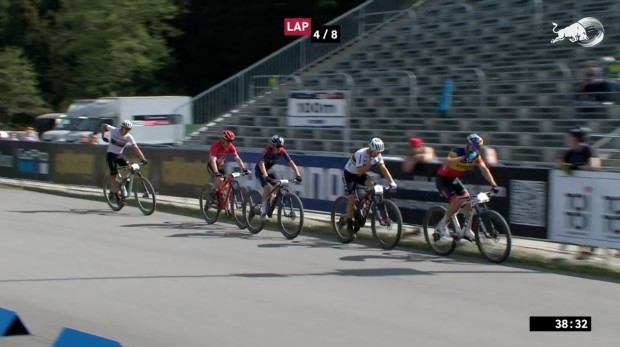 The first fight for victory broke out on lap 5, when Nino Schurter's flat tyre encouraged a timid attack by Vlad Dascalu on the toughest uphill of the circuit.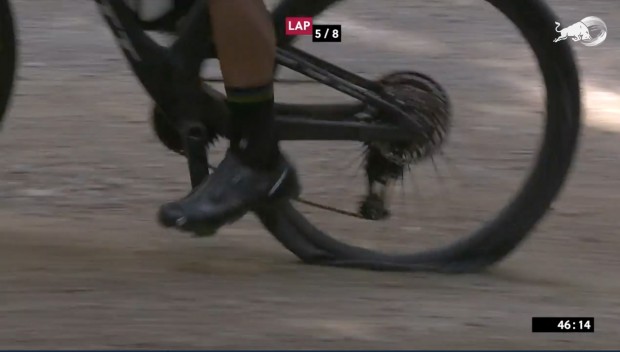 Nino Schurter was able to change the wheel quickly and although he slipped to 15th position, 1 minute behind the race leader, he did not throw in the towel and it seemed that his only objective was to return to contact with the frontrunners.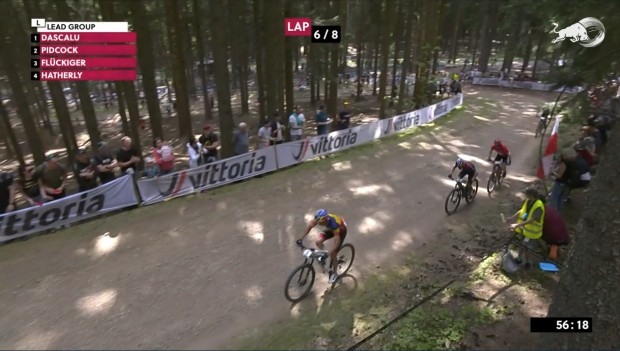 Nothing was decided yet and the group grew at the start of lap 7 when New Zealander Anton Cooper and Hatherly took the lead. Meanwhile, Nino Schurter continued his epic comeback and on the penultimate lap he was already sixth, 15 seconds behind the leaders.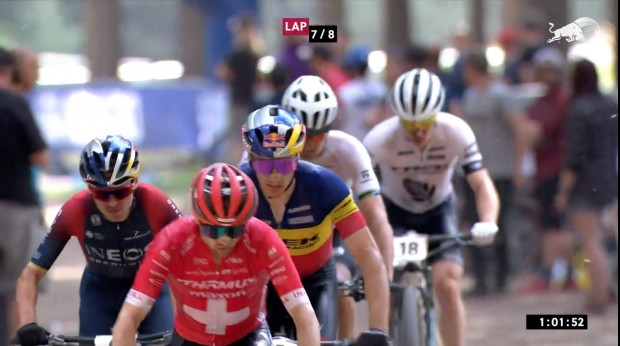 The excitement of the race was raised as soon as the start of the last lap got underway with Nino Schurter back in the lead group.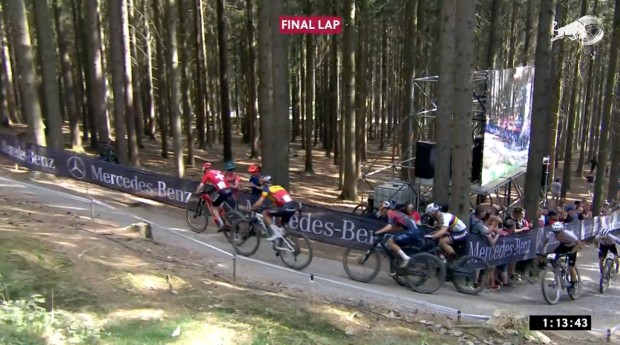 Flueckiger was leading a heart-stopping last lap until Dascalu attacked uphill and allowed him to take a few seconds advantage over Pidcock and Schurter.
Dascalu continued his attack also on the descent, but Tom Pidcock managed to get close enough to have a last chance at the end. Schurter was paying for the effort of the comeback and seemed to settle for third place.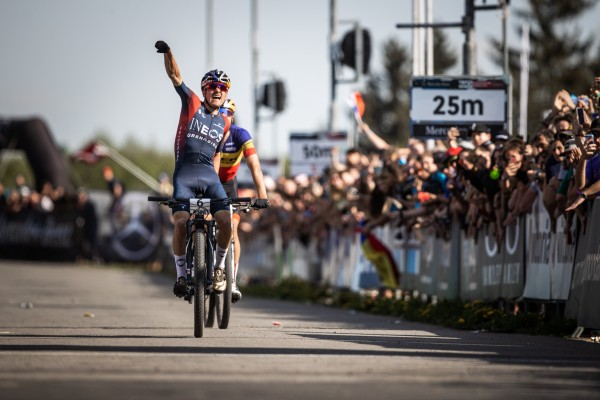 It all came down to the final stretch of the course with a breathtaking sprint that gave the victory to Tom Pidcock. Dascalu came second and Schurter third.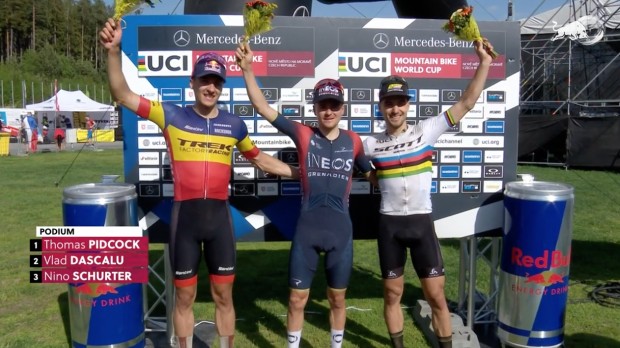 David Valero was again the best of the Spanish riders with a 12th position. Pablo Rodriguez came in 29th, Ismael Esteban in 44th position and Jofre Cullel in 49th.
Results Men's XCO World Cup Nove Mesto 2022
PIDCOCK Thomas (GREAT BRITAIN) 
DASCALU Vlad (TREK FACTORY RACING XC) 
SCHURTER Nino (SCOTT-SRAM MTB RACING TEAM) 
COOPER Anton (TREK FACTORY RACING XC) 
HATHERLY Alan (CANNONDALE FACTORY RACING) 
FLÜCKIGER Mathias (THÖMUS MAXON)
CAROD Titouan (BMC MTB RACING) 
FRISCHKNECHT Andri (SCOTT-SRAM MTB RACING TEAM)
SCHWARZBAUER Luca (CANYON CLLCTV)
ALBIN Vital (THÖMUS MAXON)