Pauline takes her third rainbow jersey of the year and Gaze is the surprise winner of the XCM World Championship
Today was held in Haderslev (Denmark) the 2022 XCM World Championships in which we could see big names in mountain biking fighting until the end to get the rainbow jersey.  
Sam Gaze is the surprise winner of the XCM World Championships
In the men's race, several kilometers after the start, a leading group of 8 riders was formed, including Sascha Weber, Andreas Seewald, Lukas Bauim or Georg Egger, Sam Gaze, Hans Becking, Sebastian Fini and Simon Andreassen. 
After 4 hours of racing, the current XCM World Champion Andrea Seewald and Sam Gaze were leading the race with a 53-second advantage over the chasing group formed by Lukas Braum, Martin Blums and Simon Andreassen.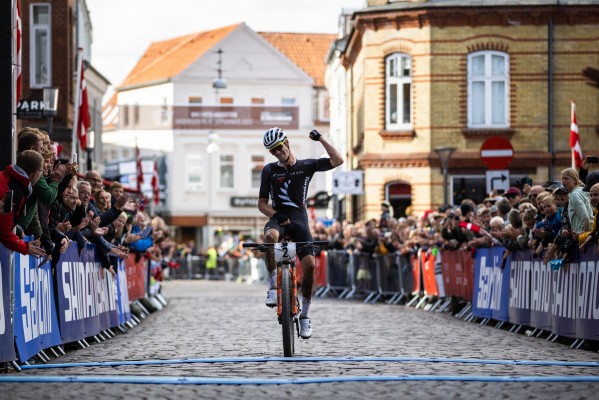 Just a few kilometers from the finish line, the New Zealander Sam Gaze (Short Track World Champion), made an attack that the German Seewald could not hold, arriving alone to the finish line and taking the World Champion jersey with a time of 4:16:51 and an average speed of 28.03km / h, the next to cross the finish line was the German Andrea Seewald, Simon Andreassen has closed the podium of this 2022 XCM World Championship.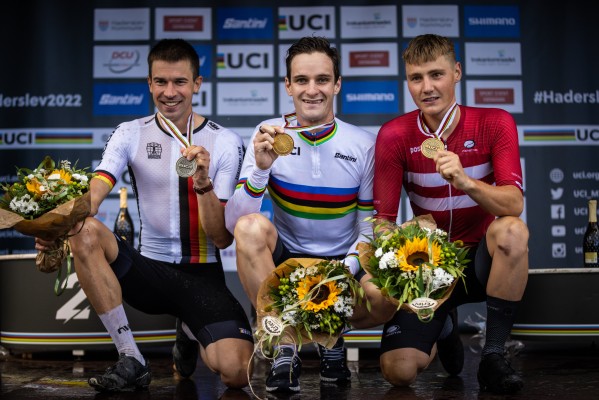 Top10 Men's XCM World Championship: 
Sam Gaze | 4:16:51 | 28,03 km/h
Andreas Seewald | +0,16
Simón Andreassen | +0,57
Martin Frey | +0,58
Sascha Weber | +0,59
Martin Blums | 1:00
Luka Baum | +1:00
Sebastian Fini | +1:37
Axel Roudil | +1:56
Martin Stosek | +2:16
53. Enrique Morcillo | +11:41
54. Sergio Mantecón | +12:55
70. Francesc Guerra | +18:26
83. Roberto Bou | +23:07
Pauline takes her third rainbow jersey of the year
As for the Elite Women's race, we have seen from the beginning how a leading group formed by 10 riders among which were; Jolanda Nef, Pauline Ferran-Prevot, Annie Last among others. 
In the last 40 kilometers, the Cross Country riders decided it was time to increase the pace of the race and Pedersen, Neff, Pauline and Last were left alone.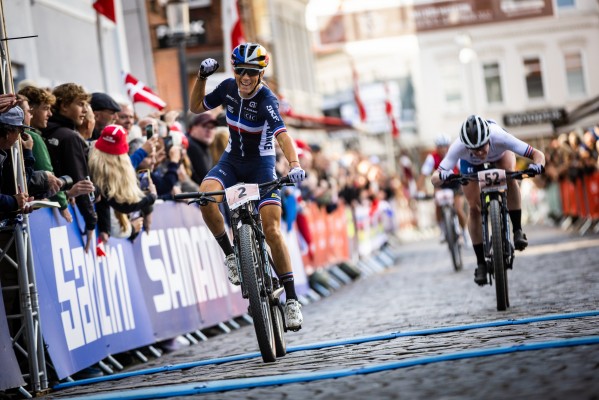 Finally it has been the French runner Pauline Ferran-Prevot the first to cross the finish line with a time of 3:36:58m in the 86.6 kilometers after winning Annie Last in the sprint in the curve just before the finish line, Jolanda Neff once she realized that she had no option to dispute the sprint, settled for the bronze medal. With this World Championship, the Frenchwoman closes a galactic year with 3 gold medals in only two months.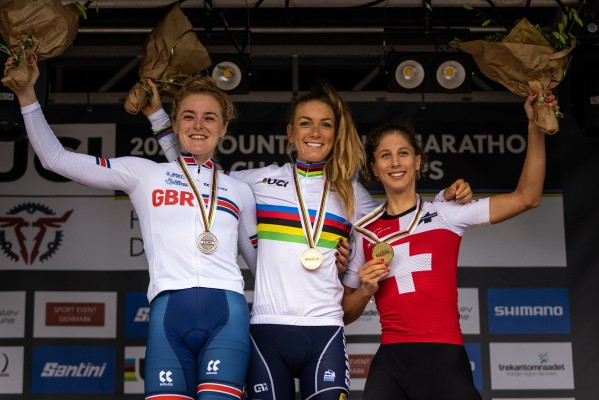 Top10 Women's XCM World Championship: 
Pauline Ferran-Prevot | 3:36:58 | 24,34 km/h
Annie Last | 3:36:58
Jolanda Neff | +0:02
Sofie Heby Pedersen | +0,14
Caroline Bohe | 2:44
Giada Specia | +3:43
Maelene Degn | +3:44
Mona Mitterwallner | +3:46
Vera Looser | +3:54
Kataniza Sosna | +4:48
Here you can find all the results