Sina Frei wins the first Short Track World Championship in a sprint
The first Short Track World Championships started in Val di Sole with the women's race, a very exciting race won by recent Tokyo silver medallist Sina Frei. The Swiss woman became the first Short Track World Champion.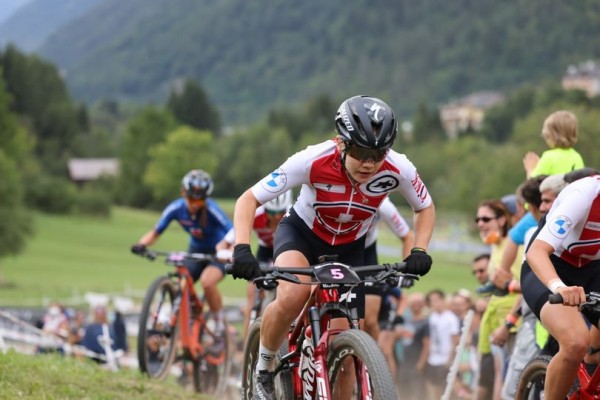 Sina Frei becomes the first XCC World Champion in history
With almost all the favourites on the starting grid, the start of the race was very fast as usual and despite a crash in the middle of the peloton, Jolanda Neff took the lead followed by the Italian Eva Lechner and Linda Indergand. Pauline Ferrand Prevot had a very bad start and had to come back from the first metres.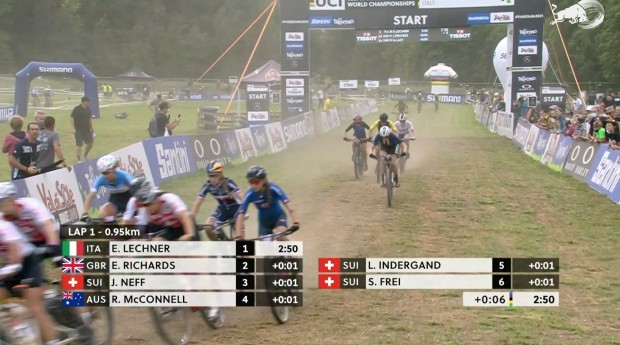 At the end of the first lap all the favourites were grouped together and while Switzerland's Jolanda Neff and Linda Indergand dropped a few places, Lechner and Britain's Evie Richards took the lead. But the group was still very compact and none of them had yet tried to break the pace.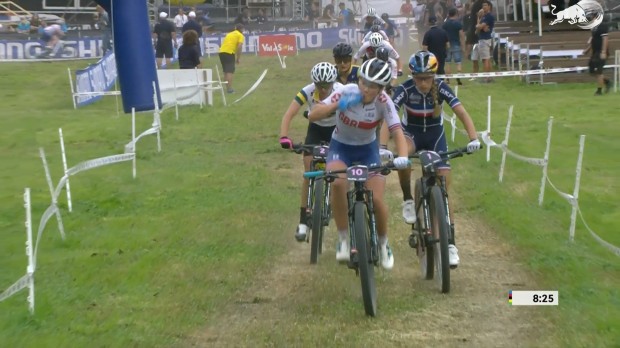 British rider Evie Richards was the first to attack and with a change of pace on lap 4 she managed to stretch the group and leave herself and Australian Bec McConnell, France's Pauline Ferrand Prevot and Switzerland's Sina Frei at the front of the race.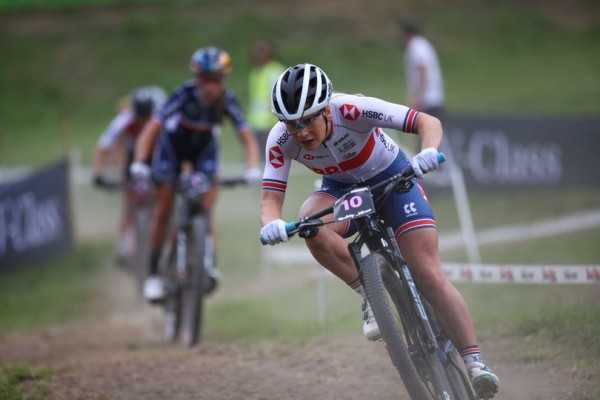 It was Pauline Ferran Prevot who tried a new attack with 2 laps to go and when it looked like she was on her way out she suffered a pedal drop which prevented her from opening up any more gap. In addition, Jolanda Neff and Linda Indergand also managed to get into the leading group.
As the final bell rang, Pauline Ferrand Prevot again tried an attack which was answered by Sina Frei with another even harder change of pace, but still no one was able to get away.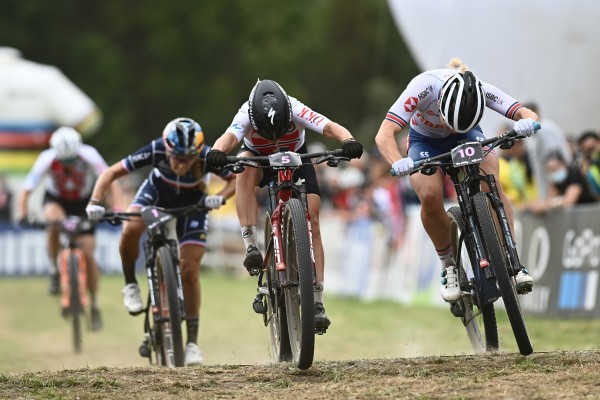 It all came down to the sprint. Sina Frei was the fastest in an intense sprint with Great Britain's Evie Richards. Pauline Ferrand Prevot was finally bronze medallist.
Results XCC Women's World Championships
FREI Sina SUI 20:11
RICHARDS Evie GBR +0:00
FERRAND PREVOT Pauline FRA +0:01
INDERGAND Linda SUI +0:02
NEFF Jolanda SUI +0:11
McCONNELL Rebecca AUS +0:17
POPOVA Iryna UKR +0:26
RISSVEDS Jenny SWE +0:37
SEIWALD Greta ITA +0:41
KELLER Alessandra SUI +0:42
LILL Candice RSA +0:43
LECHNER Eva ITA +0:49
LOIV Janika EST +0:52
LAST Annie GBR +0:58
BATTEN Haley USA +1:01
CABELICKA Jitka CZE +1:08
URBAN Kelsey USA +1:11
FORCHINI Ramona SUI +1:12
ARSENEAULT Laurie CAN +1:16
STRAUSS Mariske RSA +1:18
GUSTAFZZON Linn SWE +1:19
ILINA Kristina RCF +1:21
FINCHAMP Hannah USA +1:25
RIEDER Nadine GER +1:26
HAEBERLIN Steffi SUI +1:30
WALTER Sandra CAN +1:31