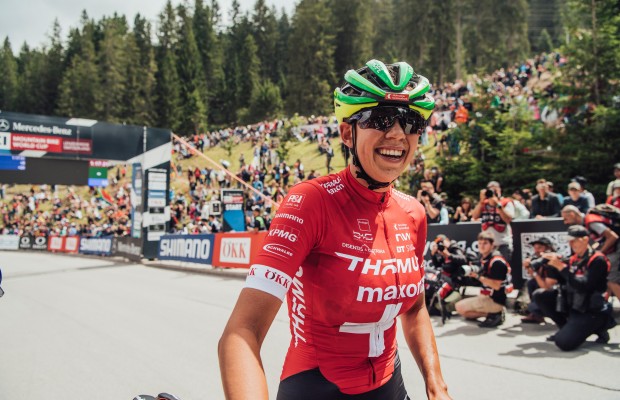 Alessandra Keller wins the Vallnord Short Track in an epic finish
Alessandra Keller wins her first Short Track in the Vallnord World Cup. Everything was decided in an agonizing last lap in which she fought for the victory with Anne Terpstra and Bec McConnell.
Keller wins the Vallnord Short Track
There was a lot of expectation for the Vallnord World Cup to be held again after two blank years and the great amount of public in the circuit was a clear proof of it.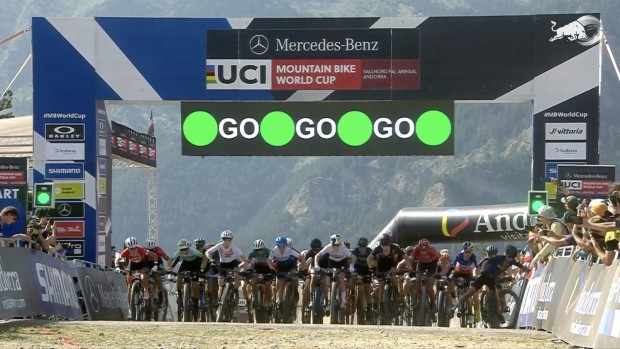 The green light and the tension of the start caused problems for some of the favorites. Jenny Rissveds had a pedal off at the very start line which almost caused the Swedish rider to fall and also cut French rider Pauline Ferrand Prevot.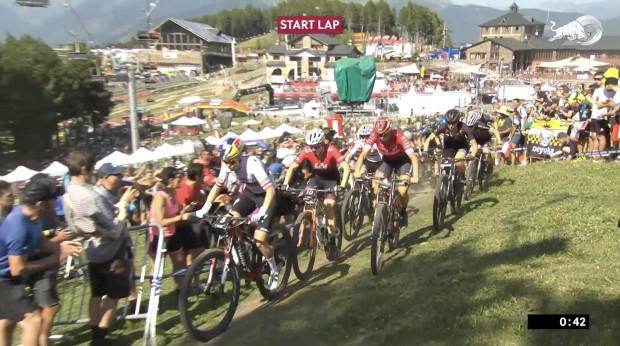 With Pauline and Rissveds practically at the back of the peloton, it was Austria's Laura Stigger who took the lead of the race.
During lap 3, of a total of 6, it was the Swiss Linda Indergand and Alessandra Keller who took the first position and raised the pace trying to break the leading group as much as possible.
Australia's Bec McConnell held off the two Swiss for a couple of laps, but Indergang and Keller looked a point above the rest.
Alessandra Keller, who had taken her first Elite podium at last week's XCO race in Lezerheide, continued to ride on the attack and started the last lap with a few meters ahead of McConnell who had managed to overtake Indergand.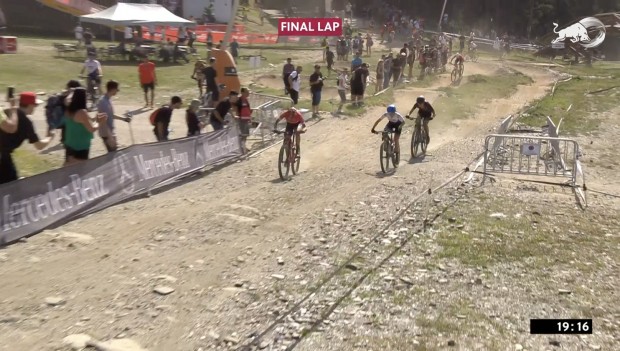 In an agonizing last lap, McConnell lived up to her overall leader's jersey and caught Keller alongside Anne Terpstra. We later learned that the Swiss suffered a small crash that helped the group come together.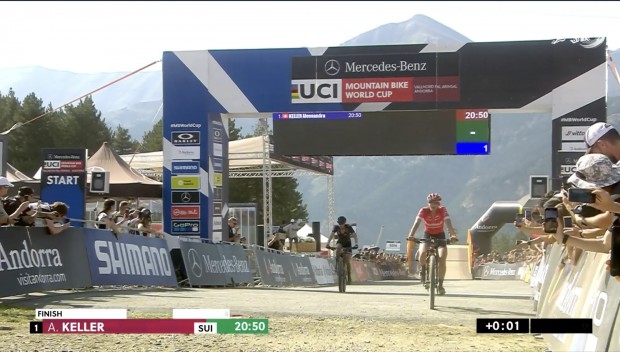 Everything was decided in the last meters. But Keller defended her first place in an outstanding way to win the Vallnord Short Track. Anne Terpstra was second and McConnell third.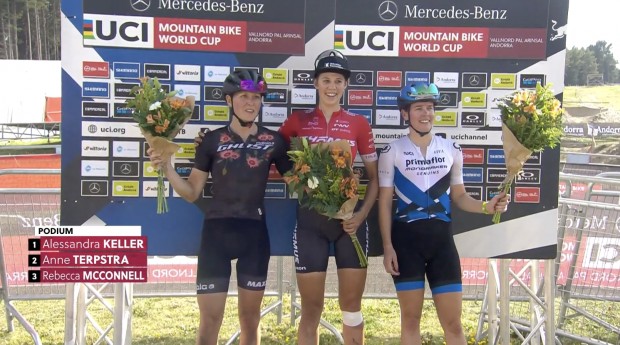 Women's XCC Vallnord 2022 World Cup Results
KELLER Alessandra (THÖMUS MAXON) 
TERPSTRA Anne (GHOST FACTORY RACING) 
MCCONNELL Rebecca (PRIMAFLOR MONDRAKER GENUINS) 
INDERGAND Linda (LIV FACTORY RACING) 
STIGGER Laura (SPECIALIZED FACTORY RACING) 
SEIWALD Greta (SANTA CRUZ FSA MTB PRO TEAM) 
GIBSON Gwendalyn (NORCO FACTORY TEAM) 
RISSVEDS Jenny (TEAM 31 IBIS CYCLES)
BERTA Martina (SANTA CRUZ FSA MTB PRO TEAM) 
FERRAND PREVOT Pauline (BMC MTB RACING) 
Overall ranking women Short Track World Cup 
MCCONNELL Rebecca (PRIMAFLOR MONDRAKER GENUINS) 
KELLER Alessandra (THÖMUS MAXON) 
TERPSTRA Anne (GHOST FACTORY RACING) 
RISSVEDS Jenny (TEAM 31 IBIS CYCLES)
NEFF Jolanda (TREK FACTORY)
FERRAND PREVOT Pauline (BMC MTB RACING) 
LECOMTE Loana (CANYON CLLCTV)
STIGGER Laura (SPECIALIZED FACTORY)
INDERGAND Linda (LIV FACTORY RACING) 
FREI Sina (SPECIALIZED FACTORY RACING)