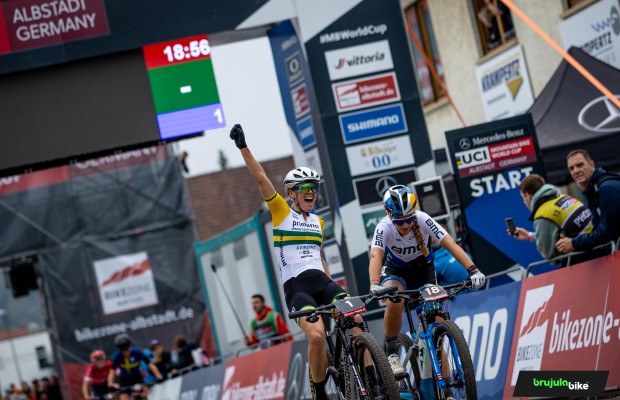 Rebecca McConnell continues unbeaten and wins the Albstadt Short Track
The second World Cup event started with the women's Short Track in Albstadt. A race in which the Australian Rebecca McConnell proved that her victory in Brazil was no coincidence.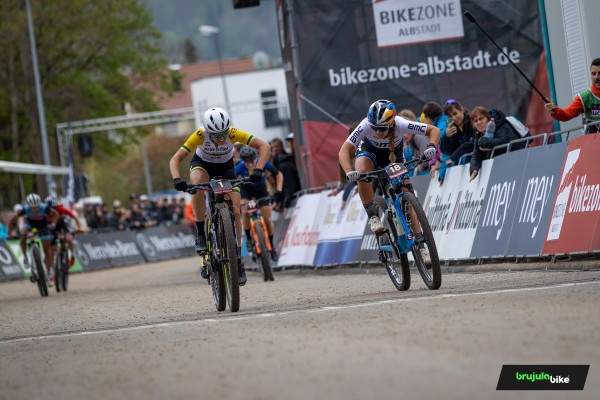 Bec McConnell wins XCC World Cup in Albstadt
French rider Pauline Ferrand Prevot arrived in Albstadt as the overall leader of the XCC World Cup after her victory in the Petrópolis short track, but her absence due to illness in the XCO race in Brazil made her start from a very late position. This, together with a pedal drop in the first few metres, conditioned his start to the race.
The first few laps of the race were sometimes too quiet and with little change of pace from the favourites. It was not until lap 4 when the Swiss Alessandra Keller first and Rebecca McConnell then accelerated the pace and began to open gaps.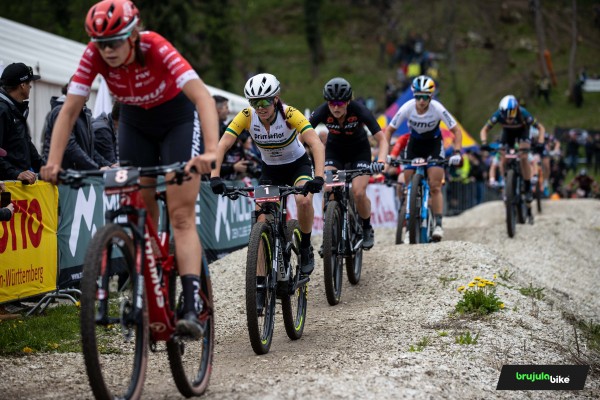 On the penultimate lap Evie Richards, Jolanda Neff, Jenny Rissveds, Alessandra Keller, Pauline Ferrand Prevot, the young Blanka Vas Kata and Kate Courtney were still in the lead and it became increasingly tense and difficult to keep up with the pace.
McConnell led for much of the final lap, closely followed by Pauline Ferrand Prevot, but the Australian launched a final attack from too far out that surprised everyone and Pauline tried to respond unsuccessfully.
An in-form Rebecca McConnell came in first to win her first Short Track and her second consecutive World Cup victory. Pauline Ferrand Prevot was second and Jenny Rissveds third.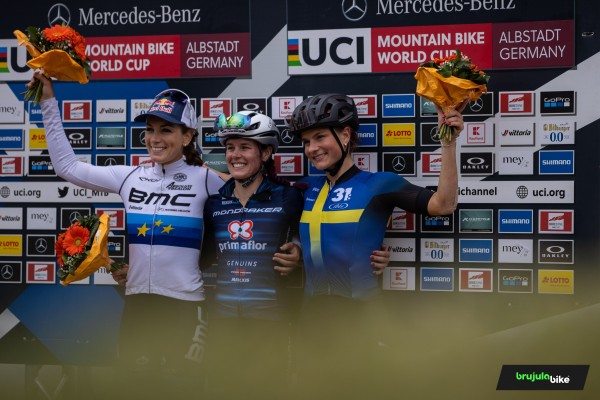 French rider Loana Lecomte suffered a crash in the refreshment area and had to withdraw with a heavy blow that we don't know if it will affect her in Sunday's race.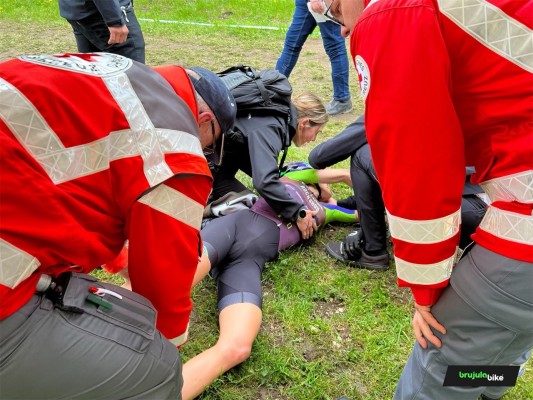 Hungarian Kata Blanka Vas, a cyclist we have to follow closely, finished in a very strong sixth place.
Results Women's XCC World Cup Albstadt 2022
MCCONNELL Rebecca Ellen (PRIMAFLOR MONDRAKER GENUINS) 
FERRAND PREVOT Pauline (BMC MTB RACING) 
RISSVEDS Jenny (TEAM 31 IBIS CYCLES) 
KELLER Alessandra (THÖMUS MAXON) 
NEFF Jolanda (TREK FACTORY RACING XC)
VAS Kata Blanka (HUNGARY)
TERPSTRA Anne (GHOST FACTORY RACING) 
LECHNER Eva (TRINX FACTORY TEAM)
EIBL Ronja (ALPECIN - FENIX)
TAUBER Anne (CST POSTNL BAFANG MTB RACING TEAM)