Evie Richards wins in Banyoles for the third time in a row
Once again this year, Banyoles was the centre of attention in the XCO World and the women's race was the opening event of the weekend. There, the World Champion Evie Richards won in a brilliant way and showed that what happened last week was just a minor setback, her level is still as high as it was last season.
Evie Richards shows off her strength and no one can beat her at Banyoles 2022
The elite women's race of the Massi Banyoles SuperCup started with an unbeatable weather and the World Champion's jersey of British rider Evie Richards leading the first line of the starting grid. A race full of favourites and in which the Swiss Linda Indergand took the lead of the race as soon as the lights went green.
Already in the initial loop a leading group was formed where the French Lena Gerault imposed a high pace that began to make the first cuts, but Alessandra Keller also had some attacks saved for the first part of the race.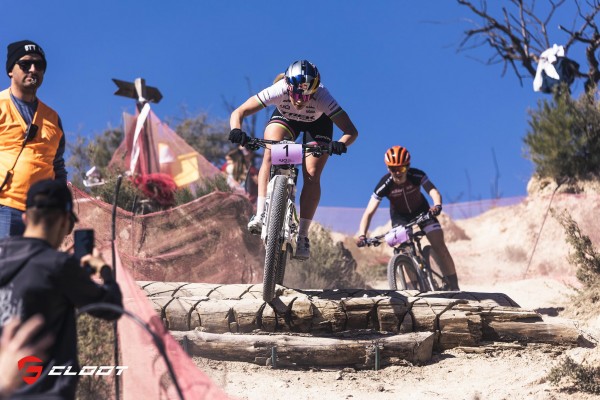 World Champion Evie Richards, winner of the last two editions in Banyoles, seemed completely recovered from the discomfort that made her abandon last week in Chelva. And at the start of the second lap of three, Richards and Alessandra Keller were in the lead with almost 5 seconds ahead of the first chasing group of about nine riders.
But the British rider was keen to show that she was fully recovered from the previous week's retirement and halfway through the race she launched a powerful attack that the Swiss Keller could not hold off. Evie Richards was alone for the first time in first position and without looking back she continued to increase the pace until she had a gap that seemed unreachable with one lap to go.
Evie Richards' demonstration of power was already undeniable and the British rider entered the finish line first to take her third consecutive victory in this race. Second was Switzerland's Alessandra Keller. The podium was rounded off by Britain's Annie Last
Results SuperCup Massi Banyoles Elite Women 2022
Evie Richards UK
Alessandra Keller SUI 
Annie Last UK
Isla Short UK
Lena Gerault FRA