Richard Carapaz is the new Olympic road cycling champion
The Ecuadorian Richard Carapaz has become the first South American Olympic road cycling champion in a very hard race of 234 km and five mountain passes in which the heat, the pace and the distance have selected a very high level race.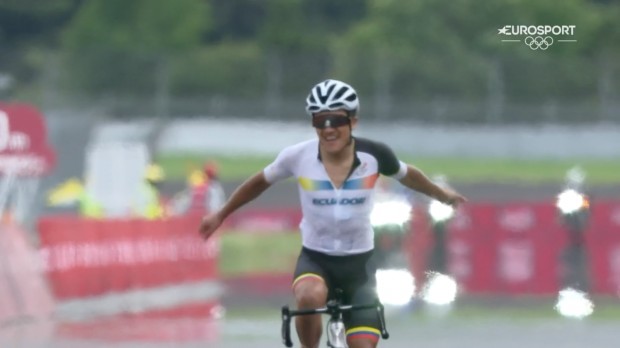 Richard Carapaz is crowned Olympic road cycling champion
Following the storyline that many had predicted, the breakaway formed with 220 km to go with 8 riders including Nicholas Dlamini (South Africa), Michael Kukrel (Czech Republic), Juraj Sagan (Slovenia), Grosu (Romania), Polychrónis Tzortzákis (Greece), Aular Sanabria (Venezuela), Paul Daumont (Burkina Faso) and Elchin Asadov (Azerbaijan).
But the peloton maintained the gap to the front group well and it was with 165 kilometres to go that Slovenia and Belgium decided it was time to put an end to the breakaway. Three hours into the race, and with 115 km to go, the peloton reached part of the breakaway and only five riders remained in the lead. Slovenia and Belgium started to pick off the peloton.
From the start the cyclists began to complain about the suffocating heat and often had to go down to the car to get water or ice.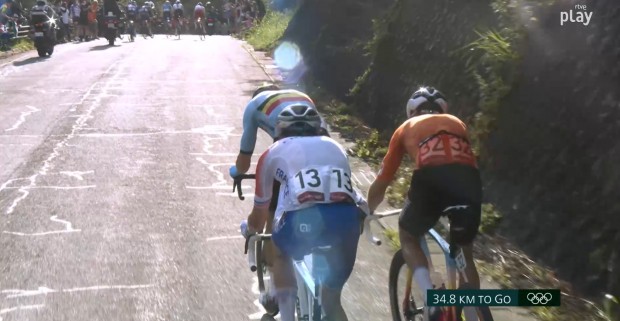 The pace of Slovenia and Belgium began to drop riders from the peloton, including Omar Fraile and then Alejandro Valverde. Although the Spaniard was able to re-enter a few kilometres later on the descent of Mount Fuji, Spain's chances of a medal practically vanished.
It was on the ascent of the demanding Mount Mikuni that the hardest attacks started to happen and a group of favourites formed, including Pogacar, Carapaz, Van Aert, Rigoberto Urán, Bettio, Mollema, Fulgsang and McNulty.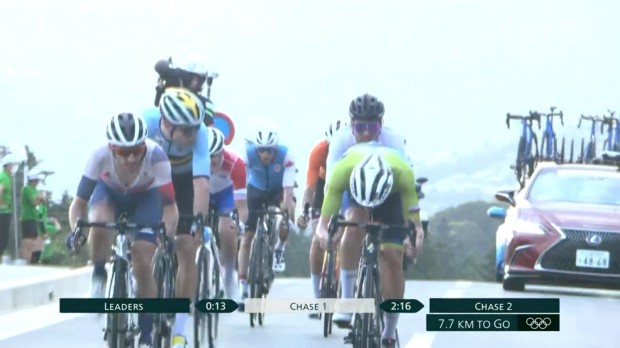 With 25km to go McNulty jumped out of the favourites' group and Carapaz was the only one to join him. A move that could have earned them the gold and silver medals.
Carapaz and McNulty were already 40 seconds ahead with 12 km to go, while behind them Van Aert imposed a devastating pace on the chasing group that even dropped Pogacar. Within a few kilometres the gap was reduced by 30 seconds and it was all up in the air again.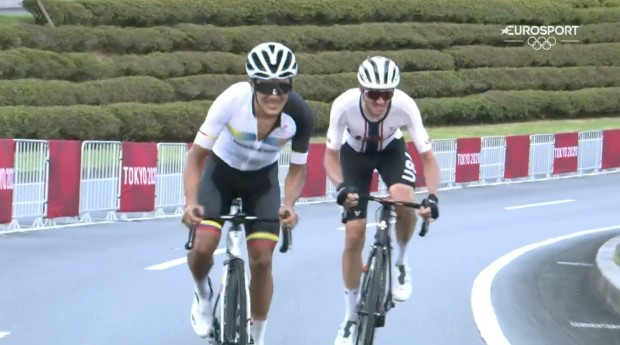 It should be remembered that in this race, as in the World Cup, the riders compete without an earpiece and do not have any radio references. Something that McNulty and Caparaz certainly missed in the last kilometres.
With 6 kilometres to go, Carapaz made a change of pace that ended McNulty's dream of gold and reopened all medal chances.
The Ecuadorian Richard Carapaz arrived at the finish line as the first South American to win a gold medal in road cycling. Something with a lot of merit if we take into account that he did the race practically without a team.
The rest of the medals were decided by sprint, with silver going to Van Aert and bronze to Pogacar.