Mathias Flueckiger wins with authority the Vallnord Short Track World Cup
Mathias Fluckiger was the fastest in the Vallnord Short Track after a race in which the Italian Braidot suffered a chain failure when he was leading the event.
Fluckiger wins with authority the XC Short Track of the Vallnord World Cup
The Vallnord Short Track circuit has a first half-slope climb very close to the start straight, so a good start seemed to be essential to win.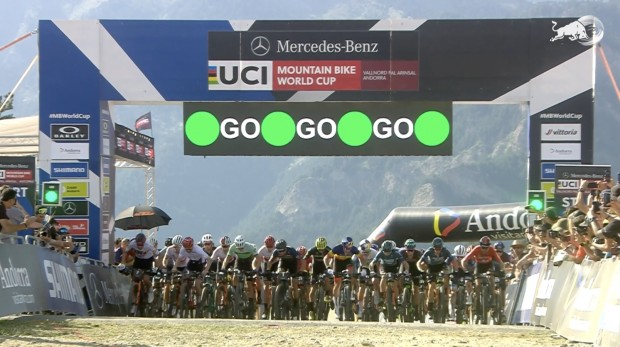 That led to a very strong start in which Fluckiger, Hatherly, Colombo, Marotte and David Valero were well positioned at the front, while other riders, such as Schurter, were a bit delayed in the first laps.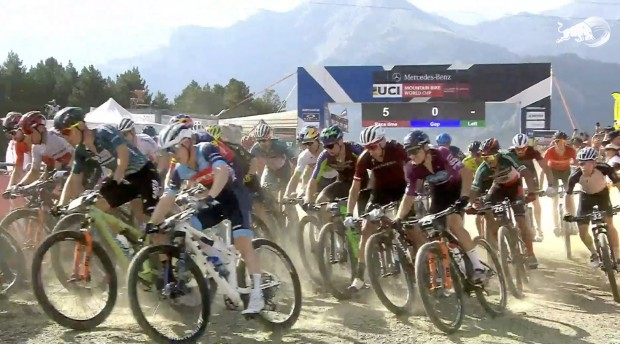 The heat and the dust were being important protagonists of the race, but after Fluckiger was leading the first 3 laps, it was Thomas Litscher who gave him the relay after making a great comeback.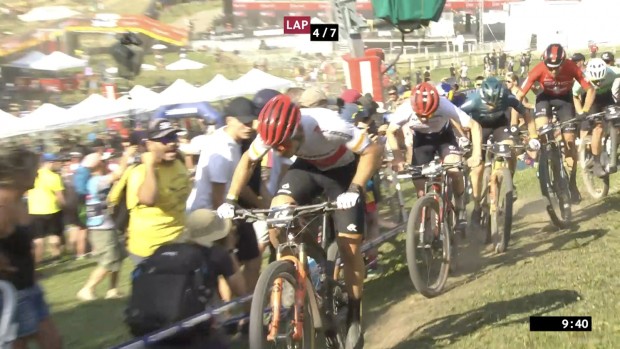 Switzerland's Thomas Litscher kept the pace high to try to break the race, although on lap 4 of 7 the lead group was still large with 7 riders.
It was Italy's Luca Braidot, after taking his first World Cup victory just a week ago in Lenzerheide, who made the hardest attack of the race on the penultimate lap. A move that left him in first position with a 4-second lead over Mathias Flueckiger.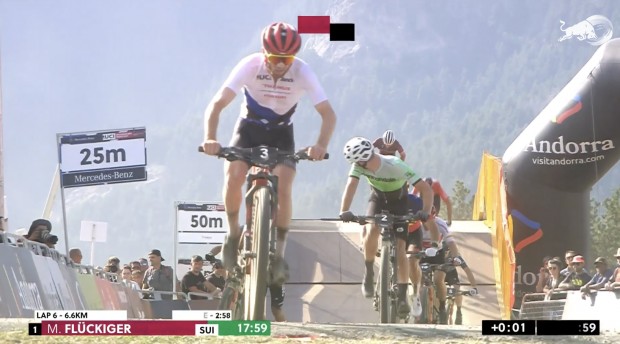 Braidot was unlucky and a chain failure left him with no chance to continue fighting for the victory.
On the last lap it was all to be decided with Fluckiger, Hatherly and Dascalu fighting for the win, but the Swiss again proved that he is the strongest and did not need to reach the sprint.
Fluckiger won with an attack of more than half a lap that neither Alan Hatherly, second, nor Vlad Dascalu, third, could reach.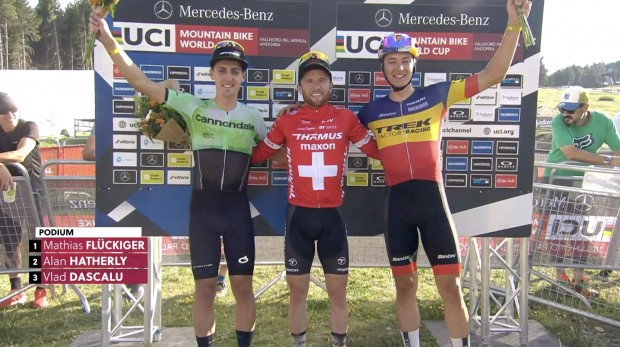 Spanish rider David Valero was at the front throughout most of the race, but finally finished in 13th position. Jofre Cullel came in 16th place.
Men's XCC Vallnord 2022 World Cup Results
FLÜCKIGER Mathias (THÖMUS MAXON)
HATHERLY Alan (CANNONDALE FACTORY RACING
DASCALU Vlad (TREK FACTORY RACING XC)
LITSCHER Thomas (KROSS ORLEN CYCLING TEAM)
SARROU Jordan (SPECIALIZED FACTORY RACING)
BRAIDOT Luca (SANTA CRUZ FSA MTB PRO TEAM)
MAROTTE Maxime (SANTA CRUZ FSA MTB PRO TEAM)
COLOMBO Filippo (BMC MTB RACING) 
KORETZKY Victor 
ULLOA AREVALO Jose Gerardo (MASSI-BEAUMES DE VENISE) 
Overall ranking men Short Track World Cup
FLÜCKIGER Mathias (THÖMUS MAXON)
HATHERLY Alan (CANNONDALE FACTORY RACING
SCHWARZBAUER Lucas (CANYON CLLCTV)
COLOMBO Filippo (BMC MTB RACING) 
SCHURTER Nino (SCOTT SRAM)
AVANCINI Henrique (CANNONDALE FACTORY)
DASCALU Vlad (TREK FACTORY RACING XC)
GAZE SamueL (ALPECIN DECEUNICK)
MAROTTE Maxime (SANTA CRUZ FSA MTB PRO TEAM)
CAROD Titouan (BMC MTB)