Samuel Gaze rises from his ashes to win the Short Track in Albstadt
The XCC World Cup in Albstadt came with many favourites and too many doubts. Something that was proven in the race and that gave us back the best version of the New Zealand rider Sam Gaze.
Sam Gaze is back
KMC Orbea was the protagonist at the start of the race with Pierre de Froidmont and Sebastian Fini launching a hard attack from the very start line which, although it didn't manage to open any gap, left the race very launched.
Of the riders arriving from the road, it took Tom Pidcock just 3 laps to make it from 30th position to the front of the race, something that Alpecin Fenix's New Zealander Sam Gaze improved on, starting from 35th position and also making the top 5 on lap 4. Frenchman Victor Koretzky was also riding with the frontrunners, but a mechanical problem sidelined him on lap 6.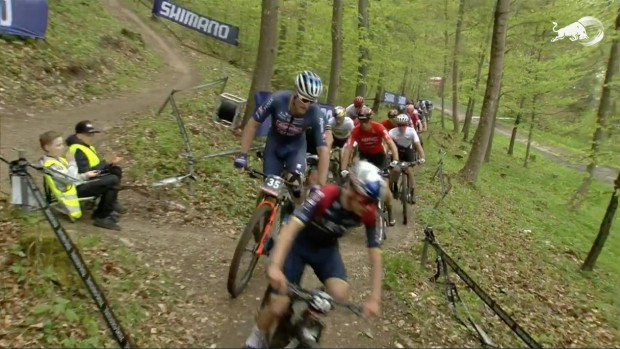 The large group of favourites made up of Luca Schwarzbauer, Sarrou, Pidcock, Gaze, Schurter, Colombo, Avancini and Flueckiger, among others, was still very compact on lap 6, but with such a strong group of riders it was practically impossible to predict a winner yet.
Sarrou, Avancini and Schurter took the lead of the group at the start of the last lap and from there began a series of very aggressive movements and changes of pace with constant positions changing.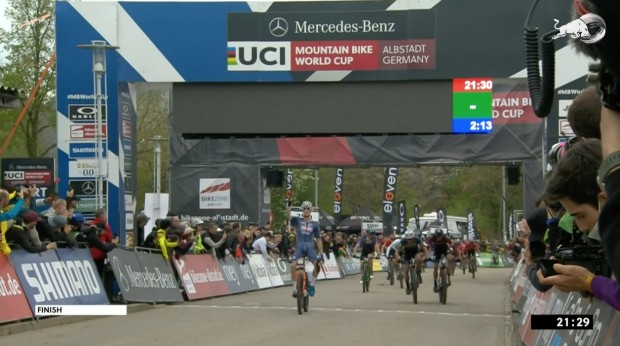 But Samuel Gaze launched a tremendous last attack that surprised everyone and nobody could answer. Jordan Sarrou and Nino Schurter took second and third place in the sprint, with the Frenchman taking advantage.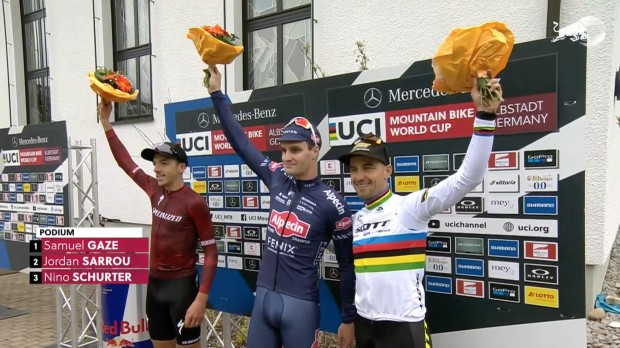 Sam Gaze could be the subject of a documentary
Samuel Gaze could be the subject of at least one documentary. We remember that after a great season in 2018, in which he won several Short Tracks and a World Cup, in 2019 he suffered a hard crash in the Cape Epic that reduced his performance enough to say in 2019 that he was leaving MTB, at 24 years old, and jump to road cycling. In 2020 he signed for Alpecin Fenix, combining MTB and road, and after a discreet 2021 in terms of results, this year began with an operation on his two knees whose prediction was that he could not be at 100% until June. 
Thankfully, sometimes predictions fail and in this case it has brought us back the best version of Samuel Gaze.
Results Men's XCC World Cup Albstadt 2022
GAZE Samuel (ALPECIN - FENIX) 
SARROU Jordan (SPECIALIZED FACTORY RACING) 
SCHURTER Nino (SCOTT-SRAM MTB RACING TEAM) 
SCHWARZBAUER Luca (CANYON CLLCTV) 
AVANCINI Henrique (CANNONDALE FACTORY RACING) 
CAROD Titouan (BMC MTB RACING) 
COLOMBO Filippo (BMC MTB RACING) 
PIDCOCK Thomas (INEOS Grenadier
HATHERLY Alan (CANNONDALE FACTORY RACING) 
LITSCHER Thomas (KROSS ORLEN CYCLING TEAM)