Hatherly surprises and wins in Chelva in front of a World Cup squad
With a top level starting line-up, the victory was very expensive at the Chelva Internationals. But after an intense race full of surprises, South African Alan Hatherly took the victory.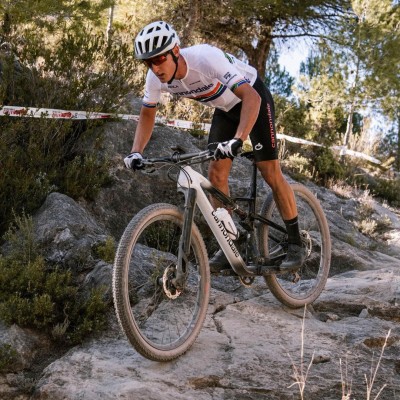 Hatherly wins the 2022 Chelva XCO Internationals
The first to take the lead was Vlad Dascalu and he set a very high pace on the start straight until the course turned into a track that forced the field to form a single file line where overtaking would be more difficult from then on.
French rider Titouan Carod took over from Dascalu and a leading group was formed with about 10 riders including Avancini, Dascalu, Ondrej Cink, Hatherly and Thomas Litscher. Just a few seconds behind, the Spanish rider David Valero was in charge of closing the first gap and leading the chasing group.
The pace was quite high for the opening laps, but even so, Brazilian Henrique Avancini didn't want to wait and launched an attack on lap 2 with his teammate, South African Alan Hatherly. This allowed the pair to take almost 10 seconds lead over the rest of the field.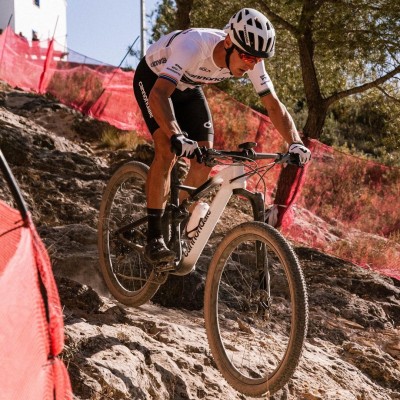 About 20 minutes into the race, lap 3 started with the race very much broken in terms of positions. And it was just the protagonist of this, Avancini, who continued to add to the excitement with a small crash on his part that left Hatherly alone in first place. The Brazilian recovered very quickly to defend second place, between his team-mate and Vlad Dascalu in third.
Hatherly was still alone in the lead with half a minute advantage while Dascalu, Avancini, Cink and Carod were already focusing more on getting a place on the podium than on trying to win the race. For his part, David Valero was still fighting to cut time and try to get into the fight for the top positions.
Once again, David Valero's strategy was working and with one lap to go, while the protagonists at the start of the race were deflating, the Spanish rider was in second position with the Swiss Filippo Colombo on his wheel. Hatherly was still leading and Avancini continued to have problems and was almost out of the top 10.
Finally the South African Alan Hatherly took the victory in the 2022 Chelva Internationals, while the second position went to the Swiss Colombo after a last attack in which he managed to overtake Valero. The Spanish rider closed the podium.
2022 Chelva Internationals XCO Elite Men's Results
Alan Hatherly RSA
Filippo Colombo SUI
David Valero ESP
Vlad Dascalu ROU
Titouan Carod FRA