Pauline Ferrand Prevot becomes XCO World Champion 2019
With a lot of expectation and without any clear favorite the Elite Women race of the XCO World Championship 2019 started. In a demanding circuit in the climbs and delicate in the downhills, Pauline Ferrand Prevot has been proclaimed World Champion in Mont-Sainte-Anne, Canada. Right on the same circuit where 10 years before she was Junior World Champion.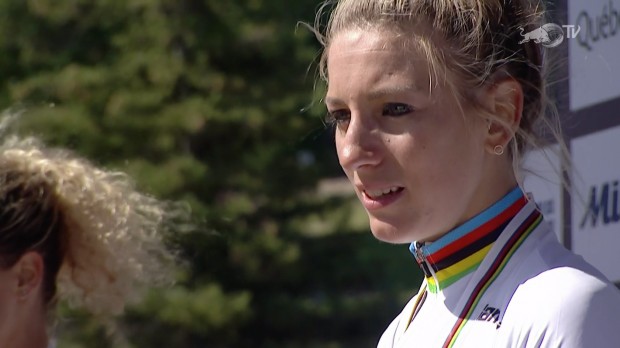 Pauline Ferrand Prevot is the XCO World Champion 2019
The race started as a group and the Canadian Haley Smith took the lead at home. Behind her, there was no favorite in the head and Jolanda Neff and Kate Courtney rolled together while still watching each other.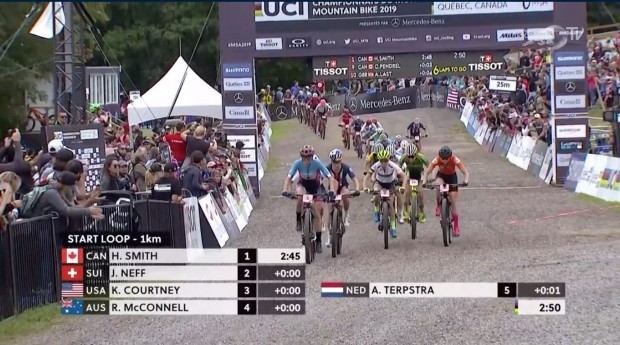 Rebecca McConnell, on lap 1, was the first who managed to open a small gap taking Jolanda Neff and Kate Courtney with her.
The group of 3 remained together during the uphills, but on the downhills, Neff and Courtney took advantage with McConnell, who had to squeeze the most to contact them again. The 3 had an advantage of 15 seconds with Anne Terpstra, her immediate pursuer.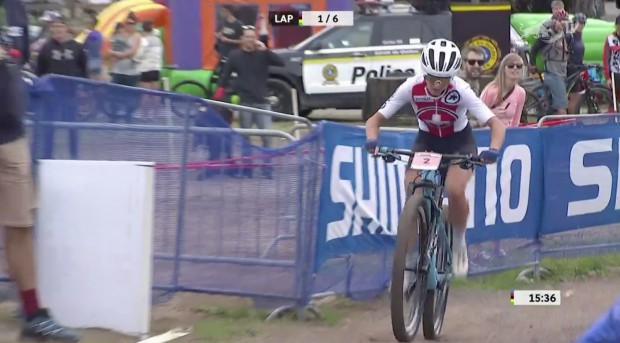 Jolanda Neff took advantage of a couple small errors of Courtney to go first and get a 4-second advantage that was diluted in the first demanding climb.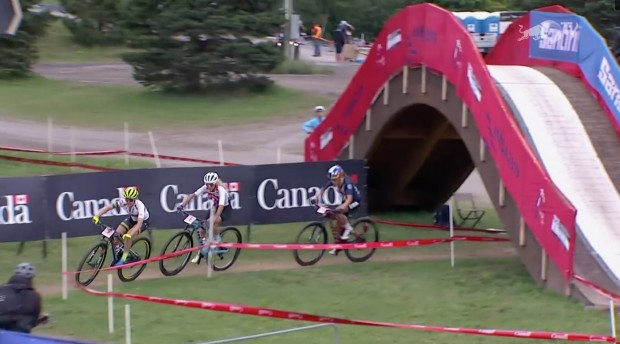 On lap 2, the Dutch Anne Tauber managed to hunt down the head group for more excitement, and behind there were still cyclists such as Anne Terpstra, Pauline Ferrand Prevot, Jenny Rissveds or Catherine Pendrel who still had a lot to say in the race.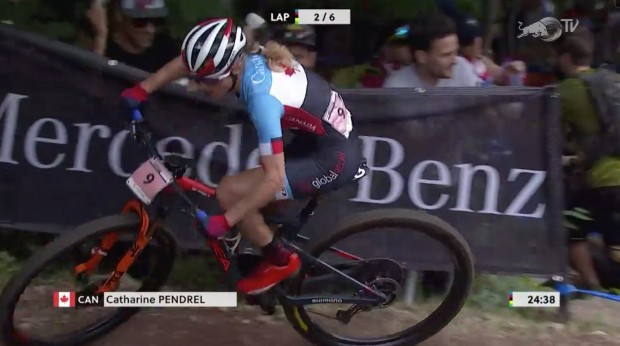 The climbs of Mont-Sainte-Anne are very demanding and Kate Courtney was her first victim. Before lap 2 ends, Kate Courtney was already far from Jolanda Neff and McConnell, who were marching first 17 seconds ahead from the rest.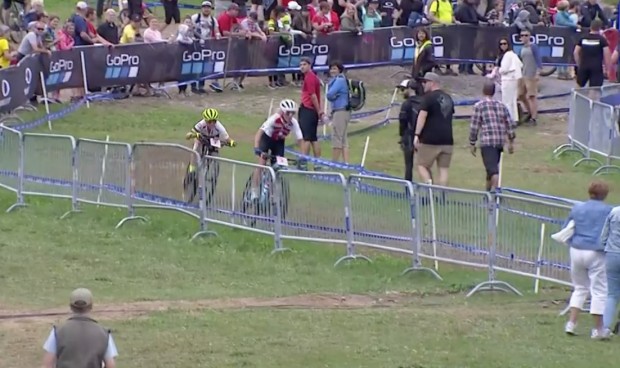 The difference between Neff and McConnell grew to 26 seconds at the start of lap 3. But in this circuit any mistake is paid dearly and it was still early to make forecasts.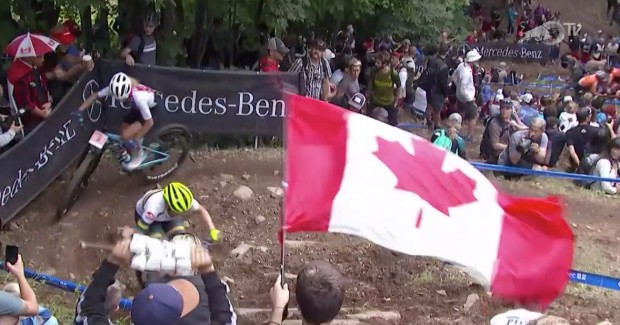 Meanwhile, Pauline Ferrand Prevot had put the direct towards the head of the race and was already in third position 22 seconds of the first.
Ahead, Australian Rebecca McConnel rose the pace and with a couple of failures of Jolanda Neff, got an advantage of 18 seconds with which she was first at the start of lap 4. Pauline was third, very close to Neff.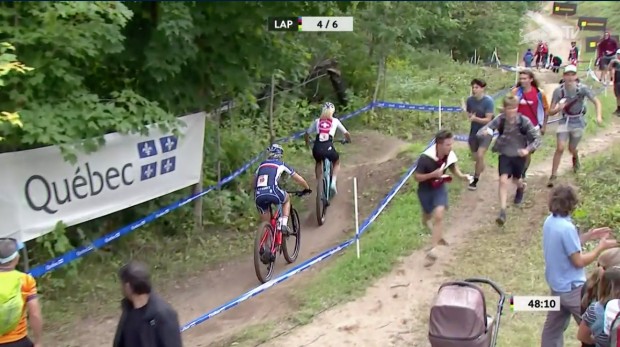 During lap 4 Ferrand Prevot advanced strongly to Jolanda Neff and left her in search of the first position that McConnell held. Before the end of the round, the Frenchwoman was only 10 seconds from the first and 33 seconds from Jolanda Neff.
Behind, Kate Courtney was still in trouble and struggling to maintain the sixth position.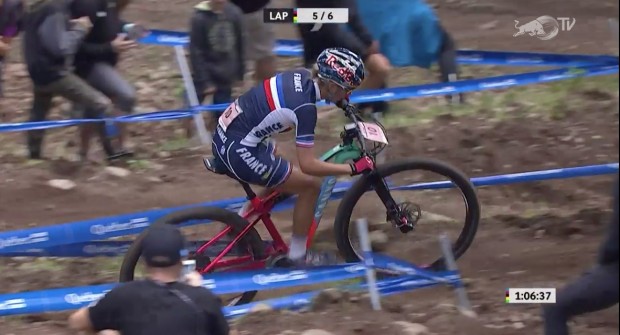 Lap 5 started with Pauline Ferrand Prevot leading the race with authority, Rebecca McConnell struggling not to lose time with the leader, 10 seconds behind, and Jolanda Neff third at 50 seconds.
Pauline was making a perfect race, she looked very strong and seemed convinced that she was going to win if no disaster occurred.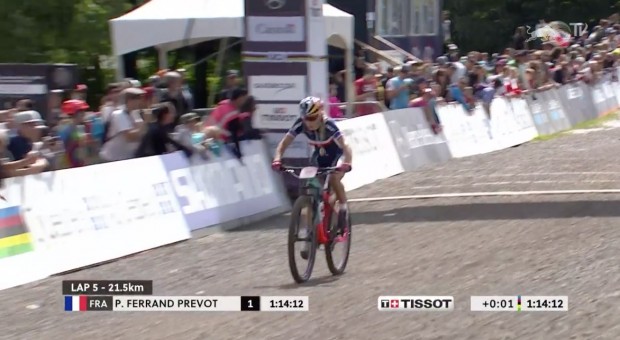 The last lap bell rang for Pauline Ferrand Prevot when she had 41 seconds ahead of Rebecca McConnell and 1 minute over Jolanda Neff, so for the Frenchwoman it was time to not make mistakes.
With the first position almost decided, the battle was forged by the silver medal, where Jolanda Neff scored another of the final explosives to which we are accustomed this season. In the middle of one of the narrowest and most complicated climbs he managed to overtake McConnell, she was very determined to try to fight for victory. But it was too late.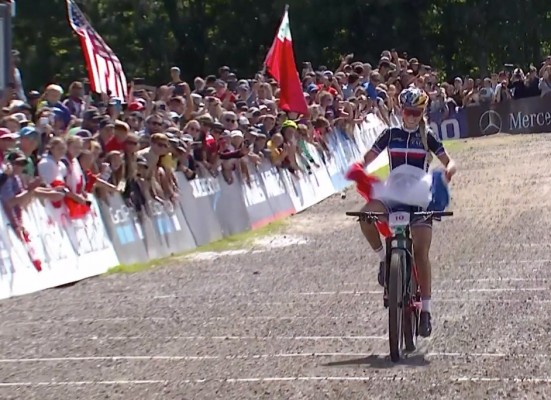 Pauline Ferrand Prevot was proclaimed XCO World Champion 2019 after making a brilliant and very intelligent career. Without a doubt, she was the best today in the circuit of Mont-Saint-Anne. Jolanda Neff won the silver medal and Rebecca McConnel won the bronze medal.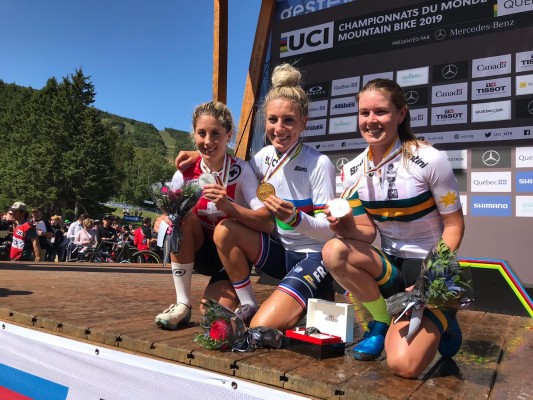 Results Elite Women XCO World Championship 2019
Pauline Ferrand Prevot 1:28:51
Jolanda Neff +0:43
Rebecca McConnell +1:17
Anne Terpstra +2:26
Kate Courtney +2:42
Annie Last +2:54
Anne Tauber +3:12
Tanja Zakelj +3:40
Emily Batty +3:59
Linda Indergand +4:46
Sina Frei wins the World Championship in the U-23 category
In the U-23 category, the Swiss Sina Frei has once again proclaimed herself World Champion after winning in 2017 and finishing second in 2016 and 2018. The silver medal has been for Laura Stigger and the bronze medal for Loana Lecomte.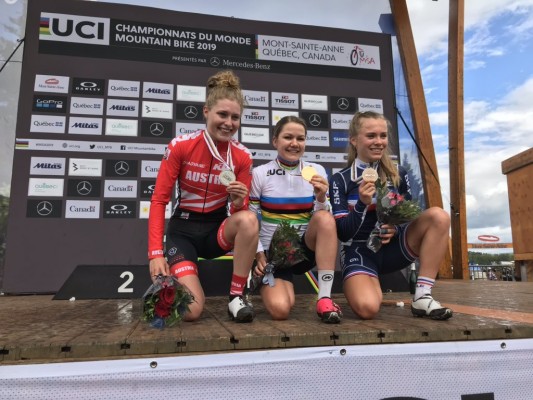 The Spanish Rocío del Alba García has finished in seventh position.