Rebecca McConnell wins the Petrópolis World Cup
The Petrópolis World Cup was already a success even before the XCO event took place. And yet it did not disappoint. After Loana Lecomte's fast start to the race, Australian Bec McConnell was the most consistent rider of the day and that allowed her to take the victory.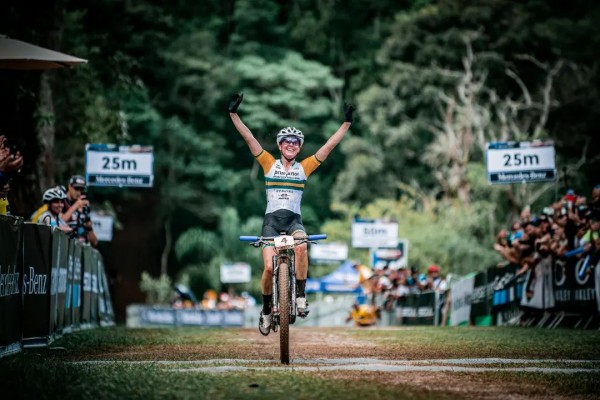 Bec McConnell wins a hard-fought World Cup in Petrópolis
With the important absences of Olympic champion Jolanda Neff and World Champion Evie Richards, the women's XCO race started in Petrópolis. Italy's Martina Berta, from the Santa Cruz FSA team, led the race for the first few metres, but French champion Loana Lecomte was soon back to the same strategy we saw at the beginning of last season: to go solo from the first lap.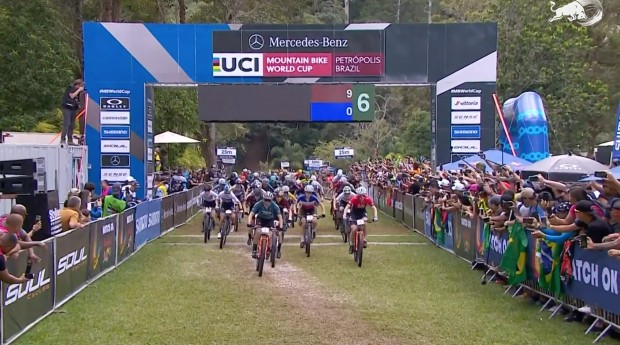 Before the end of the first lap, Lecomte already had almost 10 seconds on Australian Bec McConnell and almost 20 seconds on Anne Terpstra, who was third.
Loana was a surprise because of the superiority she was showing, but as we have already said, the truth is that she already started like this last season. More surprising was the very difficult start of Pauline Ferrand Prevot who, after winning the Short Track on Friday, was riding behind the 50th position on lap 3, and finally retired.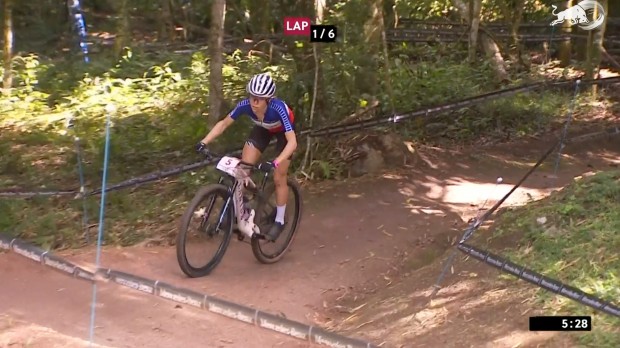 The one who led the chase was the Australian Bec McConnell, who after many laps without being able to cut time with Lecomte managed to reach her after several failures of the Frenchwoman in the rock garden area. Along with McConnell there was also a powerful Anne Terpstra who did not hesitate to attack as soon as she saw herself in the lead.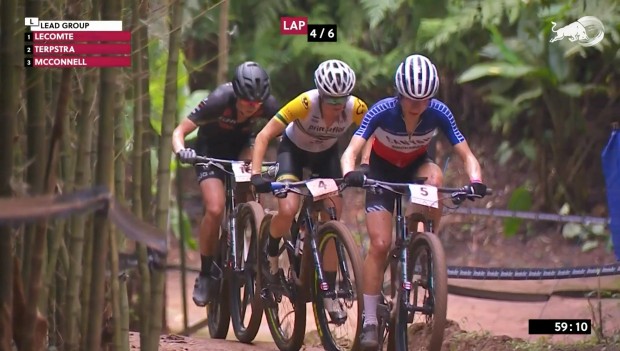 The race had completely turned around and 31-year-old Dutch rider Anne Terpstra led the race with 11 seconds over McConnell and Lecomte with one and a half laps to go.
On the final lap, Rebecca McConnell again led the chase, this time over Terpstra. And her perseverance was rewarded. The Australian rider of Primaflor Mondraker reached the first position and was going to fight for the victory with Terpstra in the last kilometres. French rider Lecomte was suffering from the effort she had put in at the start of the race and could not move up from third position.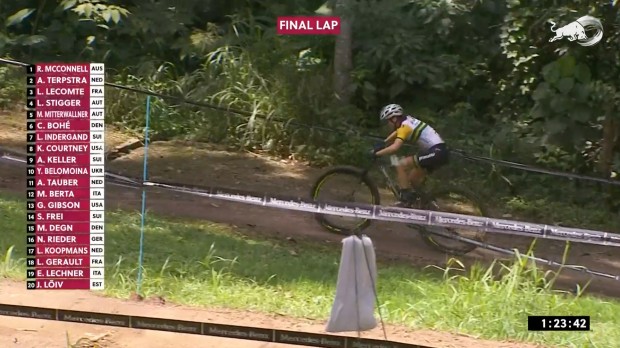 Rebecca McConnell was very strong in the final kilometres and in a short space of time she was 10 seconds ahead of Terpstra. The Australian was going for her first World Cup victory. And so it was.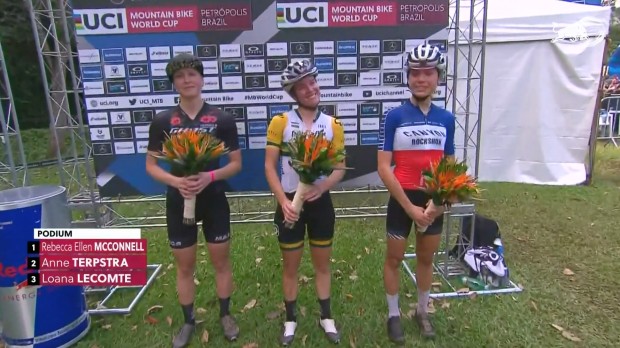 McConnell won her first World Cup in Petrópolis, also the first for Mondraker in XCO, Terpstra finally finished second and Lecomte third. A little further back Austrian Laura Stigger and Mona Mitterwallner were 4th and 5th respectively.
Rebecca McConnell 01:29:41
Anne Terpstra +00:17
Loana Lecomte +00:38
Laura Stigger  +01:44
Mona Mitterwallner +01:53
Spain's Rocío del Alba and Natalia Fischer finished 30th and 37th respectively.