Orbea updates Orca and Avant range for 2023
Orbea is adding a breath of fresh air for 2023 to the Orca and Avant models in its road bike collection. New colour options are coming as standard and the mounting choices have been expanded to help you find your ideal bike as easily as possible.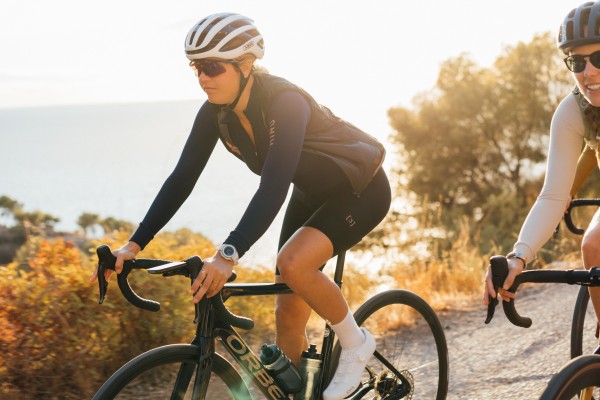 New colours and updated components in Orbea's road bike range
Orbea's range of road bikes for next year looks very attractive. With no changes in the manufacture of the models themselves, the Mallabia-based company has focused on refining its set-ups as much as possible and has added new and attractive colour options.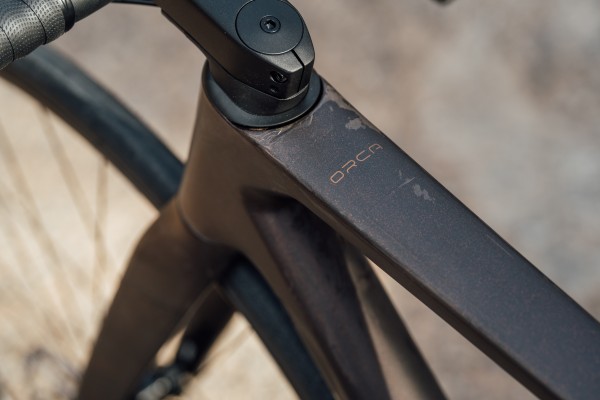 In the case of its sportiest bike, the Orca, the range is made up of no less than 12 set-up options, starting at €2,399 for its entry-level model, up to €10,999 for its top-of-the-range one, with two frame options: OMX for the top models and OMR for the most basic models, which are the focus of the 2023 innovations, with five new colour options: Shark Grey (Matt), the Sulfur Yellow (Gloss) - Night Black (Matt), the Carbon Raw - Iridescent, the Blue Carbon View - Titan (Gloss Matt) and the Cosmic Carbon View (Matt Gloss); and configurations such as the new Shimano 105 Di2.
You can, of course, go beyond these standard set-ups and use the MyO customisation program to design a bike to your own taste and with the set-up that best suits your needs and tastes.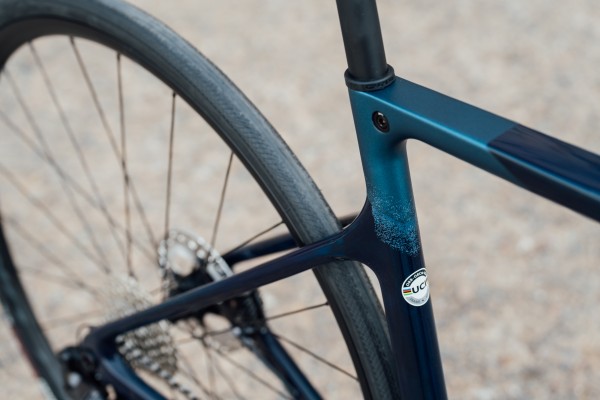 The Avant, the endurance model in Orbea's road range, incorporates two new frames and three new colours: Metallic Green Artichoke (Matt), Moondust Blue (Gloss) - Titan (Matt) and Orange Candy (Matt) - Cosmic Bronze (Gloss).
A model that ranges in price from €1,449 to €1,649.
Orbea Orca 2023: Set-ups and prices
ORCA M10iLTD PWR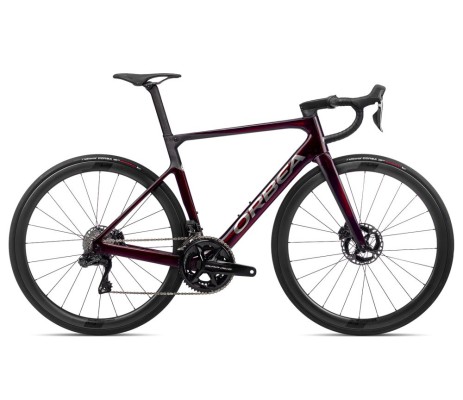 Price: €10,999
Frame: Orbea Orca Carbon OMX
Fork: Orbea Orca OMX ICR
Groupset: Shimano Dura-Ace Di2. 52/36 crankset with power meter, 11-30 cassette
Handlebar: OC Road Performance RP10 Carbon
Stem: OC Road Performance RP10
Wheels: Vision 40 SC Disc Carbon TLR CL
Tyres: Vittoria Corsa Competition G2.0 TLR 700x25c
Seatpost: Orbea Orca OMX, SB0/25
Saddle: Selle Italia SLR Boost SuperFlow L
ORCA M11eLTD PWR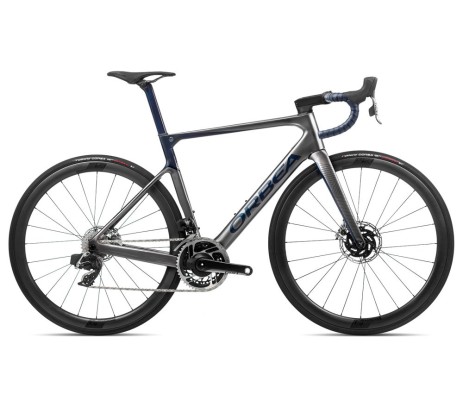 Price: €10,999
Frame: Orbea Orca Carbon OMX
Fork: Orbea Orca OMX ICR
Groupset: SRAM Red eTap AXS. 48/35 crankset with power meter, 10-28 cassette
Handlebar: OC Road Performance RP10 Carbon
Stem: OC Road Performance RP10
Wheels: Vision 40 SC Disc Carbon TLR CL
Tyres: Vittoria Corsa Competition G2.0 TLR 700x25c
Seatpost: Orbea Orca OMX, SB0/25
Saddle: Selle Italia SLR Boost SuperFlow L
ORCA M20iLTD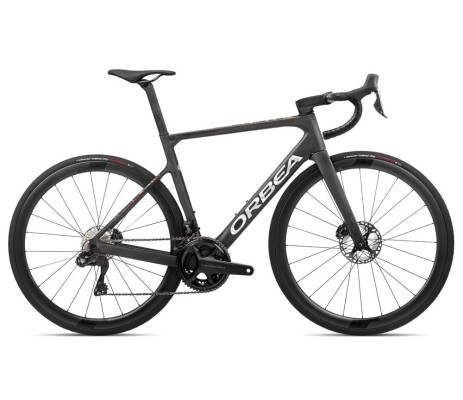 Price: €6,999
Frame: Orbea Orca Carbon OMX
Fork: Orbea Orca OMX ICR
Groupset: Shimano Ultegra Di2. 50/34 crankset, 11-30 cassette
Handlebar: OC Road Performance RP10 Carbon
Stem: OC Road Performance RP10
Wheels: Vittoria Corsa Competition G2.0 TLR 700x25c
Tyres: Vittoria Rubino Pro IV G2.0 700x25c
Seatpost: Orbea Orca OMX, SB0/25
Saddle: Selle Italia SLR Boost SuperFlow L
ORCA M31eLTD
Price: €5,999
Frame: Orbea Orca Carbon OMX
Fork: Orbea Orca OMX ICR
Groupset: SRAM Rival eTap AXS. 48/35 crankset with power meter, 10-30 cassette
Handlebar: OC Road Performance RP10 Carbon
Stem: OC Road Performance RP10
Wheels: FULCRUM Racing 400 DB
Tyres: Vittoria Rubino Pro IV G2.0 700x25c
Seatpost: Orbea Orca OMX, SB0/25
Saddle: Selle Italia SLR Boost SuperFlow L
ORCA M30iLTD PWR
Price: €5,799
Frame: Orbea Orca Carbon OMX
Fork: Orbea Orca OMX ICR
Groupset: Shimano 105 Di2. 4iii 50/34 crankset with power meter, 11-34 cassette
Handlebar: OC Road Performance RP10 Carbon
Stem: OC Road Performance RP10
Wheels: FULCRUM Racing 400 DB
Tyres: Vittoria Rubino Pro IV G2.0 700x25c
Seatpost: Orbea Orca OMX, SB0/25
Saddle: Selle Italia SLR Boost SuperFlow L
ORCA M20iTEAM – New 2023
Price: €4,999
Frame: Orbea Orca Carbon OMR
Fork: Orbea Orca OMR ICR
Groupset: Shimano Ultegra Di2. 50/34 crankset, 11-30 cassette.
Handlebar: OC Road Performance RP20 Alu SL
Stem: OC Road Performance RP10
Wheels: FULCRUM Racing 600 DB
Tyres: Vittoria Rubino IV G2.0 Foldable 700x28c
Seatpost: OC Performance XP10-S Carbon
Saddle: Prologo Scratch-M5 Pas T2.0
ORCA M31iTEAM – New 2023
Price: €4,399
Frame: Orbea Orca Carbon OMR
Fork: Orbea Orca OMR ICR
Groupset: SRAM Rival eTap AXS. 46/33 crankset, 10-30 cassette
Handlebar: OC Road Performance RP20 Alu SL
Stem: OC Road Performance RP10
Wheels: FULCRUM Racing 600 DB
Tyres: Vittoria Rubino IV G2.0 Foldable 700x28c
Seatpost: OC Performance XP10-S Carbon
Saddle: Prologo Scratch-M5 Pas T2.0
ORCA M30iTEAM PWR – New 2023
Price: €4,199
Frame: Orbea Orca Carbon OMR
Fork: Orbea Orca OMR ICR
Groupset: Shimano 105 Di2. 4iii 50/34 crankset with power meter, 11-34 cassette
Handlebar: OC Road Performance RP20 Alu SL
Stem: OC Road Performance RP10
Wheels: FULCRUM Racing 600 DB
Tyres: Vittoria Rubino IV G2.0 Foldable 700x28c
Seatpost: OC Performance XP10-S Carbon
Saddle: Prologo Scratch-M5 Pas T2.0
ORCA M30iTEAM – New 2023
Price: €3,999
Frame: Orbea Orca Carbon OMR
Fork: Orbea Orca OMR ICR
Groupset: Shimano 105 Di2. 50/34 crankset, 11-34 cassette
Handlebar: OC Road Performance RP20 Alu SL
Stem: OC Road Performance RP10
Wheels: FULCRUM Racing 600 DB
Tyres: Vittoria Rubino IV G2.0 Foldable 700x28c
Seatpost: OC Performance XP10-S Carbon
Saddle: Prologo Scratch-M5 Pas T2.0
ORCA M30i – New 2023
Price: €3,399
Frame: Orbea Orca Carbon OMR
Fork: Orbea carbon, aluminum steerer
Groupset: Shimano 105 Di2. 50/34 crankset, 11-34 cassette
Handlebar: OC Road Perfornace RP31-R
Stem: OC Road Performance RP21
Wheels: Alloy, Tubeless
Tyres: Vittoria Zafiro V Rigid bead 700x28c
Seatpost: Carbon
Saddle: Fizik Aliante R5
ORCA M30 – New 2023
Frame: Orbea Orca Carbon OMR
Fork: Orbea carbon, aluminum steerer
Groupset: Shimano 105. 50/34 crankset, 11-34 cassette
Handlebar: OC Road Perfornace RP31-R
Stem: OC Road Performance RP21
Wheels: Alloy, Tubeless
Tyres: Vittoria Zafiro V Rigid bead 700x28c
Seatpost: Carbon
Saddle: Fizik Aliante R5
ORCA M40 – New 2023
Frame: Orbea Orca Carbon OMR
Fork: Orbea carbon, aluminum steerer
Groupset: Shimano Tiagra. 50/34 crankset, 11-34 cassette
Handlebar: OC Road Perfornace RP31-R
Stem: OC Road Performance RP21
Wheels: Alloy, Tubeless
Tyres: Vittoria Zafiro V Rigid bead 700x28c
Seatpost: Carbon
Saddle: Fizik Aliante R5
Orbea Avant: Set-ups and prices
AVANT H40
Price: €1,649
Frame: Orbea Avant Hydro disc, hydroformed triple butted aluminium
Fork: Orbea carbon, aluminum steerer
Groupset: Shimano Tiagra. 50/34 crankset, 11-34 cassette
Handlebar: OC Road Perfornace RP31-R
Stem: OC Road Performance RP21
Wheels: Alloy, Tubeless
Tyres: Vittoria Zafiro V Rigid bead 700x28c
Seatpost: Alloy
Saddle: Fizik Aliante R5
AVANT H60
Price: €1,449
Frame: Orbea Avant Hydro disc, hydroformed triple butted aluminium
Fork: Orbea carbon, aluminum steerer
Groupset: Shimano Claris. Bielas 50/34 crankset, 11-34 cassette
Handlebar: OC Road Perfornace RP31-R
Stem: OC Road Performance RP21
Wheels: Alloy, Tubeless
Tyres: Vittoria Zafiro V Rigid bead 700x28
Seatpost: Alloy
Saddle: Fizik Aliante R5