First images of a new full suspension Rockrider with new Manitou fork
The Rockrider Racing Team, led by Maxime Marotte, is one of the teams that have decided to leave the cold European winter behind to train in South Africa, and there we have seen for the first time images of the new Rockrider RACE 900 S prototype. From the images, it could become the team's main bike from the start of the season.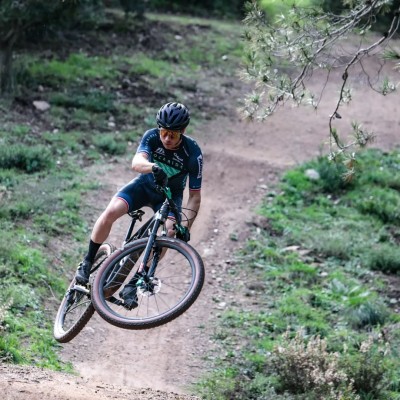 There's a new Rockrider full suspension in the oven
In a significant commitment to competition and the development of new high-level bikes, the Rockrider Racing Team was born in 2021 under the leadership of Stephane Tempier. Now, for 2023, and after two seasons in the World Cup and Tempier's retirement, the team has just made a powerful update with the signings of Azzaro, Seiwald, Blunk, Onesti and its new leader, Frenchman Maxime Marotte. It seems that the new full suspension Rockrider, with which the team's riders are already training, is also the result of the experience accumulated over the last two years.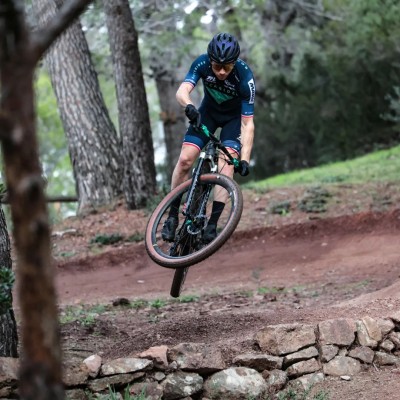 During the presentation of the Racing Team for 2023, the silhouette of a frame that looked brand new was already visible, but now it is confirmed that the team is training with a new full suspension prototype.
The truth is that not much information can be obtained from the images, but it is clear that it is a new frame from the cable routing. The Rockrider RACE 900 S that is currently in the Decathlon catalogue and with which they raced last season routes the shock cable on the outside of the frame, while this prototype has a direct entry from the side of the headset.
In the pictures you can see that the whole team is already riding with the new frame, so it could be a final version and it seems that they will be racing with it from the beginning of the season. 
Manitou also seems to be showing a fork in development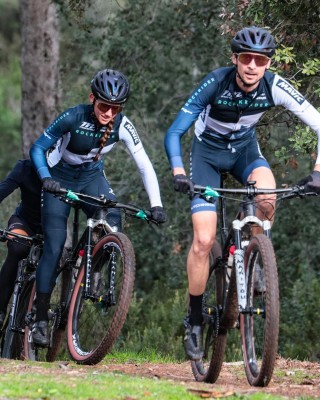 Stephane Tempier has also been spotted with what looks like a development model of a Manitou fork. It is the only one of the team to be seen with the classic geometric aesthetics of the test machines. Remember that the team has so far raced with the Manitou R7 Pro fork, with 32mm and 120mm bars, and it wouldn't be surprising if the French component brand has taken advantage of the team's feedback to develop a new XC fork model with 34mm bars.
With new bikes and new signings, the 2023 season could be the definitive consecration for the Rockrider Racing Team.