New Garmin Varia RCT715: now also records in case of an accident
The Garmin Varia system is one of the safety elements that we have most recommended in recent years for any road cyclist, and now presents a new version that incorporates a continuous recording HD camera. Here we tell you all about the new Garmin Varia RCT715.
Features of the new Garmin Varia RCT715 (light+radar+camera)
The popularity of the Garmin Varia system has driven several previous versions of this acclaimed cycling radar, the last one until today was the Varia RTL515 . But for those who still do not know what it is, until now it was a red rear light that warned you if a vehicle was approaching from behind through the device with which it was linked (GPS, smartphone, etc.).
The new Garmin Varia RCT715 maintains the powerful rear light, visible at 1.6 km with daylight, which flashes or changes its flashing automatically when a vehicle approaches. It also retains the existing radar that can detect vehicles with a range of 140 m.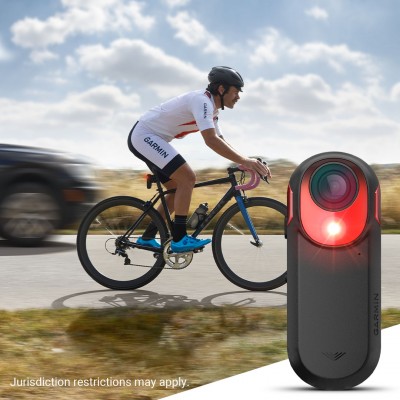 But the great novelty is the incorporation of an HD video camera that through an accelerometer is able to record the moments before and during a possible accident.
If with the previous version of the Garmin Varia without camera it was possible to exceed 12 hours of autonomy, in this new RCT715 the declared autonomy is 6 hours with the radar, the rear light in daytime flashing mode and with the camera recording.
This type of rear cameras are not an element of active safety as such, but it is true that they are increasingly demanded devices with which cyclists can quickly clarify possible incidents to the police, insurance companies, etc.
The new Garmin Varia RCT715 is now available at a price of €399.99 from the Garmin website and its usual distributors.
In addition, the previous models are still on sale: the Varia™ RVR315 radar (without light) for 134,99€ and the Varia™ RTL515 (light+radar) for 179,99€.
Garmin Varia RCT715 Specifications and Pricing
Dimensions (length x width x depth): 106.5 x 42.0 x 31.9 mm (4.2″ x 1.7″ x 1.3″)
Weight: 5.2 oz (147.0 g)
Light modes: fixed, platoon, night flicker and day flicker
Lumens: 20 in fixed mode, 8 in platoon mode, 29 in night flicker mode and 65 in day flicker mode
Camera modes: continuous, deactivated, radar activated
Camera configuration: 1080p/720p at 30 fps
Battery life: 4 hours in fixed mode, 5 hours in platoon mode, 3 hours in night flicker mode, 6 hours in day flicker mode (all with 1080p recording)
Connectivity: ANT+®(radar, bike lights), BLE(radar, camera control), Wi-Fi(local network only)
IPX7 water resistance rating
Viewing angle: 220″.
16 GB SD card included
Built-in accelerometer to automatically record video upon incident detection
Price: 

399,99

€