Bianchi's new prototype in La Vuelta
The war for the lightest bike seems to have definitely returned to the peloton. The latest to join it is Bianchi, which during the 2023 La Vuelta provided some Arkéa-Samsic riders with the prototype of its latest creation, a bike with much slimmer tubes than those of the Oltre RC but which apparently maintains great emphasis on aerodynamics.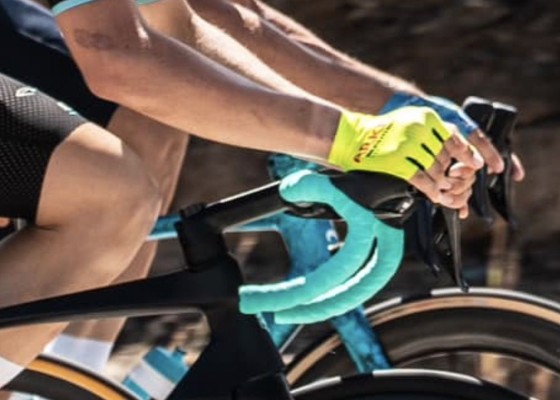 Arkéa-Samsic rider Kevin Vauquelin puts the next Bianchi to the test
The young French climber Kevin Vauquelin is in charge of squeezing the new creation that, without making much noise, Bianchi has brought to La Vuelta. Until now, the team had at its disposal only the super-erodynamic Bianchi Oltre RC, however, the market trend is to return to the search for lightness without losing all the evolutions accumulated in recent years.
The new prototype used by Vauquelin features a discreet all-black color scheme, with logos and details in the brand's signature light blue, a decoration similar to that used for its Reparto Corse bikes, the highest specification level of its Oltre RC, currently the Italian firm's top of the range.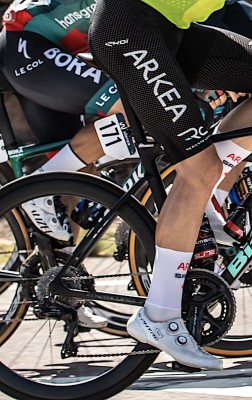 This new prototype has gone rather unnoticed since the general design lines are similar to those of the Oltre RC aerodynamics, although with tubes of much less section and more stylized lines, which undoubtedly means that it has taken a good bite out of the scales.
No further details are known about this new Bianchi project, which the company has come to call Special Operations, although, seeing the line its competitors are working on, it is to be expected that the weight of this bike will be under 7 kg, approaching the UCI limit.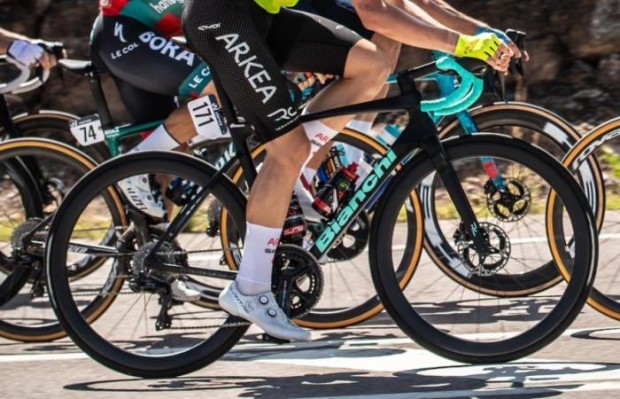 Despite maintaining the aerodynamic lines of the Oltre RC, in order to reduce weight, a conventional stem and handlebars have been chosen, with internal cable routing.
In any case, as is usually the experience with most cycling projects, when a bike makes its appearance in competition it is an indication that it is in its final stages of development, and it will certainly not be long before we have fresh news from Bianchi.