New AMP Carbone SL brake pads weighing only 8.8 g
There are many components that can be lightened in order to contribute to a lighter bike, but until now no one had thought that brake pads could also be a place to shave grams, as AMP has done with its new Carbone SL pads. Brake pads that, in addition to weight, have other advantages.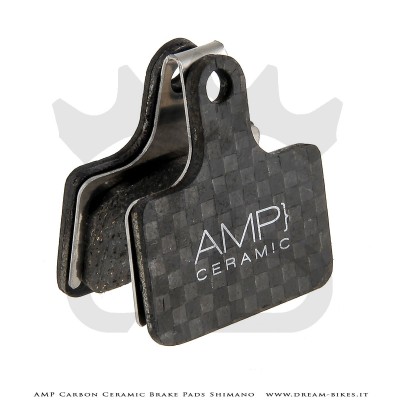 Get the lightest braking with AMP Carbone SL pads
The Carbone line of brake pads from the French firm AMP replaces the steel or aluminum brake pad bracket on which the braking material is placed with a carbon fiber plate. Obviously, this plate is lighter than its metal counterpart. However, the brand uses carbon for another good reason, in addition to the minimal weight gain for an element as small as brake pads.
The thermal conductivity of this material is much lower than that of aluminum or carbon, i.e., much less heat is transmitted to the pistons, calipers and fluid, which results in much more powerful and durable braking, even on long descents where it is necessary to use the brakes a lot, where there is no loss of efficiency or change in feel as we move forward, something that also serves to protect the system, avoiding overheating in the different elements that can end up resulting in failures.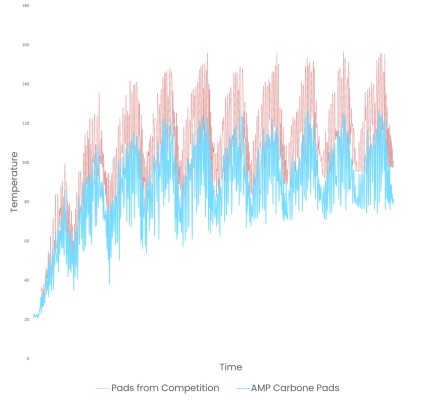 In any case, the use of this type of pads is indicated for road bikes, where the high speeds reached on descents allow the heat generated to be removed from the pads. For mountain bike use, the brand still recommends using models with a metal plate, since the low speeds at which these bikes move on descents that require more use of the brake do not allow the heat to move away from the pads with a carbon plate or to be dissipated through the rest of the system as occurs with those with a metal plate.
In addition, carbon fiber deals better with vibrations than metal, which reduces to a minimum the typical squeaking noises of many disc brakes, which are almost always caused by vibrations in the brake pads, which do not always seat perfectly in their housing.
Now, AMP has evolved its Carbone pads to the new Carbone SL pads in which, as their acronym suggests, they have sought to be even lighter. Specifically, they achieve the incredible figure of 8.8 grams, including spring, for a pair of Dura-Ace brake pads. In comparison, standard Shimano pads weigh 17 g on the scale.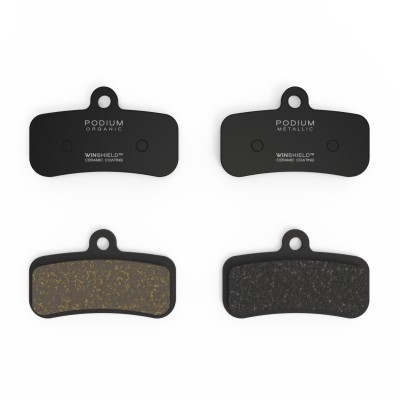 Pads that use a ceramic braking compound, designed to withstand high intensity braking without compromising pad life. Obviously, such an elaborate product is reflected in the price to pay for it, the price of the set amounting to 45 € each pair of pads.
Those less sophisticated can find in the AMP catalog its Podium pickups model with a conventional structure with metal plate and a choice between the classic organic or sintered compounds that move in a price range between 15 and 35 €.