Final name change for Van der Poel's team
We heard the news in December 2021, but it wasn't until 2 days before the start of the 2022 Tour de France that the Alpecin-Fenix team changed its name definitively to Alpecin-Deceuninck.
The Alpecin Deceuninck team will debut its new name at the 2022 Tour de France
The team led by Mathieu van der Poel has changed its name just hours before the 2022 Tour, the new sponsor Deceuninck has replaced Fenix in the main name and now appears on all the blue structure's kits and corporate designs.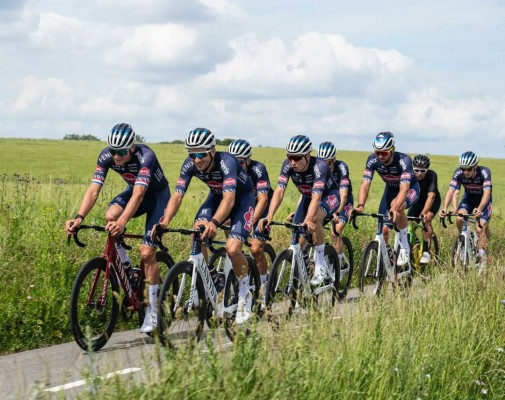 The team's social networks have also been updated, as have all the official vehicles and clothing we will see at the Tour. Although Fenix is no longer in the main name, it is still a team sponsor and appears prominently on the back of the kits.
 

 

 

Ver esta publicación en Instagram
Therefore, the four main sponsors of the team are: Alpecin (German brand of hair hygiene), Deceuninck (Belgian manufacturer of PVC windows), Canyon (German bicycle manufacturer) and Fenix (Italian brand of materials for interior spaces).
There is no doubt that the Tour de France is one of the best showcases to show your brand to the whole world and that effect is multiplied if the leader of your team is one of the cyclists who will attract the most attention during the race.
Here we already told you what Mathieu van der Poel's strategy is for this Tour 2022, and if he sticks to it we could see the name Alpecin-Deceuninck win a few stages.