MyWhoosh, a free alternative to Zwift
Can MyWhoosh be considered the free version of Zwift? Discover the virtual cycling app that aims to become the reference in e-sports thanks to a design fully oriented to virtual competition and training.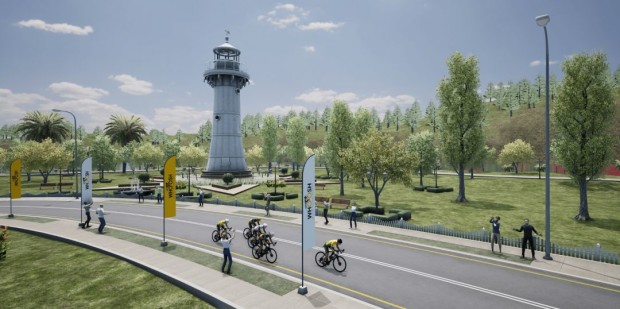 What is MyWhoosh?
The world of virtual cycling apps for an efficient training during the winter months thanks to the features of the current smart turbo trainers currently seems to be controlled by Zwift, which dominates the market, followed by other alternatives such as Bkool, RGT or Rouvy to name a few of the most popular ones. All of them have similar functionalities when it comes to pedalling, although each one has its own particular interpretation.
A new player in the world of virtual cycling has arrived with force. MyWhoosh, a company based in Abu Dhabi. To start with, it lands with a powerful argument against its rivals: it is free to use, putting at our disposal several 3D virtual worlds that replicate real places.
Currently we can find routes in Colombia, the circuit of the last World Championship in Australia, Dubai, Bahrain and other places in the Arabian Peninsula, reproduced with a reasonable level of detail.
What sets MyWhoosh apart from other virtual cycling apps is its clear focus on performance and competition, in fact, they work in partnership with UAE Team Emirates for this purpose.
In fact, its sights are set on taking over the organisation of the virtual cycling world championships, currently hosted by Zwift. To become a serious player in the world of e-sports, it has established functionalities that minimise the possibility of cheating, requiring participants to upload a video of themselves weighing themselves and their interactive turbo trainer, upload a file with an FTP test or an analysis of the cyclist's performance that uses artificial intelligence to determine whether the performance exhibited is true or not. In addition, there is the possibility of linking a second power source to validate the data from the primary source, which is usually the roller's own turbo trainer.
Is MyWhoosh a good virtual cycling app?
At first glance, MyWhoosh has the essential features shared by all other virtual cycling apps.
Starting to pedal is also a simple process and similar to what you have to do in other applications: link via ANT+ or Bluetooth the turbo trainer, heart rate monitor strap and power and cadence meter; configure the units of measurement and our data as a cyclist and choose the desired route or the training we want to do from the extensive database of structured training that the application has and start pedalling.
It also allows you to connect to other training applications so that you can incorporate the work you have planned into the one you usually use if you follow a structured training programme.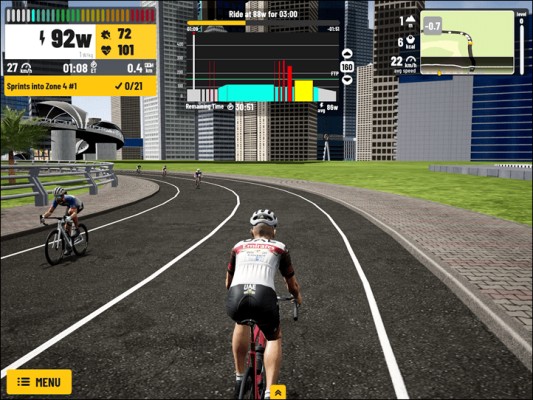 Perhaps the biggest disadvantage we can find is that it has quite high minimum requirements. In the case of Windows PCs, 16 GB of RAM, 10 GB of hard disk and a powerful graphics card. In the case of Android devices the requirement is to have at least version 10 of the operating system, 2 GB of free space and 5 GB of memory while, for those using Apple, a minimum of 4 GB of RAM and iOS 12 operating system or higher is necessary, as well as iPad Mini 6, Pro 3 or Air 4 hardware or iPhone 11 if we are going to use the smartphone.
This prevents the option used by many users with other virtual cycling applications who take advantage of an old device they have at home to dedicate it exclusively to workout on the trainer.
We are also surprised that, in the list of compatible turbo trainers on their website, only the Elite Direto X, Tacx Neo and Wahoo Kickr are indicated as recommended models.
How to download and what MyWhoosh costs
As we mentioned at the beginning, MyWhoosh has the advantage over other virtual cycling applications in that it is not necessary to pay a subscription to use its features.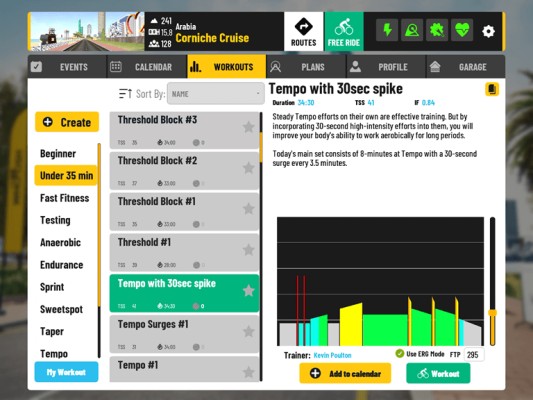 All we have to do is create a user account on the website, download and install the application and start using it. In any case, on the website we can find several video tutorials that explain in detail, in English, how to use the different functionalities offered by MyWhoosh.