Mondraker Foxy Carbon 2023: models and prices
The Mondraker Foxy Carbon was completely updated a year ago to remain one of the reference Enduro mountain bikes on the market. The 2023 range now comes with 3 new set-ups, all of which feature a STEALTH AIR CARBON frame with adjustable FORWARD GEOMETRY and 150mm front and up to 170mm rear travel.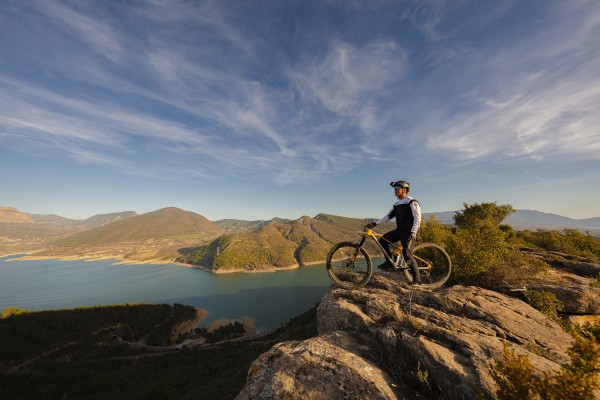 Mondraker Foxy Carbon 2023
This is one of Mondraker's most iconic models and the brand has once again placed it at the forefront of the modality with a version that highlights its frame made with STEALTH AIR FULL CARBON technology that maintains a very light weight while still offering the character and aggressive aesthetics that characterizes it.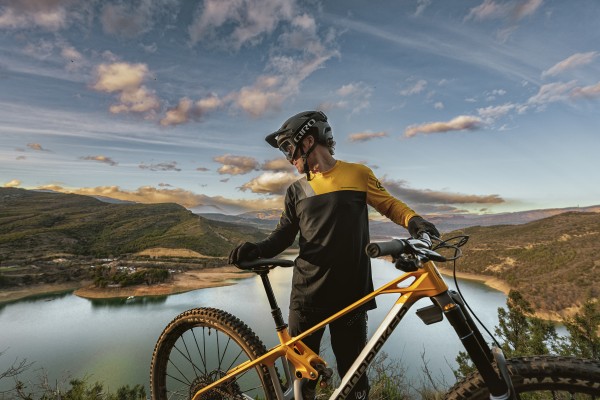 Its ZERO SUSPENSION SYSTEM double linkage is also new and makes the Foxy Carbon 2023 more enduro and efficient than ever. In addition, the new geometry and FORWARD GEOMETRY system makes it easy to change geometry with two options, Standard and Low.
Key features of the new Mondraker Foxy Carbon 2023
Carbon frame manufactured with STEALTH AIR FULL CARBON technology.
160 mm front travel (170 mm on XR model) and 150 mm rear travel
ZERO SUSPENSION SYSTEM with new kinematics
FORWARD GEOMETRY with two options (Standard and Low)
MIND telemetry system
One-piece carbon Monoblock main linkage
New lower linkage system, optimized for a perfect stiffness/weight ratio
HHG (Hidden Housing Guide) internal cabling from the head tube
Double Enduro Sealed Bearings
Integrated shock protector
New internal bottom bracket cable system
BB73 threaded bottom bracket / 180 mm rear post mount disc / ISCG05 mount / Customized chain guide / Customized frame protectors / Boost axles / Fidlock integration Pocket / UDH Hanger system on rear derailleur dropouts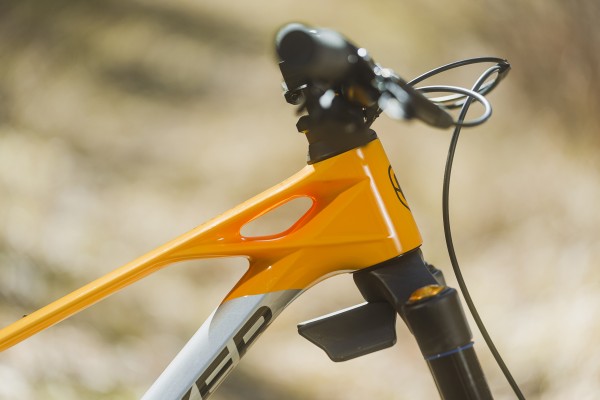 Foxy Carbon 2023 Range
The FOXY CARBON 2023 range comes with 3 set-ups, R, RR and XR available in four sizes ranging from S to XL. Here we leave you with the configuration of each one.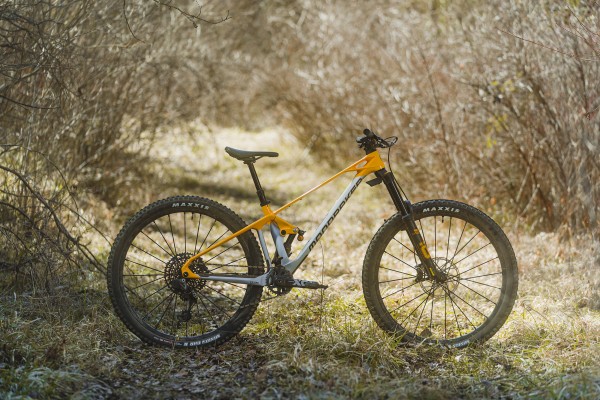 FOXY CARBON XR 2023
FRAME: Foxy 29 Stealth Air full Carbon, Zero Suspension System, 150mm travel, Forward Geometry, Carbon Monoblock upper link, Boost 12x148mm rear axle, tapered head tube, 73mm BSA bottom bracket, dedicated 1x drivetrain design, HHG internal cable routing, Enduro MAX sealed bearings, shock mudguard, ISCG 05, custom frame protectors. *Geometry kit included. MIND System (EU only)
SIZES: S: 380mm / M: 420mm / L: 450mm / XL: 500mm
SHOCK: Öhlins TTX Air 205x65mm. Settings: high speed compression lever with climb mode, low-speed compression, rebound, air preload. Trunnion top mount, 30x8mm bottom bushings
C10 compression, R35 rebound. Volume reducers 16.000 (2xF+1E)
FORK: Öhlins RXF 36 M.2 29, 170mm, TTX18 Twin Tube cartridge, tapered steerer tube, Boost 15x110mm axle, offset 44mm. Settings: high speed compression lever with climb mode, low-speed compression, rebound, air preload, ramp chamber. Fork settings: C20 R40
HEADSET: Acros custom for 1-1/2" head tube, angular contact bearings 40x52x7, Internal cable routing
STEM: Onoff Krypton FG 30mm, CNC, 31.8mm barbore
HANDLEBAR: Onoff Krypton Carbon 1.0, rise: 25mm, width: 800mm, 9° backsweep, 5° upsweep, 31.8mm barbore
GRIPS: Onoff Desert, 1lock-on, 135mm
SEATPOST: Onoff Pija dropper internal, diameter 31.6mm, S size: 405x95-125mm, M size 458x120-150mm, L size: 498x140-170mm, XL size: 498x140-170mm
SADDLE: SDG BEL-AIR 3.0, LPU foam, steel rails
FRONT BRAKE: Sram Code RSC, 4-piston caliper, Centerline 200mm IS 6 bolts one-piece rotor, steel-backed organic pads
REAR BRAKE: Sram Code RSC, 4-piston caliper, Centerline 180mm IS 6 bolts one-piece rotor, steel-backed organic pads
BRAKE LEVERS: Sram Code RSC, SwingLink and lever pivot bearings, tools-free reach and contact point adjust
WHEELS: e*thirteen Race Carbon Enduro IW30, Hookless carbon rim, 30mm internal width, tubeless ready, 28 spokes
SPOKES: e*thirteen custom Hive triple-butted black steel, alloy nipples, nipple washers
FRONT HUB: e*thirteen Boost 15x110mm, triple-sealed, fully machined aluminum, IS 6 bolts
REAR HUB: e*thirteen Boost 12x148mm, triple-sealed, fully machined aluminum w/6-degree engagement, IS 6 bolts, XD freehub
FRONT TYRE: Maxxis Minion DHF 29x2.5 WT, tubeless ready, 3C MAXX TERRA compound, EXO+ protection, 120TPI, folding bead
REAR TYRE: Maxxis Minion DHR II 29x2.4 WT, tubeless ready, 3C MAXX TERRA compound, EXO+ protection, 120TPI, folding bead
CRANKSET: Sram X01 Eagle, Boost, DUB axle, Direct mount chain ring, S/M size: 170mm, L/XL size: 175mm
RINGS: 32T, CNC-machined alloy, X-SYNC 2
BOTTOM BRACKET: Sram DUB BSA, sealed bearings, 73mm
CHAIN: Sram GX Eagle, 12s, Powerlock
REAR DERAILLEUR:Sram X01 Eagle AXS, roller bearing clutch, cage lock, 1x12s, X-Actuation 1:1
SHIFT LEVERS: Sram Eagle AXS Rocker paddle, 12s
CASSETTE: Sram XG-1295, 10-52T, 12s
PRICE: 10499€
FOXY CARBON RR 2023
FRAME: Foxy 29 Stealth Air full Carbon, Zero Suspension System, 150mm travel, Forward Geometry, Carbon Monoblock upper link, Boost 12x148mm rear axle, tapered head tube, 73mm BSA bottom bracket, dedicated 1x drivetrain design, HHG internal cable routing, Enduro MAX sealed bearings, shock mudguard, ISCG 05, custom frame protectors. *Geometry kit included. MIND System (EU only)
SIZES: S: 380mm / M: 420mm / L: 450mm / XL: 500mm
SHOCK: Öhlins TTX Air 205x65mm. Settings: high speed compression lever with climb mode, low-speed compression, rebound, air preload. Trunnion top mount, 30x8mm bottom bushings
FORK: Öhlins RXF 36 M.2 29, 160mm, TTX18 Twin Tube cartridge, tapered steerer tube, Boost 15x110mm axle, offset 44mm. Settings: high speed compression lever with climb mode, low-speed compression, rebound, air preload, ramp chamber. Fork settings: C20 R40
HEADSET: Acros custom for 1-1/2" head tube, angular contact bearings 40x52x7, Internal cable routing
STEM: Onoff Sulfur FG 30mm, 6061 forged alloy, 31.8mm barbore
HANDLEBAR: Onoff Sulfur 1.0 doubl
GRIPS: Onoff Desert, 1lock-on, 135mm
SEATPOST: Onoff Pija dropper internal, diameter 31.6mm, S size: 405x95-125mm, M size 458x120-150mm, L size: 498x140-170mm, XL size: 498x140-170mm
SADDLE: SDG BEL-AIR 3.0, LPU foam, steel rails
FRONT BRAKE: Sram Code R, 4-piston caliper, Centerline 200mm IS 6 bolts one-piece rotor, steel-backed organic pads
REAR BRAKE: Sram Code R, 4-piston caliper, Centerline 180mm IS 6 bolts one-piece rotor, steel-backed organic pads
BRAKE LEVERS: Sram Code R, SwingLink, tool-free reach adjust
WHEELS: e*thirteen LG1 Plus Enduro, IW30 Hookless, 6069 Welded Aluminum, 30mm internal width, tubeless ready, 28 spokes
SPOKES: e*thirteen custom Hive triple-butted black steel, alloy nipples, nipple washers
FRONT HUB: e*thirteen Boost 15x110mm, triple-sealed, fully machined aluminum, IS 6 bolts
REAR HUB: e*thirteen Boost 12x148mm, triple-sealed, fully machined aluminum w/6-degree engagement, IS 6 bolts, XD freehub
FRONT TYRE: Maxxis Minion DHF 29x2.5 WT, tubeless ready, 3C MAXX TERRA compound, EXO+ protection, 120TPI, folding bead
REAR TYRE: Maxxis Minion DHR II 29x2.4 WT, tubeless ready, 3C MAXX TERRA compound, EXO+ protection, 120TPI, folding bead
CRANKSET: Sram GX Eagle, Boost, DUB axle, Direct mount chain ring, S/M size: 170mm, L/XL size: 175mm
RINGS: 32T, CNC-machined alloy, X-SYNC 2
BOTTOM BRACKET: Sram DUB BSA, sealed bearings, 73mm
CHAIN:Sram NX Eagle, 12s, Powerlock
REAR DERAILLEUR:Sram GX Eagle, Type 3 roller bearing clutch, cage lock, 1x12s, X-Actuation 1:1
SHIFT LEVERS: Sram Trigger GX Eagle, 12s, X-Actuation 1:1
CASSETTE: Sram XG-1275, 10-52T, 12s
PRICE: 7299€
FOXY CARBON R 2023
FRAME: Foxy 29 Stealth Air full Carbon, Zero Suspension System, 150mm travel, Forward Geometry, Carbon Monoblock upper link, Boost 12x148mm rear axle, tapered head tube, 73mm BSA bottom bracket, dedicated 1x drivetrain design, HHG internal cable routing, Enduro MAX sealed bearings, shock mudguard, ISCG 05, custom frame protectors. *Geometry kit included. MIND System (EU only)
SIZES: S: 380mm / M: 420mm / L: 450mm / XL: 500mm
SHOCK: Fox Float-X LV Performance, 205x65mm. Settings: compression 2 positions lever, low-speed rebound, air preload. Trunnion top mount, 30x8mm bottom bushings
FORK: Fox 36 29 Float Performance GRIP, 160mm, 3 Position, tapered steerer tube, Boost 15x110mm axle, offset 44mm. Settings: sweep adjust compression, low-speed rebound, air preload
HEADSET: Acros custom for 1-1/2" head tube, angular contact bearings 40x52x7, Internal cable routing
STEM: Onoff Sulfur FG 30mm 0°, 6061 forged alloy, 31.8mm barbore
HANDLEBAR: Onoff Sulfur 1.0 double butted 6061 alloy, rise: 20mm, width: 800mm, 9° backsweep, 5° upsweep, 31.8mm barbore
GRIPS: Onoff Desert, 1lock-on, 135mm
SEATPOST: Onoff Pija dropper internal, diameter 31.6mm, S size: 405x95-125mm, M size 458x120-150mm, L size: 498x140-170mm, XL size: 498x140-170mm
SADDLE: SDG BEL-AIR 3.0, LPU foam, steel rails
FRONT BRAKE: Sram G2 R, 4-piston caliper, Centerline 200mm IS 6 bolts one-piece rotor, steel-backed organic pads
REAR BRAKE: Sram G2 R, 4-piston caliper, Centerline 180mm IS 6 bolts one-piece rotor, steel-backed organic pads
BRAKE LEVERS: Sram G2 R, tool-free reach adjust
WHEELS: e*thirteen LG1 Enduro, IW30 Hookless, 6069 Welded Aluminum, 30mm internal width, tubeless ready, 28 spokes
SPOKES: e*thirteen custom Hive triple-butted black steel, alloy nipples, nipple washers
FRONT HUB: e*thirteen Boost 15x110mm, triple-sealed, fully machined aluminum, IS 6 bolts
REAR HUB: e*thirteen Boost 12x148mm, triple-sealed, fully machined aluminum w/6-degree engagement, IS 6 bolts, Shimano freehub
FRONT TYRE: Maxxis Minion DHF 29x2.5 WT, tubeless ready, 3C MAXX TERRA compound, EXO+ protection, 120TPI, folding bead
REAR TYRE: Maxxis Minion DHR II 29x2.4 WT, tubeless ready, 3C MAXX TERRA compound, EXO+ protection, 120TPI, folding bead
CRANKSET: Truvativ Descendant 6K Eagle, Boost, DUB axle, Direct mount chain ring, S/M size: 170mm, L/XL size: 175mm
RINGS: 32T, steel, X-Sync 2
BOTTOM BRACKET: Sram DUB BSA, sealed bearings, 73mm
CHAIN: Sram NX Eagle, 12s, Powerlock
REAR DERAILLEUR: Sram NX Eagle, 12s, X-Actuation 1:1
SHIFT LEVERS: Sram Trigger NX Eagle, 12s, X-Actuation 1:1
CASSETTE: Sram XG-1230, 11-50T, 12s
PRICE: 5999€
For further information please visit Mondraker's official web site