Iserbyt wins in Baal after Pidcock's inexplicable crash: "I didn't do anything stupid"
The first of the year took place at the X2O Trofee Baal - GP Sven Nys, and when Tom Pidcock had everything to win, he suffered an inexplicable crash on the last lap that gave the victory to the Belgian Eli Iserbyt.
Eli Iserbyt wins the X2O Trofee Baal - GP Sven Nys after Tom Pidcock's crash
Without the presence of Van Aert or Van der Poel, reigning World Champion Tom Pidcock soon took control of the Sven Nys GP and was able to ride almost the entire race with a 10-second lead over Eli Iserbyt (Bingoal-Pauwels Sauzen) and teammate Michael Vanthourenhout.
But inexplicably, the British rider suffered a spectacular crash on the last lap, right in a muddy dubbies area that spat him directly into the crowd. That setback relegated him to third place at the finish and left him with several bumps.
A crash crushed the chances of world champ @tompidcock in the final lap #X2ObadkamersTrofee #GPSvenNys #veldrijden pic.twitter.com/aeePx32coQ

— X²O Badkamers Trofee (@X2OTrofee) January 1, 2023
"I wasn't feeling great today, but I wanted to try to do a fast last lap, so I was trying to go a little bit faster everywhere. Obviously, this is a dangerous section, so it wasn't the best idea."
"I wasn't doing anything stupid, I was thinking about doing a tail whip, but nope. I got a nasty bruise on my leg." Pidcock said at the finish line.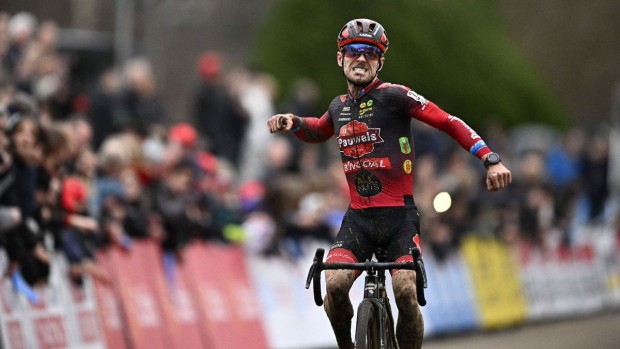 This victory has allowed Iserbyt to take the championship lead, a great boost to his morale after a season full of ups and downs and setbacks.
"It's not very important, but it's good for my head, for my family and for everyone who believed in me. It's been a difficult two months for me. I'm very happy that Michael helped me on the last lap."