Jump from a helicopter to explore Fayetteville's CX World Championship track
Belgian Kenny Belaey is a nine-time World Trials champion, but his nationality almost obliges him to have a certain devotion to cyclo-cross. All this has led him to make a very special and extreme reconnaissance of the circuit where the World Cyclocross Championships will be held in Fayetteville, USA, next weekend.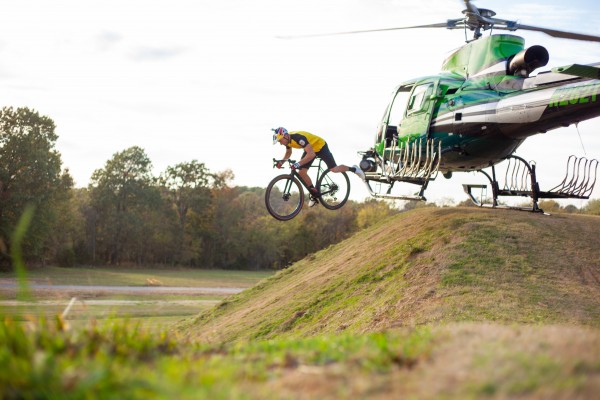 Kenny Belaey and his extreme reconnaissance of the Fayetteville circuit
Kenny Belaey himself explained the madness on the Belgian version of the RedBull website: "I suggested we reconnoitre the circuit and arrive by helicopter. "At first, the idea was to go down normally, but then I came up with the idea of jumping. Balancing on one leg in a helicopter going up and down is not really easy. Stepping on the pedals and landing safely. Fortunately I have a lot of experience (laughs). After four attempts I got it right, so it was a great feeling. And now it's time to support our Belgians, of course, and I'm waiting for the calls from Hollywood! (laughs)"