Handlebars with integrated screen from King Meter
The Chinese company King-Meter has brought to life what we have already seen in some futuristic bicycle prototypes. These are mountain bike handlebars with an integrated screen that allows us to see all the necessary information without the need for external devices.
Handlebar K5250 with integrated display
King-Meter specialises in displays and sensors for different bicycle applications, but its latest component, presented at the last Eurobike fair, is the K5250 handlebar with integrated stem. A handlebar intended for high-end urban and MTB ebikes, and whose upper central part is occupied by a large electronic display.
On their website it only appears in a size of 650 mm x 126 mm x 31.8 mm, and it is specified that the display provides information specific to ebikes, such as battery indicator, lights, speed, etc. Furthermore, the display is not powered by the bike's battery but is independent.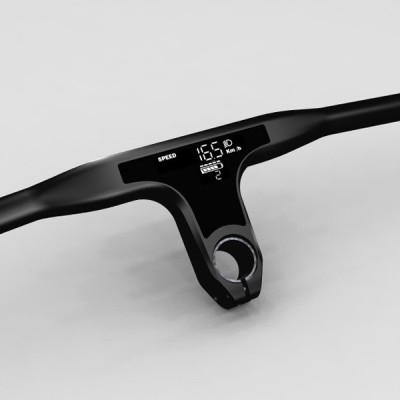 There is no mention of the material it is made of, but from the images it looks like a piece of carbon fibre from which it would be easy to get different sizes and models.
Although we have already specified that the brand is destined for ebikes, we can't help but imagine that this screen will be able to display all kinds of information for any MTB in the near future - would this be the end of GPS computers?
For King-Meter, Europe is their target market and all their products comply with the European standard, so it would not be unusual for some cycling brands on the continent to start fitting these handlebars on certain models in their catalogue.
On the King-meter website you can check the information about this handlebar so far.