Garmin Edge GPS range, which one to choose?
With the arrival of the new Edge 1040, the Garmin catalog continues to grow and within its range of bike computers there are more and more models to choose from. If you're looking for a GPS for cycling you already know that it's not easy to choose with so many different specifications and prices, so here we'll try to help you know which one to choose.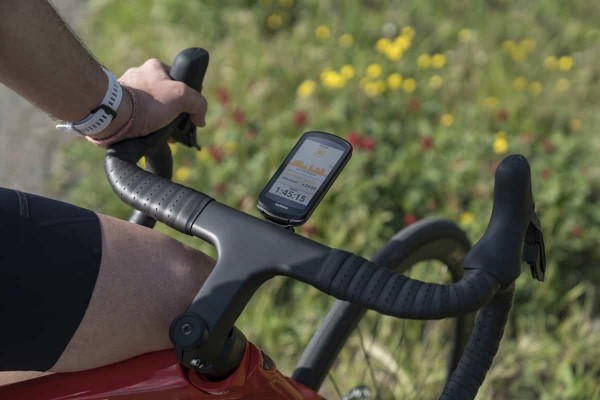 Guide to get your Garmin cycling computer in 2023
Talking about bike computers is undoubtedly talking about Garmin, the brand that practically dominates the entire market. Although we cannot forget that there are also other players, such as Wahoo, Sigma or Bryton that are gaining more and more ground.
Garmin's GPS cycling line is called Edge, and is currently comprised of 5 models, scaled to satisfy from the occasional cyclist looking for a simple device to record their routes, to the more adventurous who need a true on-board computer to guide them on rides of even several days.
This is what each of them offers us.
Garmin Edge 130 Plus
Those who are looking for a simple and small device to record their outputs, without the need for advanced functions and data, have in this Edge 130 Plus an ideal product for their requirements.  
The Edge 130 Plus, despite its small size, offers a battery life of up to 12 hours. As with the entire Edge range, we can configure various data displays, although only one activity profile. It is compatible with structured workouts that we can program through the Garmin Connect application directly from our cell phone. Of course, it offers connectivity via ANT+ with heart rate monitor bands and power meters in addition to smart turbo trainers and Garmin's Varia lights and radar.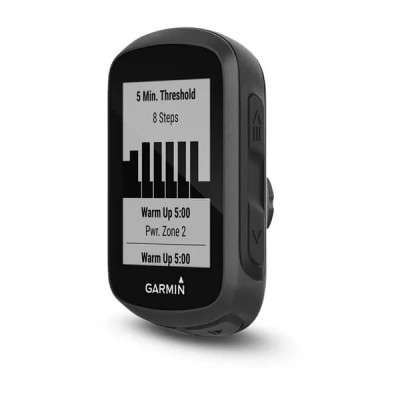 Although it is the most basic model, it does not renounce the Livetrack tracking function with which we can transmit our training live to the contacts of our choice, nor the warning in the event of a crash.
This Edge 130 Plus is an ideal option for those who are looking for a device to train and store their routes but do not require advanced information or navigation functions as this device does not have maps although it does have the possibility of following tracks in a basic way, where we are shown the line of the same.
Associated with the navigation, it is appreciated that Garmin has included the useful ClimbPro function in which the device detects the climbs of entity that contains the track that we are following and shows us as if it were an altimetry, with the slopes of the different sections, distance to the top and the slope that we have left to save.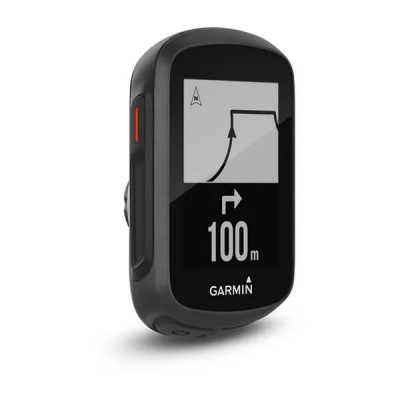 In addition to the basic navigation functions, the small screen size of 1.8 inches may be a limitation, as it does not allow us to display an excessive number of fields on the screen while maintaining an easy-to-view figure size.
This Edge 130 Plus has a recommended retail price of 179.99 € in its basic version. There is a pack that includes a heart rate strap for €229.99 and a mountain bike pack that includes a protective case, Virb remote control on the handlebars and external speed sensor for €249.99.
Garmin Edge Explore 2
Recently launched, the Explore 2 is the first evolution of the most user-friendly model offered by Garmin. The idea of the Edge Explore 2 is to have a device where we don't have to spend too much time setting it up to our liking, just turn it on and use it.
It has a 3-inch color screen designed to take advantage of its complete navigation and map functions, including the useful ClimbPro that shows detailed altimetry of the main climbs on your route.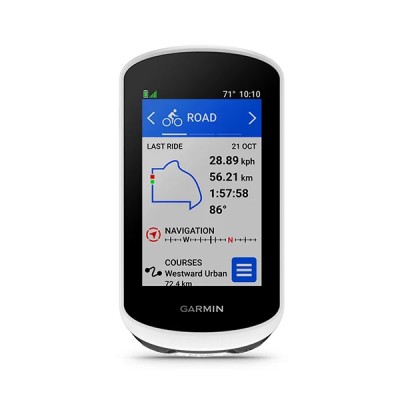 This Explore 2 is also compatible with the main models of electric bike motors, providing information on battery level, range and selected mode of use.
Unlike the Edge 130, this Explore 2 dispenses with the training functions, being a device oriented to recreational cyclists who want to store and share their routes in addition to having an advanced GPS that allows them to go into unknown routes with total guarantee.
Of course, among its navigation functions are, as in the rest of the range, real-time tracking and notification to our contacts in case of a crash.
This Explore 2 has been priced at 299,99 € in its basic version and 399,99 € in the power pack option that allows you to connect it to your e-bike to achieve greater autonomy.
Garmin Edge 530
The 500 series was the one that revolutionized the concept of what an advanced bike computer should look like and made the American brand the leader in cycling devices. In fact, it is still common to see cyclists on the road who continue to use that early Edge 500.
The current 530 has little to do with the model that gave birth to the series, since we are dealing with a real on-board computer capable of offering us almost any information we may need in our routes and training.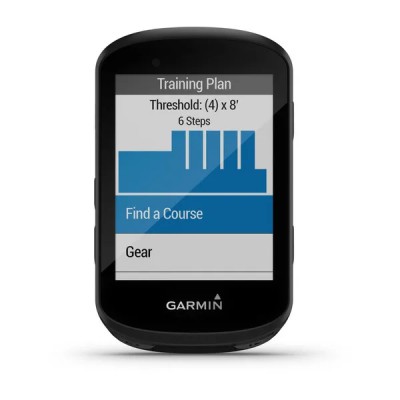 In terms of training, we can use all the planning functions and structured workouts from the Garmin Connect application. Obviously, it has connectivity with heart rate monitor strap and power meters, being able to show us all kinds of metrics in this regard, including, if our power meter provides that information, graphs of how we apply the force throughout the cycle of the pedal stroke.
In terms of navigation functions, the 2.6" color screen allows us to view its detailed maps and follow tracks without problems. It has 20 hours of autonomy, sufficient for regular sporting use, facing long challenges, an autonomy that is extendable with the external battery kit that is integrated into the handlebar mount and connects directly to the device.
Also noteworthy is the presence of ambient light sensor that optimizes the use of the display by adjusting the brightness of the screen. A sensor that is also used, if we connect smart lights to automatically select the operating mode.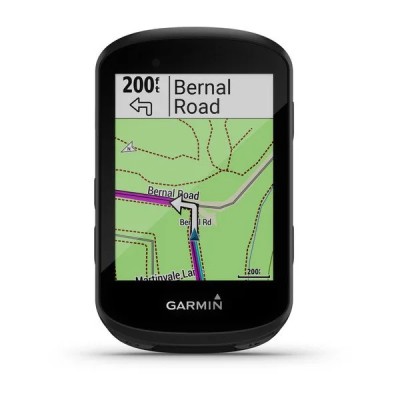 The Edge 530 is a device oriented to advanced users who enjoy analyzing the information of each route. Also for those who have a planned training and can benefit from its fitness tracking features and automatic calculation of parameters such as VO2max or FTP. 
To get this Edge 530 we must pay 259.99 € and there is a pack with external sensors cadence, speed and heart rate monitor belt for 349.99 € and a mountain bike pack with protective cover, specific support, speed sensor and remote control for 329.99 €.
Garmin Edge 830
With very similar characteristics to the Edge 530, the 830 gives a twist to the functionality of the device by incorporating a touch screen, also 2.6", which makes handling much more agile and allows us to easily interact with certain data fields or widgets that we can include on the screen. For example, to turn on or off if we have connected smart lights or regulate the resistance if we have it connected to a turbo trainer.
Otherwise, we have the same advanced training functions as in its smaller model and navigation, with detailed, full-color maps.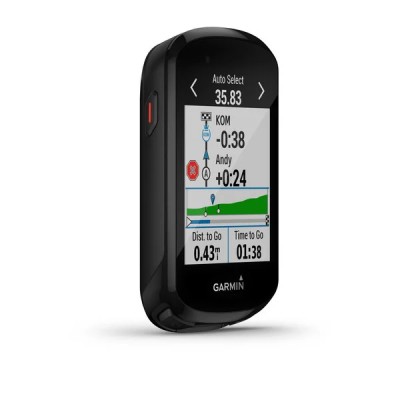 Like its little brother, it is a device intended for advanced users who require close monitoring of their workouts and who also require the use of navigation functions on their outings.
The Edge 830 has an official price of 349,99 €, and you can also choose the pack with sensors for 439,99 € or the mountain bike pack for 419,99 €.
Garmin Edge 1040
The jewel in Garmin's crown is undoubtedly the 1000 series, which has in this recently incorporated Edge 1040 its latest and most advanced representative.
The functions offered are not very different from those found in the 530 and 830 models, however, the large 3.5" touch screen gives the possibility to display much more information, even including graphs in the data fields.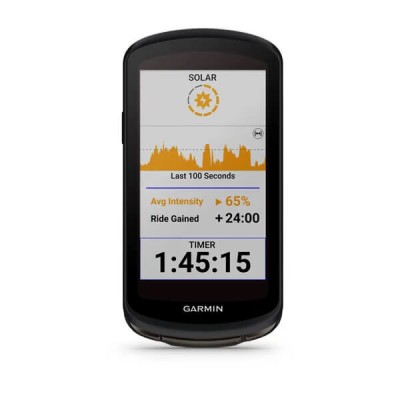 Apart from its generous size, this Edge 1040 stands out for an autonomy that grows up to 35 hours in its conventional version, because Garmin has also included a version that includes solar charging that allows to increase the battery life up to 50 hours in normal use that can be stretched to 180 hours if we opt for a low power configuration. A detail to take into account for lovers of long-distance challenges and for those who enjoy exploring new paths and routes that will find in this Edge 1040 their ideal companion.
This Edge 1040 is priced at € 599.99 in its basic version, which can be extended to the pack that includes external sensors for which you will have to pay € 699.99. For its part, the model with solar charging rises to € 749.99.
Extra tip: buy a cheaper Garmin Edge GPS
The devices we have described are the ones that currently make up the Garmin cycling range. However, those who cannot or do not want to spend what corresponds to a late-model product with the latest features offered by the brand can also resort to older models that, in many cases, differ little in their capabilities to the most modern ones.
New functions and improvements in the GPS, as well as a more advanced chip that allows a smoother operation of the device, especially when refreshing the maps and changing screens are the main improvements found between the current devices and the previous generation that, even so, continue to be fully functional. As we told you a few lines above, it is not uncommon to see cyclists who continue to use the original Edge 500 that kicked off the Garmin cycling range.
But it is not necessary to resort to such a basic Garmin GPS and just look for example some second-hand Garmin Edge 1000 to see that you can get a Garmin that was high range just a few years ago for about 100 €.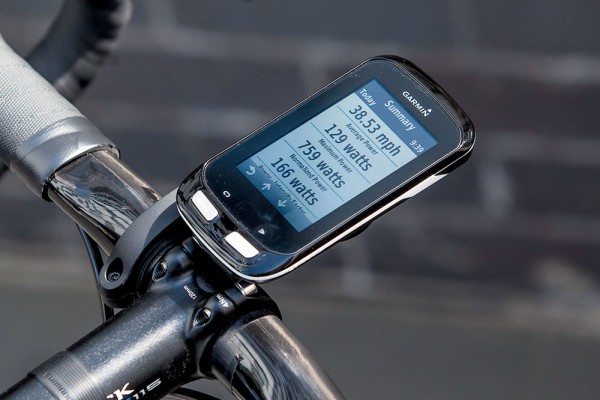 It is not uncommon to find on specialized websites or on Amazon very attractive offers of these previous generation devices, especially if we decide to wait for Black Friday where it is not uncommon for the brand to try to release the stock of any of these computers with prices of real demolition in some occasions. It's just a matter of patience and being attentive.
The second hand market is also an interesting option to get a Garmin Edge of previous generations since there are few users who like to be up to date and dispense with their device when a newer model goes on sale. In this case we have to take into account the state of the screen, especially if it is a touch model, and the buttons, that the membrane that covers them is not perforated and that the touch remains crisp.
Another aspect to take into account in second-hand cyclocomputers is the state of the battery, which obviously degrades with successive charges, reducing the autonomy. We will verify that the charging is done correctly and that we can get enough hours of use. Even so, there are tutorials on the web that explain in detail how to replace it if we are a little handyman.
We hope we have helped you in choosing your next Garmin GPS, if you think we can include something else, leave us your comment on our social networks.